Lansing May Day March and Celebration Planned
---
April 29, 2011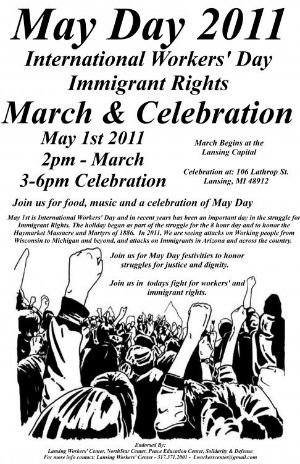 The Lansing Workers' Center has planned a May Day march and celebration in Lansing on May 1st:
May Day 2011
International Workers' Day
Immigrant Rights

March & Celebration

Sunday May 1st
2pm – March/Marcha
March Begins at the Lansing Capital

3-6pm – Celebration/Fiesta
Celebration is at 106 Lathrop St, MI 48912 (couple blocks east of pennsylvania off michigan)

Join us for a May Day March for Worker & Immigrant Rights.

Join us for a huge bbq, hip hop, a rock cover band of city workers and a celebration of May Day!

May 1st is International Workers' Day and in recent years has been an important day in the struggle for Immigrant rights. The holiday began as part of the struggle for the 8 hour day and to honor the haymarket massacre and martyrs of 1886. In , 2011, We are seeing attacks on working and poor people from Wisconsin to Michigan and beyond and attacks on Immigrants from Arizona to Georgia.

The social cuts, austerity measures and deportations are part of a broader attack on working and poor people and must be confronted. Labor, Immigrants and the poor can and should organize to fight back.

Join us for May Day festivities to honor struggles for justice and dignity!
Join us in todays fight for worker and immigrant rights!

For more info contact: Lansing Workers' Center
517.371.2001 – [email protected] – www.lansingworkerscenter.wordpress.com

Endorsed by:
Lansing Workers' Center, NorthStar Center, Peace Education Center, Solidarity & Defense, Workers Solidarity Alliance-Lansing, GLNAWI, ARRO
Lansing May Day March and Celebration Planned was published on April 29, 2011
Share on Social Media

These links are not an endorsement of social media. They are provided for convenience and to help foster the spread of anarchist ideas.