Earth First! News Summer Issue Released
---
May 08, 2011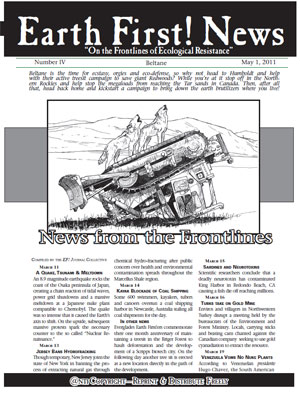 The latest edition of Earth First! News is out now. Earth First! News is a quarterly project of the Earth First! Journal. It is an easy-to-reproduce compilation of the most important news pertaining to ecological resistance. There is a mix of both environmental news and stories about those fighting back. It's an excellent companion to Earth First!'s online Earth First! Newswire.
From the intro to the summer (Beltane) issue:
Beltane is the time for ecstasy, orgies and eco-defense, so why not head to Humboldt and help with their active treesit campaign to save giant Redwoods? While you're at it stop off in the Northern Rockies and help stop the megaloads from reaching the Tar sands in Canada. Then, after all that, head back home and kickstart a campaign to bring down the earth brutalizers where you live!
Earth First! News Summer Issue Released was published on May 08, 2011
Share on Social Media

These links are not an endorsement of social media. They are provided for convenience and to help foster the spread of anarchist ideas.