Collective-Run Bartertown Diner Joins the Industrial Workers of the World (IWW)
---
May 11, 2011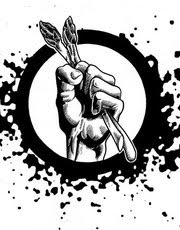 The soon-to-be-open collectively run Bartertown Diner & Roc's Cakes has affiliated with the Industrial Workers of the World (IWW). A press release from the Grand Rapids IWW announces the news:
Local Worker-Owned Restaurant Joins Historic Labor Union

Act signifies workers' real desire for change, not just rhetoric

Grand Rapids, MI – Bartertown Diner and Roc's Cakes a raw, vegan/vegetarian restaurant opening in a couple weeks in downtown Grand Rapids has decided to go "wobbly." The seven member team which constitutes the worker-run establishment have all decided to join the old and storied Industrial Workers of the World labor union.

"It just seemed like the perfect fit for us. After meeting with members of the IWW it was clear that we all want the same things and being that we really don't want to be just another restaurant it seemed logical," said Ryan Cappelletti cook at the new Diner.

Bartertown Diner and Roc's Cakes, which will be located at 6 Jefferson St., joins a growing list of worker-owned IWW shops. The Red and Black Cafe in Portland, Oregon and Just Coffee in Madison, Wisconsin being two others.

"We are very happy that Bartertown and Roc's Cakes has decided to go IWW and believe it can only help in our larger campaign to raise the standard of living and benefits for all food and beverage workers in Grand Rapids," said Shannon Williams, Treasurer of the local IWW branch.

The Grand Rapids Branch of the Industrial Workers of the World has been involved in food service organizing for many years. From the IWW Starbucks Workers Union to the IWW Jimmy Johns Workers Union.

The Industrial Workers of the World is a rank-and-file labor union open to all workers.
Collective-Run Bartertown Diner Joins the Industrial Workers of the World (IWW) was published on May 11, 2011
Share on Social Media

These links are not an endorsement of social media. They are provided for convenience and to help foster the spread of anarchist ideas.