New Radical Networking Zine Out
---
June 05, 2011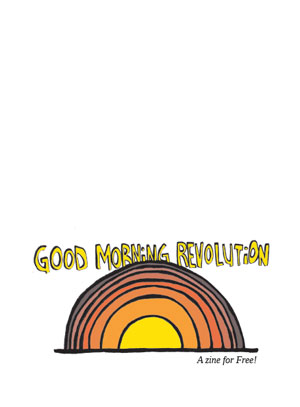 The group that organizes the Really, Really Free Markets in Grand Rapids – Good Morning Revolution – is now doing a monthly zine aimed at helping to connect radicals in Grand Rapids. The first issue was released for June and can be read online (copies were also distributed at the last Really, Really Free Market).
They explain a bit more about their goals in the intro to the zine:
GMR is a progressive and evolving group. It was founded in Grand Rapids late 2008 as a response to the huge reaction to the Really Really Free Markets. The emphasis is on community empowerment. The organizers of the free markets want to create other events that encourage social change, mutual aid, and community building. Thus we created Good Morning Revolution. This zine will help us stay informed about similar events, and share our endeavors.

Looking around Grand Rapids it's hard to ignore the surplus of forward thinking people doing interesting things. With the advent of social networking you'd think there would be more connection and collaboration. Although cyberspace is a helpful place to network, too often it's a distraction from action and from each other. This zine exists to be a hub for radical happenings, something you can cling to when you're overwhelmed by the flood of the event invites in your inbox, something you can doodle in, something to stimulate creativity in a physical and tangible way. Let's hear what you're doing, share what you're working on. Submit your writing and drawing to [email protected]

We need you! You're a valuable part of a radical community and have skills that can be shared, host a workshop, organize a Really Really Free Market or another event and tell us about it, we'll try to help you get the word out and find the resources you need. Times are tough, but together we are tougher.

Created by the people

in the interest of the people

to energize our community

in a more sustainable way

from the bottom up.
New Radical Networking Zine Out was published on June 05, 2011
Share on Social Media

These links are not an endorsement of social media. They are provided for convenience and to help foster the spread of anarchist ideas.