September Political Prisoner Birthdays
---
September 12, 2011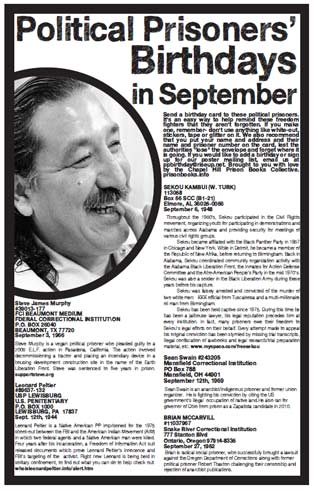 The Chapel Hill Prison Books Collective has released their monthly political prisoner birthday poster for September. This month's birthdays include indigenous struggle prisoner Leonard Peltier and earth liberation prisoner Steve Murphy.
As always, birthday cards are an easy way to send a note to a prisoner and to let them know that they haven't been forgotten. Feel free to send notes on your own – or even better – get your friends together for a card writing night.
Finally, please also consider writing or calling the Bureau of Prisons to protest the recent treatment of Leonard Peltier. Peltier has been in solitary confinement since June 27 and is facing a disciplinary transfer. You can find out more on his support site.
September Political Prisoner Birthdays was published on September 12, 2011
Share on Social Media

These links are not an endorsement of social media. They are provided for convenience and to help foster the spread of anarchist ideas.