Political Prisoners' Birthdays in October
---
October 02, 2011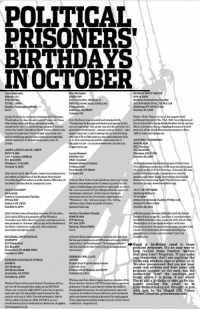 The October Political Prisoners' Birthday calendar distributed by the Chapel Hill Prison Books Collective is out now. Please take time this month to send a birthday card to these prisoners to let them know that they aren't forgotten—nor are their contributions to the struggle. You can send the cards by yourself—or better yet—invite your friends over for a card writing night. You might also consider printing off copies of the calendar and distributing them around town.
Also, check out the hunger strike happening in Californian prisons. Over 6,000 prisoners are participating!
Political Prisoners' Birthdays in October was published on October 02, 2011
Share on Social Media

These links are not an endorsement of social media. They are provided for convenience and to help foster the spread of anarchist ideas.