February Political Prisoners Birthday Calendar
---
February 03, 2012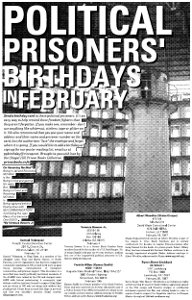 The February political prisoners birthday calendar is out. As always, please take a moment to send a quick birthday card or note to one or all of the prisoners on this month's calendar. It's an easy way to send support to those that the state has stolen from us.
Two other quick prison related notes:
Occupy Oakland has called for a nationwide occupy day in support of prisoners on February 20th. They are asking that Occupy groups hold demonstrations outside of prisons, jails, juvenile halls, and detention centers to stand in solidarity with the people confined within prison walls and to "demand the end of the incarceration as a means of containing those dispossessed by unjust social policies."
Longtime political prisoner Mumia Abu-Jamal has been transferred out of solitary confinement into general population. Last week his wife was scheduled to meet him and he was looking forward to being able to hug her for the first time in thirty years.
February Political Prisoners Birthday Calendar was published on February 03, 2012
Share on Social Media

These links are not an endorsement of social media. They are provided for convenience and to help foster the spread of anarchist ideas.