April Political Prisoner Birthday Poster
---
April 06, 2012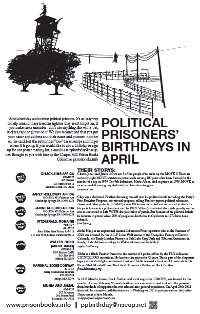 The always great monthly political prisoner birthday poster for April is out. Please take a moment to send birthday wishes to our locked up comrades. Even better, get together with your friends and make a night (or day) of it!
Some news from this month's update:
Black Liberation Army POW, Robert Seth Hayes and former Black Panther Jalil Muntaqim are coming up for parole again in June. Robert is asking supporters for help. You can read more about Robert's parole hearing and request for support here.

Herman Bell was just denied parole again. He's asking supporters to help Robert and Jalil's upcoming parole hearings. You can read an article about that here.
April Political Prisoner Birthday Poster was published on April 06, 2012
Share on Social Media

These links are not an endorsement of social media. They are provided for convenience and to help foster the spread of anarchist ideas.