May Day 2012
---
May 04, 2012
Across the United States, anarchists participated in protests as part of the global call for a "general strike" on May Day. A lot of stuff happened: building takeovers, vandalism, unpermitted marches, etc.
According to the leftist media, "tens of thousands" participated in May Day actions across the country. Those actions were largely organized by Occupy as part of a "general strike" proposal that was taken up by many Occupy groups around the country. The day featured large marches in San Francisco, Los Angeles, New York, a bank occupation in Philadelphia, occupying a mall in Portland, and "liberating" a foreclosed home in Portland.
For anarchists, the highlights definitely seem to be where you would expect: cities like Oakland, San Francisco, Seattle, Portland, and New York featured militant marches and targeted property destruction.
A May Day statement from the Seattle-based Tides of Flame provides some context:
"Here we are again. For us, not much has changed. However, the cities around us have grown, strengthened, become more adaptable, resilient, and overwhelming in their ability to absorb all of our energy. The contemporary metropolis is a machine designed to extract capital from humans and to keep them pacified while doing so. Those who reject pacification are demonized, marginalized, imprisoned, or murdered.

…

The tactics displayed on May 1st not only demonstrate an ability to attack these seemingly invincible structures, they also encourage and promote agency amongst people who rarely get the chance to strike back at the institutions that they despise. The authorities do not want a populace that asserts itself outside the legal framework. They want to preserve the system that has brought us all to the dead end we now face. There is no legal route out of the current impasse. There is only rebellion, illegality, experimentation, mutation, and abandon. Our goal is and will remain to encourage people to disregard the laws that allow this death-culture to grind on and on and on. This does not only mean destruction—for there is so much to create–but it is undeniable that destruction is central to this project of snatching our lives and the earth back from those who have stolen them."
Some highlights from the day's events: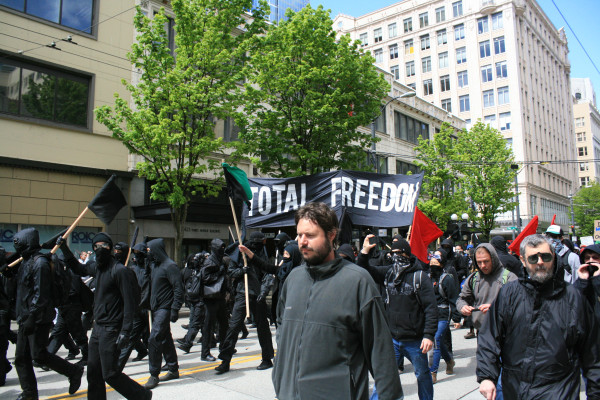 Seattle
There was a large black bloc during the May Day anti-capitalist march. Several banks and corporate businesses were attacked to the cheers of the crowd. The Mayor made an "emergency declaration" in response to the protest, enabling police to confiscate what they believe could be used as "weapons."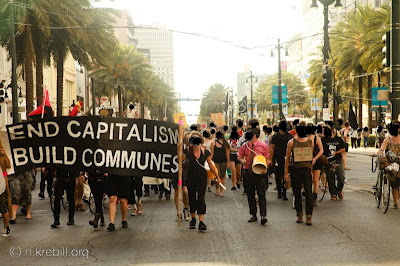 New Orleans
From NOLA Anarcha: "After eating some delicious free food prepared by wonderful folks of the Community Kitchen, smoke flares clouded the air with colorful plumes as the march took the streets. Winding through the CBD, flag corps and a stilt walker danced to a second-line beat among black clad anarchists, children, and Occupy New Orleans activists. The march descended on the French Quarter chanting anti-capitalist slogans and attacking symbols of exploitation."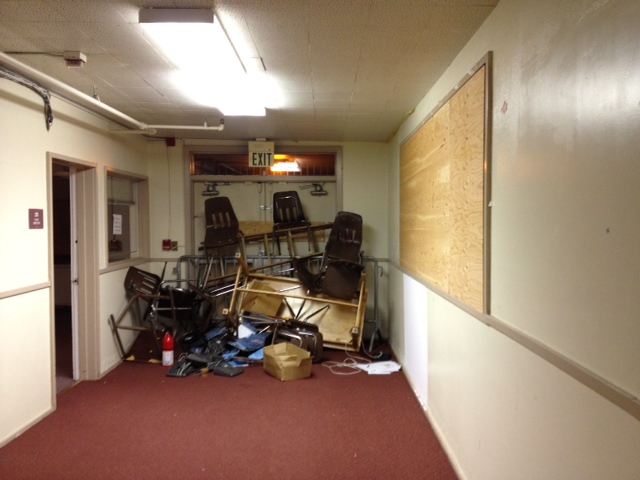 San Francisco
On the eve of May Day, a black bloc "…left a trail of broken glass and paint" as they vandalized businesses, attacked a police station, and damaged luxury cars.
On May Day, anarchists and Occupy San Francisco occupied a building to house the San Francisco Commune.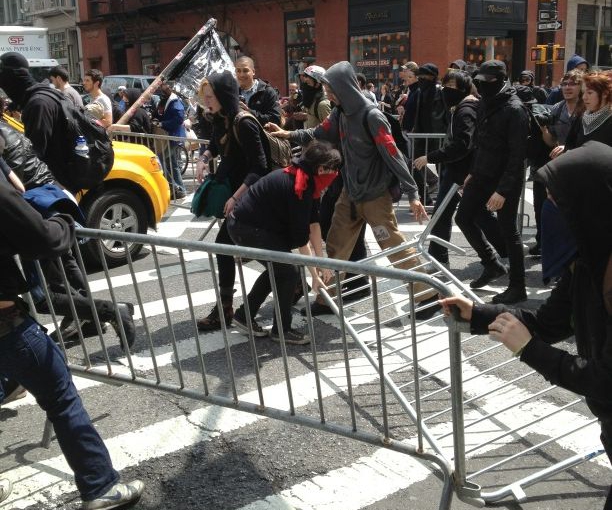 New York City
Unpermitted march: protestors made blockades in the streets, tore down barricades, and clashed with police. Banner messages read "fuck the police," "kill capitalism, save the world," and "general strike: kick it 'til it breaks."
May Day 2012 was published on May 04, 2012
Share on Social Media

These links are not an endorsement of social media. They are provided for convenience and to help foster the spread of anarchist ideas.