Moving to Oakland vs. Creating a Network of Hubs
---
June 02, 2012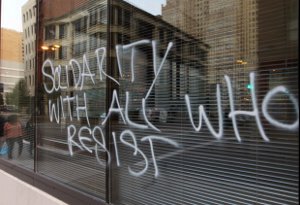 As anarchists living in the Midwest, we often look to other places for inspiration. Surely anarchist communities are "stronger," "better," "bigger," and/or "more inspiring" elsewhere. In that spirit, we appreciated the recent article titled "Please Don't Move To The Bay" excerpted from an upcoming anarchist journal from the Midwest titled Archipelago.
It looks at the Oakland Commune, the pull of the Bay Area and its real and/or perceived level of "social conflict," and the tension between gravitating to anarchist hot spots versus establishing roots in a bunch of different places. This is discussed in terms of how it relates to the Occupy phenomenon and specifically where Occupy transcended its liberal origins and became something more:
"The circuitry of Occupations across the country have emerged as a weak, but discernible network of solidarity. One must ignore the pleas for non-violence, the unending consensus discussions, hand signals and wingnuts to get a picture of the more important themes revealing themselves. As anarchists we have poured ourselves into a thin layer, bunching up for certain moments and completely abandoning regions in another, often with little reflection beyond a personal interest in a summit or scene. It is in the spaces where this has been least prevalent, where people have called their cities home for more than 6 months, that the most exciting and interesting moments have transpired. They are minor in scale, but the ability to pull off street actions and building takeovers in places like Atlanta, St. Louis and Minneapolis can certainly be attributed to the influence of anarchists in those cities.

We want to recreate the feeling of reading about an eruption in places like Carrboro, NC and Memphis, TN that makes you yell out damn, even that place! When our presence is overweighted and the west coast starts to tip ever-heavier, we lose that possibility. We lose momentum, that feeling that we are a part of something larger. Not a movement, as we would never call for such. The idea of creating a platform, where our responses to the horrors that this world creates could be held to a standard or rigidly coordinated, is detestable. On the contrary, the possibility of a strategic positioning of ourselves and our resources, so that when a moment becomes hot we may strike, is what we are championing."
The author(s) argue for "the necessity of maintaining a thriving and vicious network of hubs and nodes that spread far beyond the coastal metropoles." It's definitely worth checking out and worth talking about. In Grand Rapids and elsewhere, we need to advance beyond just looking to and/or emulating the so-called "hotspots" or cool new tactics and towards intentionally developing new forms of resistance.
"Looking past the next season and into an idea of the future may in fact help create the force necessary to rip this future to shreds."
Moving to Oakland vs. Creating a Network of Hubs was published on June 02, 2012
Share on Social Media

These links are not an endorsement of social media. They are provided for convenience and to help foster the spread of anarchist ideas.