Fifth Estate #387 Out Now
---
June 17, 2012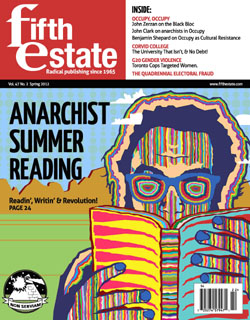 The new issue of the long-running anarchist publication Fifth Estate is out now. It looks like a good issue with new articles on new developments in the case against Marie Mason, anarchists and Occupy, the elections, and more. We'll have some copies, so get in touch if you'd like one and please consider getting a subscription to support the magazine.
Here's the contents:
FIFTH ESTATE Summer 2012 Vol. 47, #2 (#387)

Theme: "Anarchist Summer Reading"

For the past several years, each edition of the Fifth Estate has had a specific theme. Maybe it's the excitement of the era which has just opened up, but we decided not to have a particular theme for our Summer edition, and simply let the imagination of writers get as wild as the times demand. Everything seems open and possible; where it all will lead is still in formation.

CONTENTS

The Quadrennial Electoral Fraud
Another option needed

Financial Advice?
How about unemployment?

Survival of the Fittest?
Disabilities & tribal people

Anarchist Personality
Is there a definable one?

Against Equality
Don't fight their wars

OCCUPY, OCCUPY
No authoritarians, please

Vagaries of the Left
John Zerzan & the Black Bloc

Return to Liberty Square
Creating a culture of resistance

Corvid College
Anarchy & no student debt

G20 Gender Violence
Toronto cops targeted women

Snitch Strikes Again
Victim in Marie Mason case

@ Summer Reading
Read a book; pass it on!
Anarchy for Kids
The Power of Art
Scratching the Tiger's Belly
Paul Goodman's Testament
The Power of Art
Community Against Abuse
Johnny Spanish
Cara Hoff man
Syndicalism Outdated?
Anarchist Writers Bloc
Anarchist Reading List
Revolution As Spectacle
Debt: 5000 Year History
Underground Press

Rise & Fall of the U.S.
Here comes China

Cops Admit Brutality
G20 was a police riot

DEA Museum Exhibit
Drugs and terrorism
Fifth Estate #387 Out Now was published on June 17, 2012
Share on Social Media

These links are not an endorsement of social media. They are provided for convenience and to help foster the spread of anarchist ideas.