July Political Prisoners Birthday Poster
---
July 13, 2012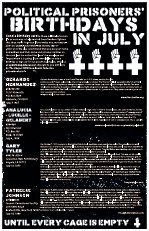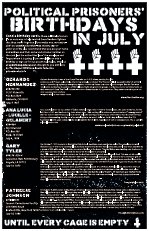 We're a little late — blame all that global warming induced heat — but the July political prisoners birthday poster from the Chapel Hill Prison Books Collective is out now.
As always, please take the time to write these prisoners a note and/or make a card to let them know that folks are thinking of them. The value in doing this cannot be underestimated.
July Political Prisoners Birthday Poster was published on July 13, 2012
Share on Social Media

These links are not an endorsement of social media. They are provided for convenience and to help foster the spread of anarchist ideas.