Poster Series: "Rape Culture Is…"
---
March 15, 2013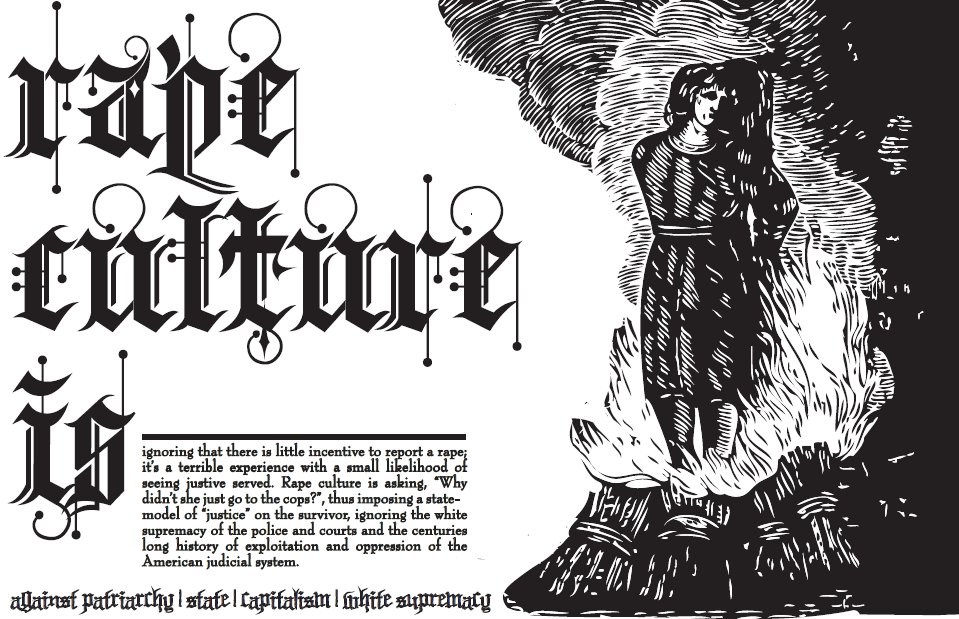 Some anarchists in North Carolina have created a new poster series that seeks to explain the reality of rape culture to a general audience. The posters were created in response to a growing anti-rape struggle on the campus of University North Carolina Chapel Hill. There have been a series of demonstrations, vandalism directed towards fraternities, and the covering of campus in posters such as the "Rape Culture Is…" posters and others that say "Intimidate Rapists."
The posters are viewable here:
You can download them as PDFs here:
From the announcement posted on Anarchist News:
This series of ten posters was created in the midst of an ongoing scandal at the University of North Carolina at CHapel Hill, which has recently been plagued by bad press for its role in suppressing information about sexual assault and in its treatment of several students raped on campus. After five students submitted a complaint to the US Department of Education, the Universityin turn threatened to expel via Honor Court one of the five women for creating an "intimidating environment" on campus for her rapist. The administration and Honor Court's handling of events has resulted in an uproar, with large amounts of bad press, two protests, and a wave of graffiti and wheatpasting on campus.

A week prior to this initial complaint an attack anarchists smashed out five windows of a fraternity house on campus. This was followed with another act of vandalism in February. Discussions around tactics, analysis, and the role of non-students in attacking the rape culture perpetuated by structures at UNC have all been interesting and heated. The posters are not specific to the local situation, however, and we encourage to print and post them everywhere.
Poster Series: "Rape Culture Is…" was published on March 15, 2013
Share on Social Media

These links are not an endorsement of social media. They are provided for convenience and to help foster the spread of anarchist ideas.