Political Prisoner Birthday Poster for April
---
April 10, 2013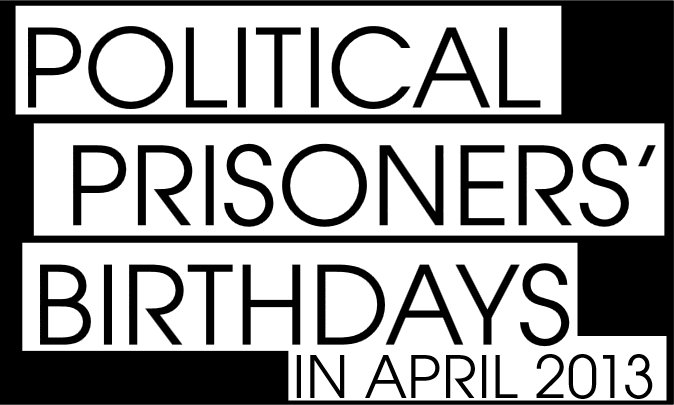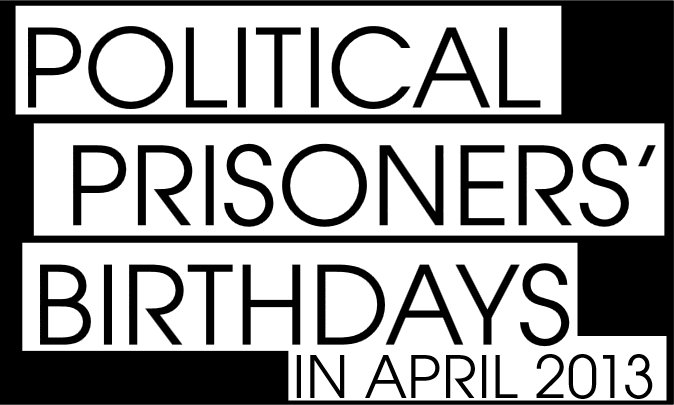 The monthly political prisoner birthday poster for April from the Chapel Hill Prison Books Collective is out now. Please take a minute to write to prisoners to let them know that they aren't forgotten.
Recently political prisoner Marie Mason wrote about how encouraging it is to receive birthday cards:
"Greetings Family and Comrades, Well-wishers, fellow activists, anarchists (and non-be/quantifiable), I want to say thank you for all of the amazing and sweet greetings, cards, letters, photos and artwork that people sent me in response to the event in January. Mail was held up for a bit, but I think that it has all been processed and passed on to me by now.

It was the most incredible inspiration to hear from so many folks working to defend animals, Earth and human rights from so many places! I have learned so much. People sent their stories about great campaigns and histories of struggle, creation stories and poetry, their own beautiful artwork and so much love in words."
Also here in Grand Rapids there will be another letter writing night on May 1 (5-7pm) at The DAAC hosted by JAILBREAK. Come out and send a birthday card or letter to these (or any other prisoners). The group provides supplies, stamps, and envelopes.
Political Prisoner Birthday Poster for April was published on April 10, 2013
Share on Social Media

These links are not an endorsement of social media. They are provided for convenience and to help foster the spread of anarchist ideas.