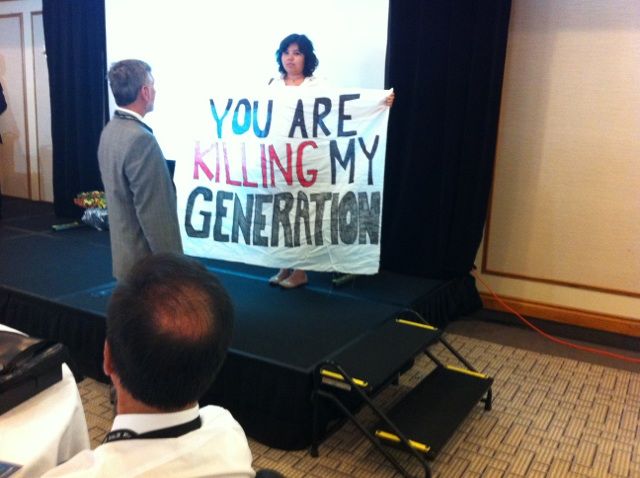 Over the weekend, indigenous activists and others disrupted a pro-Tar Sands conference in Sarnia, Ontario (just across the border from Port Huron, Michigan) as part of ongoing actions against the Enbridge Line 9 pipeline designed to transport oil from the Tar Sands east across Ontario:
The impacts of industrial development in the area now known as Chemical Valley are deep. The relationship between the 63 petrochemical industries and the occupied lands they are on is not a coincidence. The devastating affects corporations like Imperial Oil, Enbridge and Polysar have had on the environment, through contamination and corporate irresponsibility disproportionately impact bordering, and downstream Indigenous communities such as Aamjiwnaang and Walpole First Nations. The SunCor Energy refinery alone is responsible for processing 85,000 barrels per-day of gasoline, kerosene, jet and diesel fuels.

…

In the face of already environmentally devastating conditions in a political context of apartheid against Indigenous peoples, those already impacted by Chemical Valley now seek to say No to further industrial expansion – the proposed Line 9 reversal which will bring Tar Sands crude project much further East.

…

Local Indigenous and non-Indigenous community members, including elders, mothers, outspoken youth, and regional supporters left City Hall to take to the streets. The march, chanting, and carrying banners and signs reading, "No More Chemicals In The Valley", "Stop Line 9″, "Tar Sands Kill! Pipelines Spill!" and "Cancer Alley" continued on to the site of a Tar Sands industry conference being held at the Best Western Hotel.

The conference, "Bitumen Adding Value: Canada's National Opportunity", was held for the purposes of strategizing to maintain and expand the slow industrial genocide of the Tar Sands in so-called Canada. In an effort to continue cultivating colonialism, investors and resource extraction industry representatives met to articulate their dream of a world of pipelines, upgraders and refineries — as well as the mega-load modules necessary to secure that infrastructure. Support from settler governments is expected along the way. The primary goal of shipping tar sands products much further East, to as far as traditional Mi'kmaq and Maliseet territories in so-called New Brunswick, was discussed at length through various presentations.

…

Demonstrators let off a siren to mimic the sound of the emergency siren that has been normalized for those living near the Valley. Demonstrators pounded on the windows of the hotel in excitement and in support of the action taken by Vanessa inside the conference. During the keynote presentation, Vanessa Gray took the stage with a banner that stated, "YOU ARE KILLING MY GENERATION". After being harassed by security and undercover police, and threatened with arrest Vanessa chose to exit the building to meet up with supporters outside after reclaiming and holding that space.
For more information on Line 9, check out issue 4 of the zine The Peak out of Guelph, Ontario. The zine "Against the Reversal" is also worth reading as it presents a strategic analysis of why the Line 9 project is critical.