June Political Prisoner Birthday Poster
---
June 01, 2013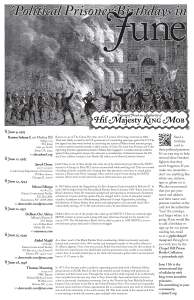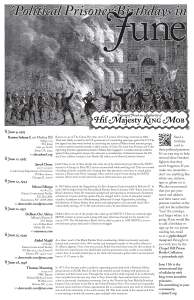 The June 2013 political prisoners birthday poster from the Chapel Hill Prison Books Collective is out now. As always, please take some time to send a card to a prisoner to wish them a happy birthday and to let them know they aren't forgotten.
Here's some news passed along with the poster:
2) Mutulu Shakur had a stroke at the end of February and is having trouble obtaining the follow-up medical care that he needs. Please call the warden at Victorville and ask that Mutulu receive the medical care that he needs. More info here.

Phone 760-530-5000

Fax 760530-5103

3) Please send Rebecca Rubin a letter or note of encouragement, being transferred can be quite jarring. (Remember not to write to her about her case at all because she is pre-trial.)Rebecca is accused of being a member of the Earth Liberation Front. She is facing charges of arson and conspiracy for actions that occurred between 1996 and 2001.

Her new address is as follows:
Rebecca Rubin #2013001108
Columbia County Jail
901 Port Ave.
St. Helens, OR 97051

4) Anarchist Gerald Koch has been imprisoned for an indefinite amount of time for refusing to testify in front of a grand jury. Please send him a letter or note of support. More info here.

Gerald Koch
68631-054
MDC Brooklyn
PO Box 329002
Brooklyn, NY 11232

5) Jeremy Hammond plead guilty to being involved in the Stratfor Leak. You can read his statement here. Please send him a letter or note of support.

Jeremy Hammond
18729-424 Metropolitan Correctional Center
150 Park Row
New York, New York 10007

6) We just received news from Jorge Cornell that their (J., Peaceful, and Ernesto's) motion for re-trial was denied by Judge Beaty, who released a twelve page response to the defendants' request. J. was told by his lawyer that it is entirely possible that the sentencing hearing may not even get scheduled until August. There are more updates on what's going on with the North Carolina Latin Kings' RICO trial here.

7) Lastly, here is a link to the latest Political Prisoner/Prisoner Of War every-other week update by the NYC-Anarchist Black Cross. There are lots of good updates on many political prisoners.
June Political Prisoner Birthday Poster was published on June 01, 2013
Share on Social Media

These links are not an endorsement of social media. They are provided for convenience and to help foster the spread of anarchist ideas.