Fifth Estate #389 Out Now
---
June 19, 2013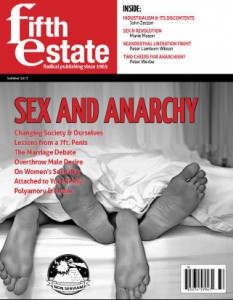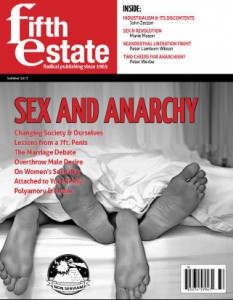 The new issue of Fifth Estate*—*the long-running anarchist publication from Michigan—is out now. The table of contents is printed below and if you are interested, please consider a subscription to support anarchist publishing. Also, editor Peter Werbe of Fifth Estate recently appeared on "Anarchy Radio" to discuss the new issue. Check out the episode if you are so inclined.
Fifth Estate #389, Summer, 2013

Issue theme: Sex and Anarchy

(This issue follows #388, Winter 2012. A Spring edition was not published.)

CONTENTS

Sex & Anarchy – Changing Society & Ourselves

Lessons from a 7ft. Penis – A Sex Comedy Cabaret

The Marriage Debate – An Anarchist View

To Abolish Rape – Overthrow Male Desire

A Mirror in Hand – On Women's Sexuality

Attached to Your Penis? – It's So Limiting

Polyamory, Porn & Power – A Confession & Critique

A Response on Polyamory

Interview with Nikicia G. – Black Culture Behind Bars

Sex and Revolution

by Marie Mason

Industrialism & Its Discontents – Luddites & Their Inheritors

by John Zerzan

Neanderthal Liberation Front – Four Percenters Unite!

Seattle Grand Jury Update – Two Released from Solitary

Life After Prison – FE Writer Reflects

Anarchist Utopian Imagination – A Second Reality

Fifth Estate in Cyberspace – On the Web

Anti-Civ Across Borders – EndCiv Film

Audrey Goodfriend Passes – An Anarchist Life

New Books & Publications Reviews

Two Cheers for Anarchism

Emma Goldman

Anarchism in Algeria

Anarchy for Kids

Sex and Punishmet

Big Book of Sex

Supporting Political Prisoners
Fifth Estate #389 Out Now was published on June 19, 2013
Share on Social Media

These links are not an endorsement of social media. They are provided for convenience and to help foster the spread of anarchist ideas.