November / December Political Prisoner Birthday Poster
---
November 14, 2013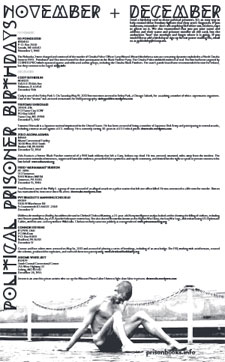 From the Chapel Hill Prison Books Collective: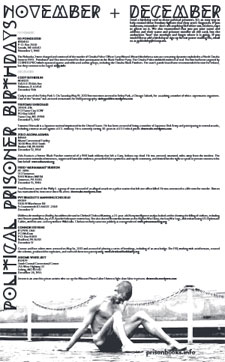 Hello Friends and Comrades,

1) Here is the extremely late political prisoner birthday poster for November and December. As always, please post this poster publicly and/or use it to start a card writing night of your own. FYI, the graphic on the poster this month is a picture of a Russian activist who nailed his testicles to the ground at Red Square to protest the extension of the prison further into all parts of society.

Some News And Updates:

2) As most of you already know Herman Wallace passed away on October 4th after enduring 42 years of solitary confinement. Here is his obituary as well as pictures of a couple of public remembrances for Herman in North Carolina.

3) The Final Straw, an Asheville, North Carolina based podcast, has been putting out a lot of great episodes on anti-prison struggles. Here are links to episodes on the Lucasville Uprising, Red Bird Abolition, and Anarchist Prisoner Sean Swain.

4) The "Move Marie" campaign to have Earth Liberation Front prisoner Marie Mason moved from her special isolation unit is still underway! More information on the campaign is available here.

5) 4strugglemag needs your help fundraising to send Issue 23 to prison readers. The magazine edited by prisoner of war Jaan Laaman has been a voice for prisoners and their supporters for ten years.They send free copies of each issue to 700 prisoners across North America, and reach many hundreds more through shared copies. Go here to find out how to help make the next issue happen.

6) Sekou Cinque T. M. Kambui (S/N William J. Turk) has requested a letter-writing campaign asserting his innocence in preparation for his upcoming parole hearing, which could be held as early as February of 2014. He was accused of murdering a wealthy white oil-man and a KKK member in Alabama.

Send Letters To:
Offices of Chestnut, Sanders, Sanders, Pettaway & Campbell, L.L.C.
Attn. Attorney Faya Ora Rose Toure
1 Union St.
P.O. Box 1290
Selma, AL
36702-1290

7) Lastly, here is a link to the latest Political Prisoner/Prisoner Of War every-other week update by the NYC-Anarchist Black Cross. There are lots of important updates on many political prisoners.

Until Every Cage Is Empty,
November / December Political Prisoner Birthday Poster was published on November 14, 2013
Share on Social Media

These links are not an endorsement of social media. They are provided for convenience and to help foster the spread of anarchist ideas.