February 2014 Political Prisoner Birthday Poster
---
February 17, 2014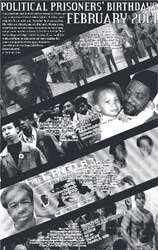 From the Chapel Hill Prison Books Collective:
Hello Friends and Comrades,

1) Here is the political prisoner birthday poster for February. As always, please post this poster publicly and/or use it to start a card writing night of your own.

2) If you're not already financially committed to a different anti-prison effort please help us by becoming a monthly sustainer of our work or making a one-time donation. We're in a funding crunch right now and your donation would help ensure that we don't have to interrupt our program. Your generosity not only feeds our work, it is a part of it. Pooling resources is resistance in action.

3) Be sure to check out the latest Political Prisoner/Prisoner Of War every-other week update by the NYC-Anarchist Black Cross. There are lots of important updates on many political prisoners.

Until Every Cage Is Empty,
February 2014 Political Prisoner Birthday Poster was published on February 17, 2014
Share on Social Media

These links are not an endorsement of social media. They are provided for convenience and to help foster the spread of anarchist ideas.