Bros Fall Back
---
March 20, 2014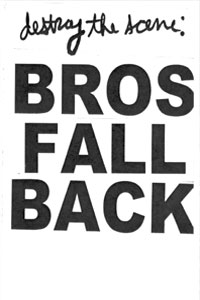 Over the past several months, the zine "Bros Fall Back" out of Philadelphia has gotten a lot of attention. It's gotten positive reviews (2), been mentioned in academic writing, and generated a lot of conversation about the racist, sexist, homophobic, and other oppressive ideologies and forces that often manifest themselves within anarchist, radical, and DIY scenes.
Here in Grand Rapids, the zine has been the subject of two different reading groups. In both cases, the zine has been paired with a critique of "Bros Fall Back" that came out of Philadelphia called "On Fighting Patriarchy: Why Bros Falling Back Isn't Enough."
Because there isn't a good printable copy of the zine available online, we threw together this version in hopes that it will contribute to the ongoing conversation around this topic both here in Grand Rapids and elsewhere.
An excerpt from the zine:
BROS FALL BACK

1 a reminder that if you're likely to bro out its on you to check yourself and stop

2 a warning that if you don't you are subject to being forced to stop and/or leave

3 we don't need a solution in order to try to destroy the problem
Bros Fall Back was published on March 20, 2014
Share on Social Media

These links are not an endorsement of social media. They are provided for convenience and to help foster the spread of anarchist ideas.