Fifth Estate #394 Out Now
---
July 02, 2015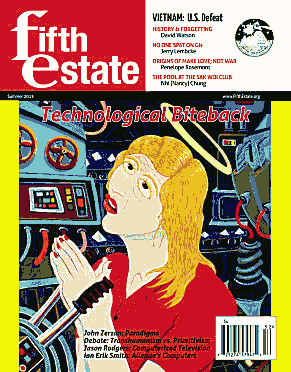 The newest issued of the long-running and Michigan-based anarchist magazine Fifth Estate has been published. The Summer 2015 issue's theme is "Vietnam: A War of Lies." It features the following content:
Fifth Estate celebrates 50th year

The Rojava Revolution

–

Andrew Flood

All Organizing is Science Fiction

–

adrienne maree brown

When the War Comes Home

–

Marieke Bivar

Federico Arcos Dies at 94

–

David Watson

Storm Warnings

–

Feral Sage

Paradigms

–

John Zerzan

Transhumanism vs. Primitivism

–

Bellamy

Control of Computerized Television

–

Jason Rodgers

Computers in Allende's Chile

–

Ian Erik Smith

Passing of An Anarchist Prankster

–

Bill Boyer

Judith Malina Dies at 89

–

Lorraine Perlman

Out of Love

–

Jim Tull

Anarchists Confront the Marxist State in Cuba

–

Quincy B. Thorn

VIETNAM: A WAR OF LIES

History & Forgetting

–

David Watson

Nobody Spat on American GIs!

–

Jerry Lembcke

History of Make Love; Not War

–

Penelope Rosemont

Chopper

–

C.W. Boles

The Pool at the Sak Woi Club

–

Nhi (Nancy) Chung

Anarchist Culture

–

Ruhe

Anarchist Theatre Festival
Please consider subscribing to support the anarchist press. You can find out more on Fifth Estate's website. Fifth Estate has been publishing for nearly fifty years and is gearing up for a celebration of its 50th anniversary, which will include museum exhibits and various celebratory events.
Fifth Estate #394 Out Now was published on July 02, 2015
Share on Social Media

These links are not an endorsement of social media. They are provided for convenience and to help foster the spread of anarchist ideas.