Zines and Pamphlets Published in November 2016
---
December 05, 2016

The following zines and pamphlets were published in November of 2016 by various anarchist publishing projects.
Please copy and distribute which ever of these titles seem interesting, use them to start discussion groups, and most importantly, as a means for developing the capacity to act.
As always, please let us know about new titles so we can highlight them in the next edition. Past round-ups can be found here.
We'd also like to encourage people to check out an archive of PDFs from Zinelibrary.info that offers a good chunk of the content that was previously available at Zinelibrary.info
Zines and Pamphlets Published in November 2016
Dispatches from Standing Rock: Against the Dakota Access Pipeline and its World
This zine—produced by Ill Will Editions—compiles five texts that appeared on anarchist websites around the end of October. They provide firsthand accounts from Standing Rock and the resistance against the Dakota Access Pipeline. It provides a good background on what has happened, where the struggle can go, and how it can be intensified.
Download a Printable or Screen Reading PDF
NIGHTFALL #3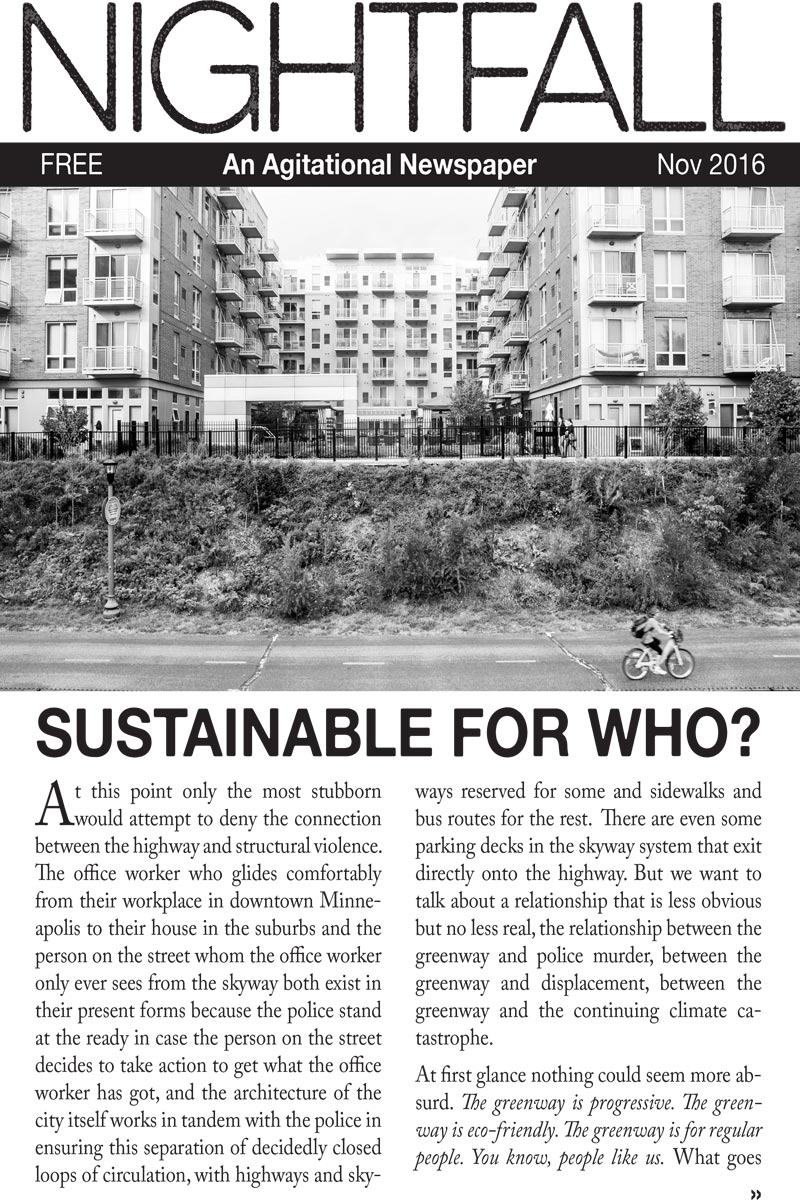 This is the third issue of NIGHTFALL, an anarchist publication covering the Twin Cities area of Minnesota. This issue features a good critique of sustainable development (somewhat specific to the local context, but deep enough that it could be helpful for people elsewhere), a critique of mainstream environmentalism, a historical piece on the Minnehaha Free State, and a round-up of local and global actions. It's definitely a solid example of a locally-focused anarchist publication.
Earth First! News – Samhain 2016
The Samhain 2016 edition of the Earth First! News features the usual round-up of "news from the eco-wars" highlighting environmental action around the world, addresses of eco prisoners, and a list of eco-action groups. Aside from these always useful regular features, this issue features an account of resistance against the Dakota Access Pipeline. It's a helpful piece for providing an overview of what has happened so far.
Hands Off!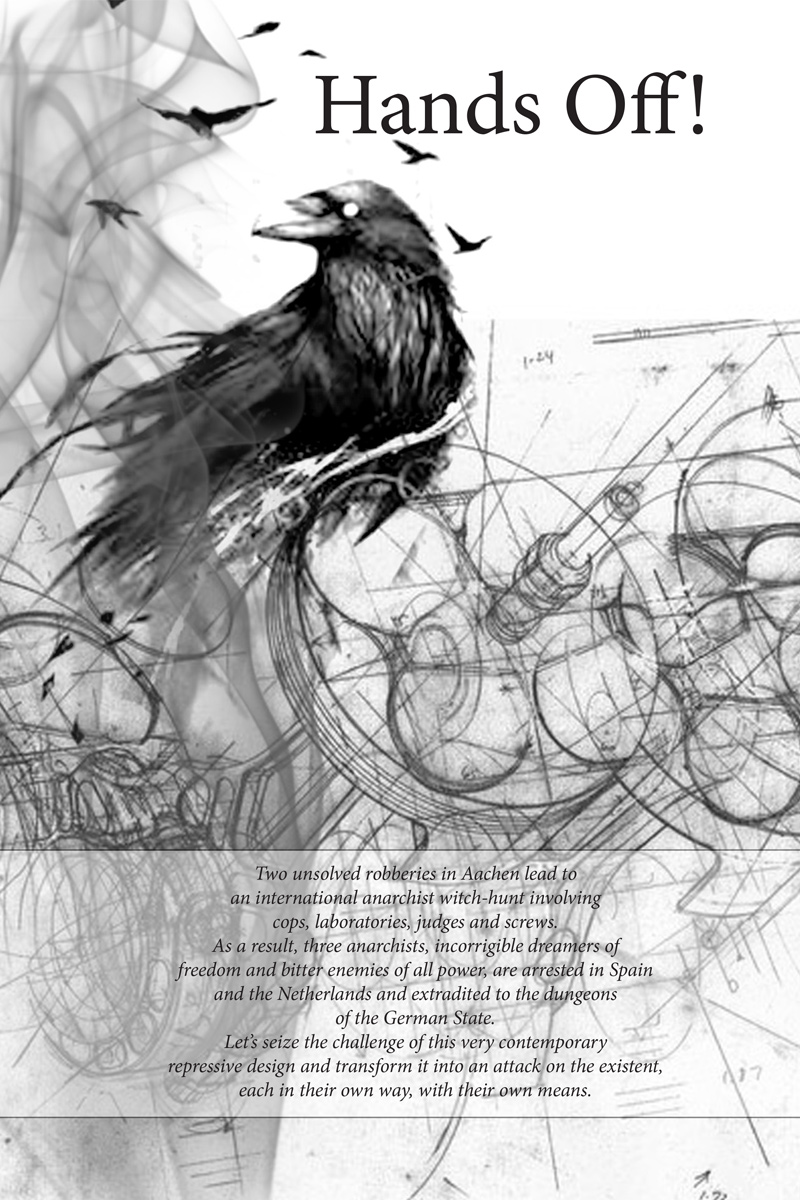 This zine was published in solidarity with 3 anarchists being held in Germany, suspected of participation in two different bank robberies. In response to the robberies (which took place in 2013 and 2014), the German state launched an international investigation that – with the cooperation of other intelligence agencies – targeted anarchists across Europe. This zine provides background on the investigations, the case in general, and various statements/communiques written about the case. It also chronicles the solidarity actions that have been undertaken in response to the repression.
Anarchic Practices in the Territory Dominated by the Chilean State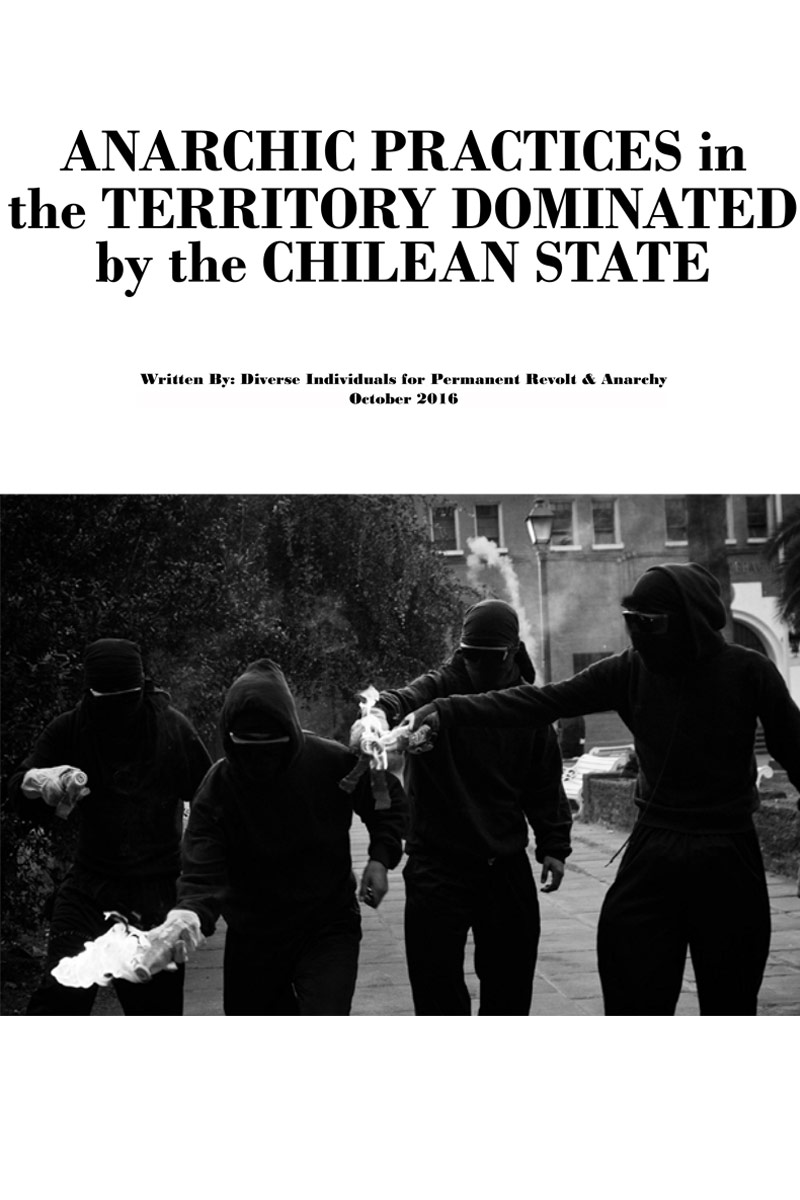 This zine is a lengthy piece originally intended to be printed in an upcoming issue of Fire to the Prisons, but released early because of delays in the publication of the aforementioned magazine. It's a helpful introduction to the anarchist space in Chile and the history of anarchy in the country. The introduction summarizes its intent:
"this article intends to approach issues that we believe are substantial in the development of the anarchist movement in the Chilean region, in order to depict the present state of the movement, leverage its strengths, overcome its weaknesses and to project its potential as a negationist force that denies the reality of compliance and spectacularity."
Along with the text, it also includes a list of anarchist and anti-authoritarian prisoners held by the Chilean state.
Spread Anarchy, Live Communism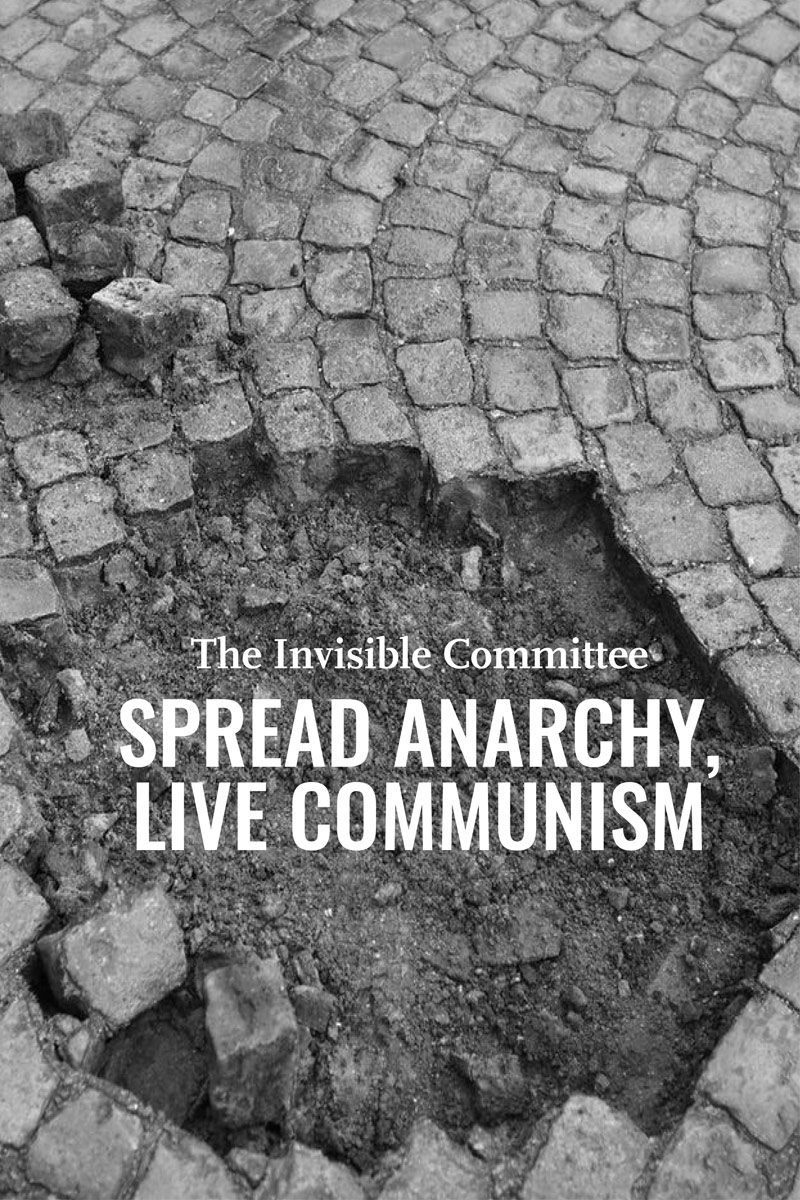 This is an updated zine version of a talk given by the Invisible Committee at a conference in 2011. While at times it seems a little dated in light of events that have happened since its publication, the text provides a good introduction to the perspective articulated by the Invisible Committee in its books (see To Our Friends and The Coming Insurrection).
Download the Printable or Screen Reading PDF
Industrial Worker – Fall 2016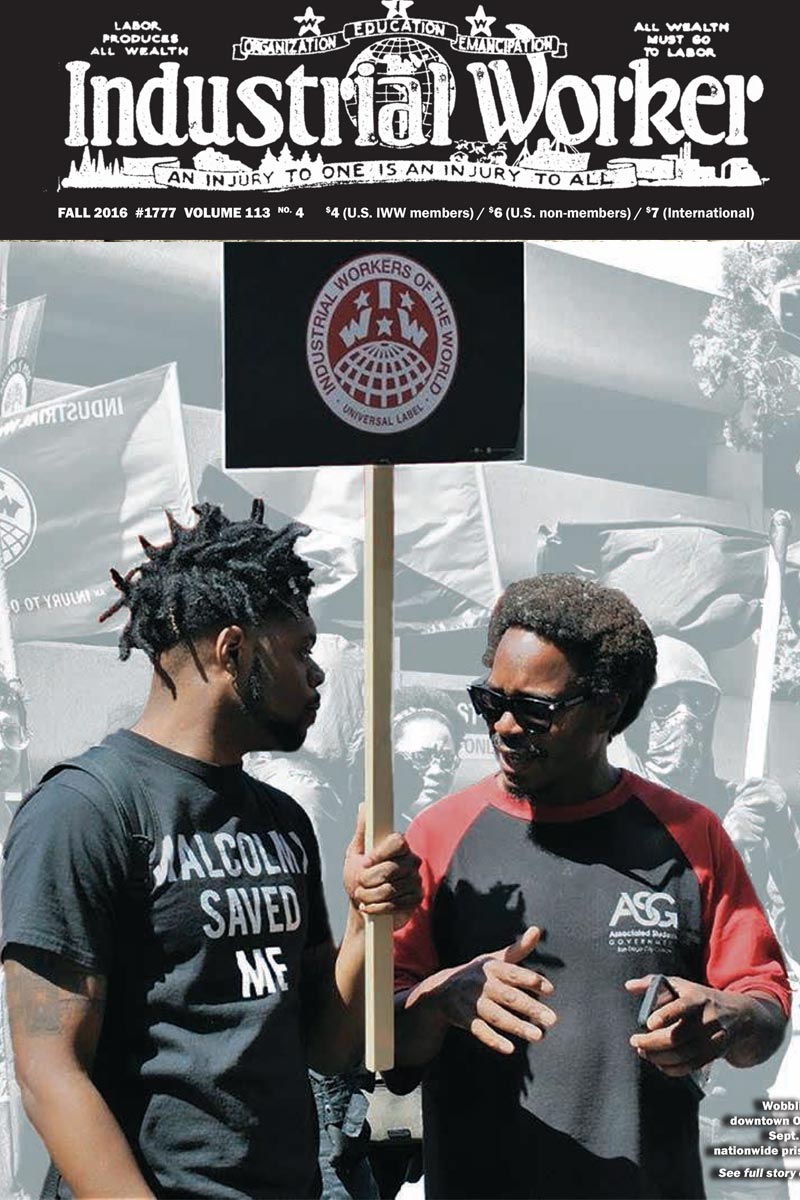 While not a zine per se, the newest edition of the Industrial Workers of the World's (IWW) long-running Industrial Worker publication was released last month. This edition features articles on the IWW's role in the September 9 prison strike, news from IWW and broader labor struggles, and remembrances of comrades who have recently passed as well as historical events. There is also an article on why organized labor should oppose the Dakota Access Pipeline and a piece debating a strategy for future growth of the union.
Fire to the Prisons! Solidarity with the prisoners on hunger strike in Greece March-April 2015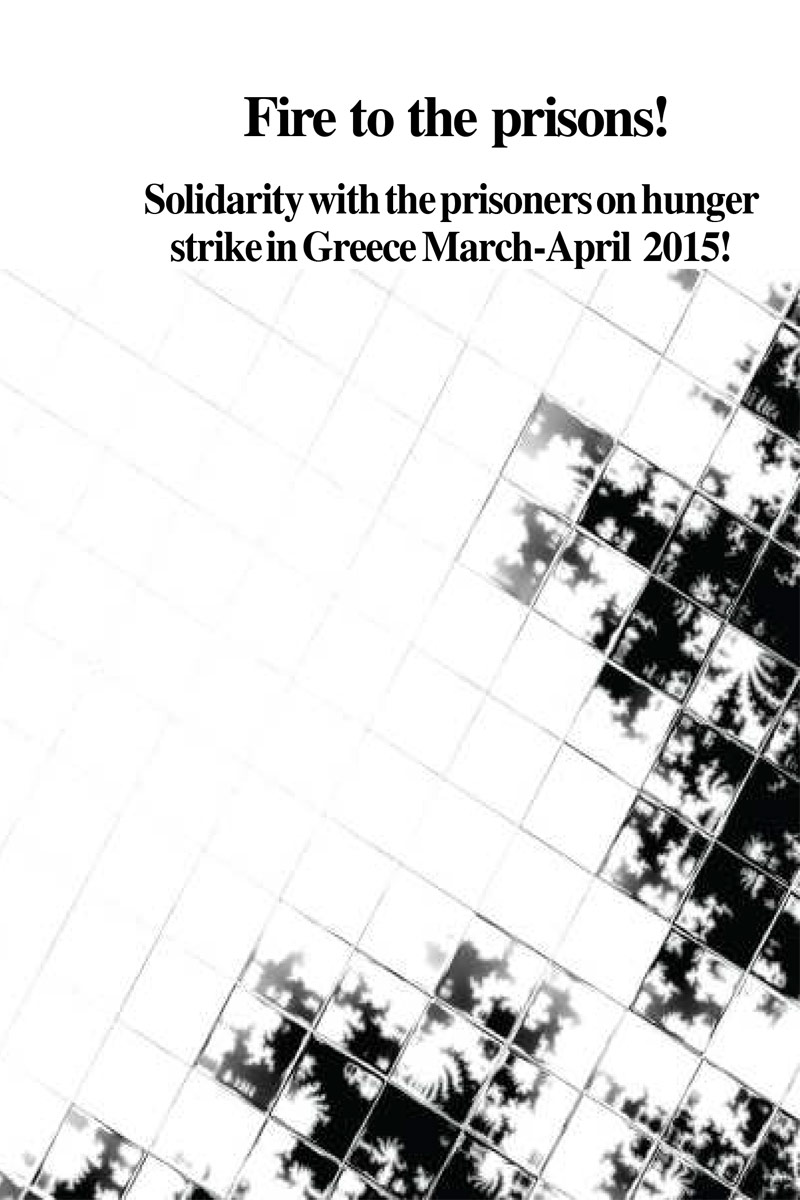 This zine compiles information on Greek prisoners who engaged in a hunger strike in 2015 and the attempts by various anarchists to show solidarity with that effort. The zine includes background information on the hunger strike, statements from prisoners, and communiques from various actions and events held in solidarity. The zine opens with an essay that attempts to clarify what anarchists mean when they use the terms "prison society" and "solidarity" and offers some thoughts on why those two concepts go hand-in-hand in prison struggles.
All Out War: A Call for Anarchy Beyond the Left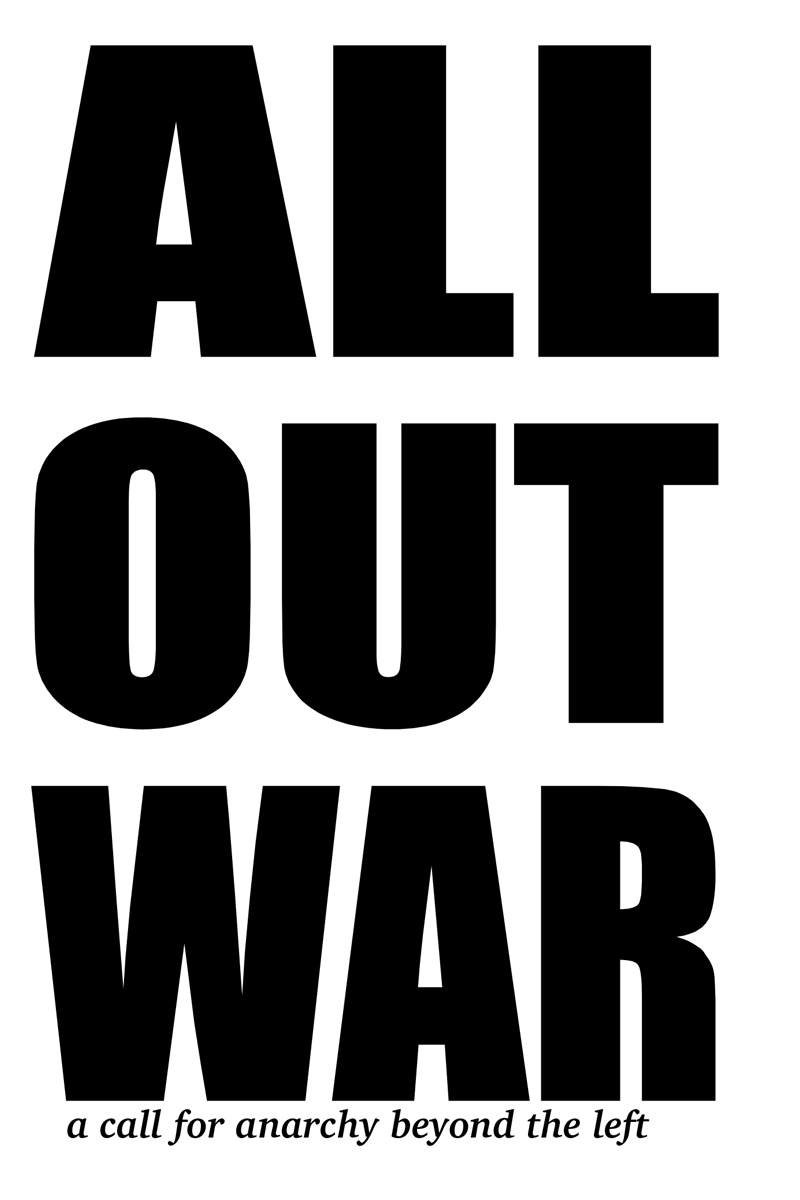 This short text lays out a case for an anti-leftist conception of anarchy that departs from the leftist anarchist critique of capitalism. It argues that leftist anarchists have failed to recognize the centrality of environmental destruction and non-human animal oppression within capitalism. It's an anti-civ and vegan critique of capitalism and speciesism that moves beyond both so-called "single issue" veganism and class war anarchism.
A Letter to Our American Cousins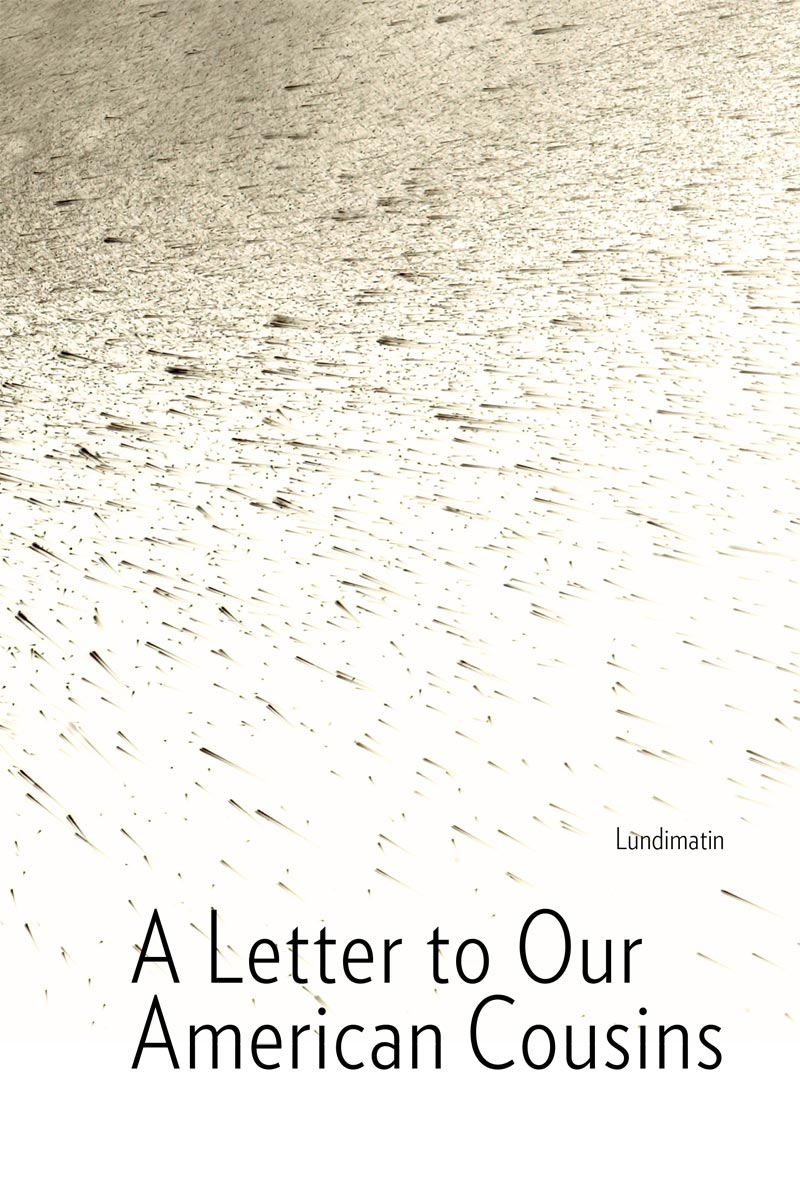 This essay originally appeared on the French website Lundi.am and was translated into English by Ill Will Editions. The text takes the election of Donald Trump as its starting point and attempts to analyze what the election results say about our contemporary condition. It is strongly reminiscent of the writings of Tiqqun in its discussion.
Download the Printable or Screen Reading PDF
Dispatches from Minneapolis 2015 Collection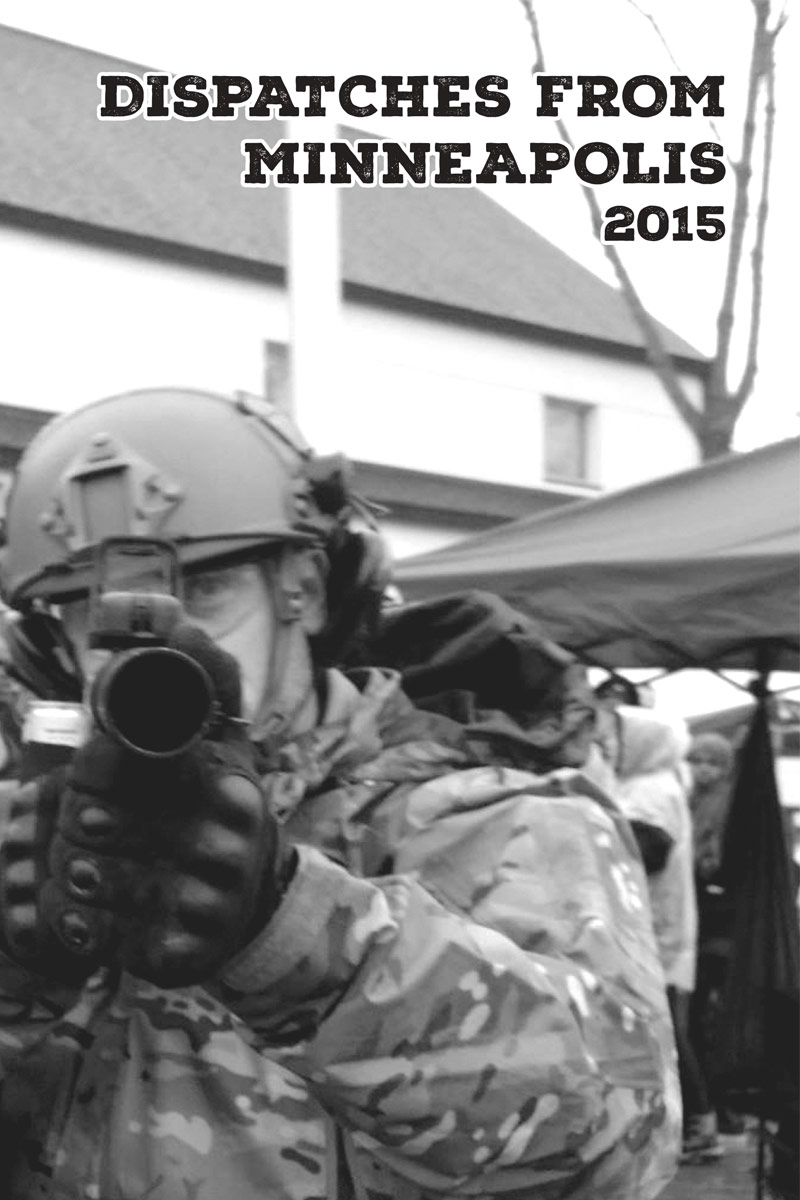 This zine collects articles from the Minneapolis counter-information website Conflict MN about the events that took place in the Twin Cities in response to the police shooting of Jamar Clark. It provides background information in the form of a chronology of events along with various writings about the events. From the zine:
"For a brief period of time at the end of 2015, the streets of Minneapolis exploded with revolt. This revolt contended with both the police as well as the political managers and was ultimately suffocated through the coordination of both."
KSL: Bulletin of the Kate Sharpley Library #88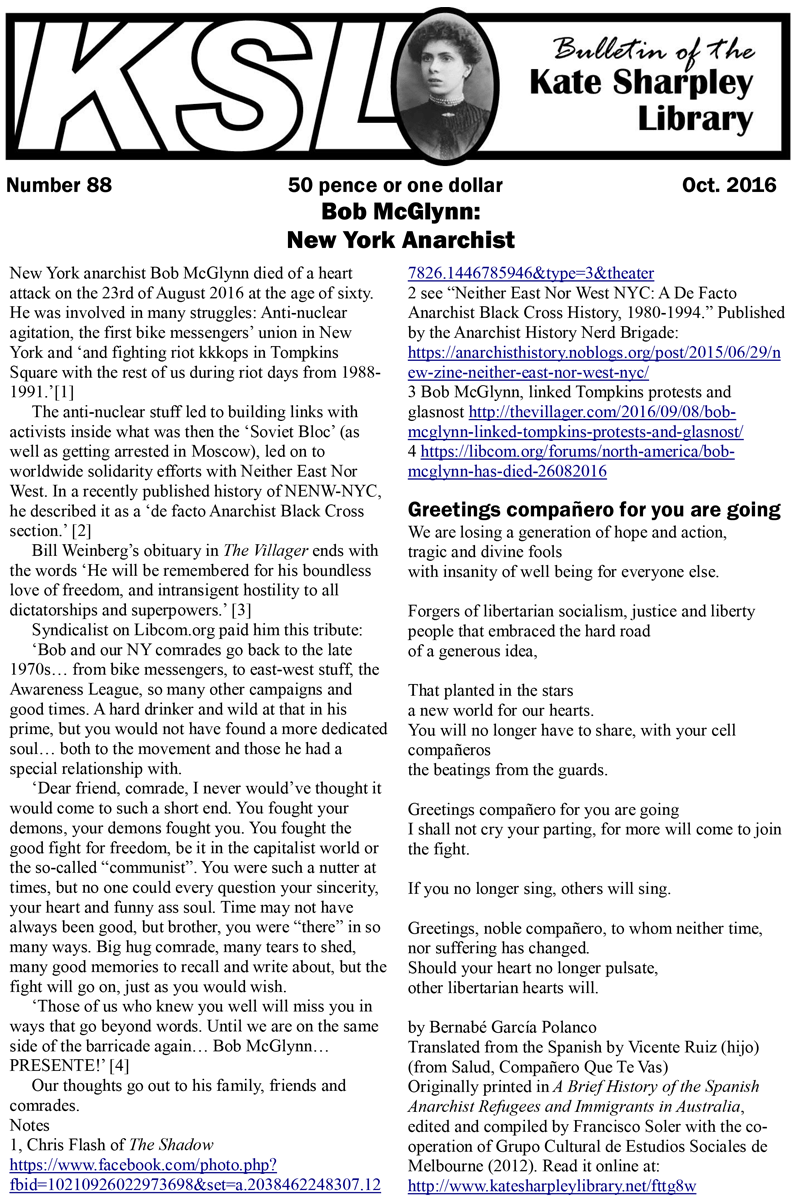 This edition of the Kate Sharpley Library's publication on anarchist history features a remembrance of anarchist Bob McGlynn, several lengthy book reviews, and and announcements of recently published works on anarchist history. It serves as a great introduction the group's work and provides numerous resources for people interested in pursue further reading about anarchist history.
Anathema – November 2016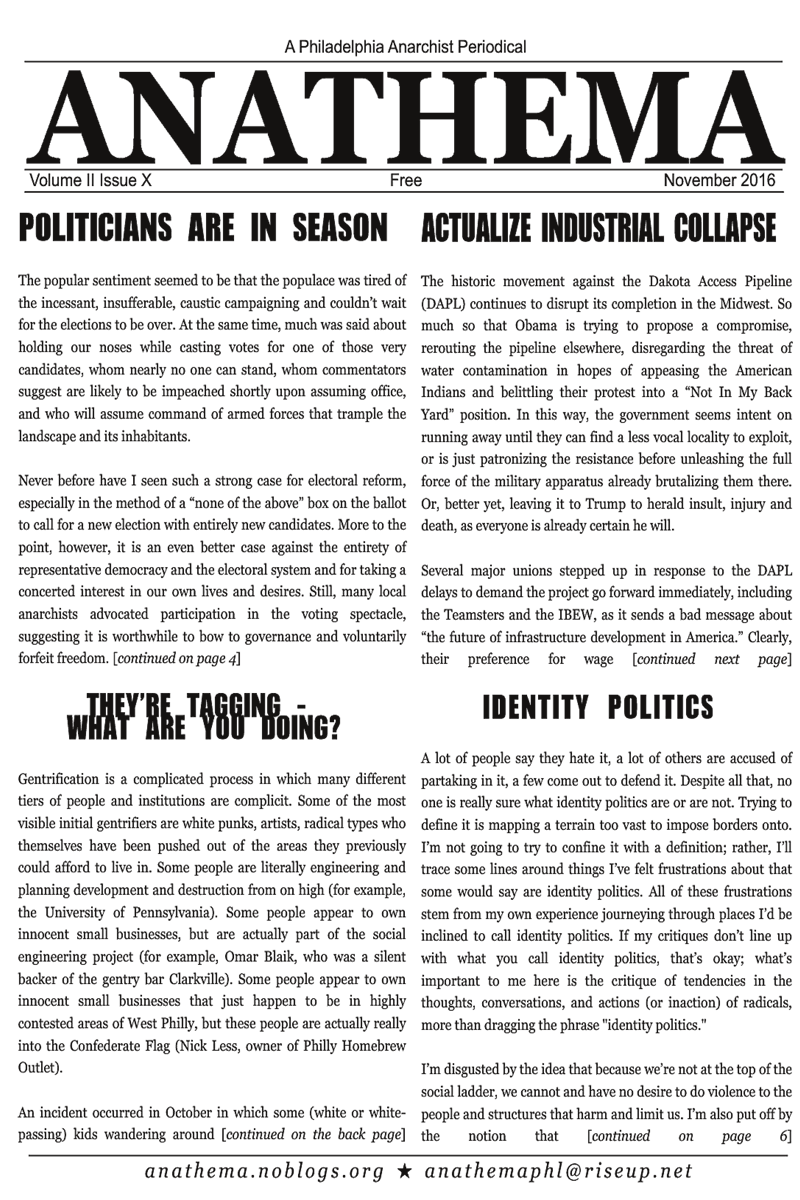 This is the latest issue of the Philadelphia anarchist publication, Anathema. It features the usual round-up of actions alongside several longer than usual articles about resistance to the Dakota Access Pipeline, identity politics, tagging and gentrification, and the elections. There are also reports from the recent anti-Nazi mobilization in Harrisburg and anti-Trump protests. The piece "They're Tagging – What Are You Doing?" is particularly noteworthy with its discussion of gentrification, citizen police, small businesses, and the response to seemingly apolitical graffiti in a gentrifying neighborhood.
Oregon Prisoner Forum #3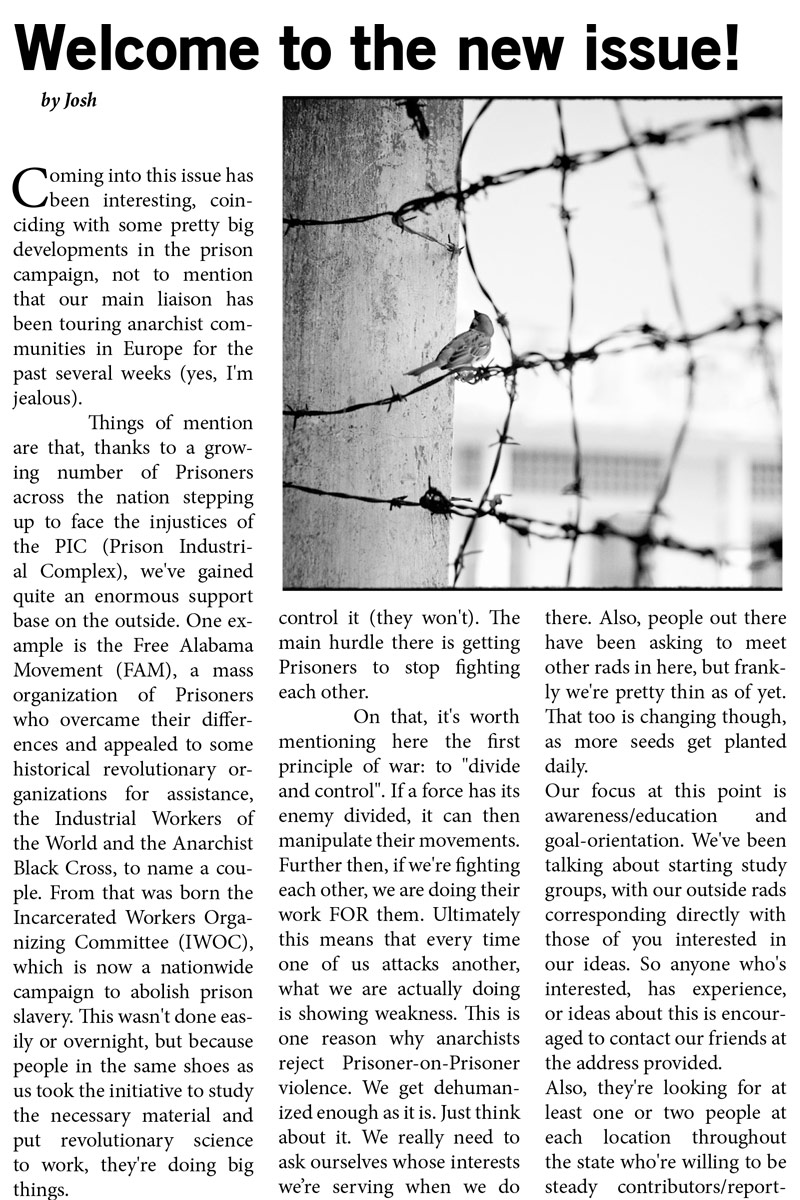 This publication is produced by the Portland Anarchist Black Cross and features writings by prisoners currently held in the state of Oregon. It functions as a resource for networking between prisoners, with updates on what is happening inside the prisons, brief updates on resistance outside prison walls, and longer essays.
An Activist's Guide to Information Security
This is a zine version of an excellent guide to information security written by Anarchist Black Cross Dresden. It covers computers and information security (Linux, encryption, etc), phones (encrypted messaging, location tracking), and email (encryption, choosing a provider). It's an excellent resource that should be widely read and the recommendations implemented quickly by anarchists and others engaged in resistance efforts.
Download a Printable or Screen Reading PDF
Zines and Pamphlets Published in November 2016 was published on December 05, 2016
Share on Social Media

These links are not an endorsement of social media. They are provided for convenience and to help foster the spread of anarchist ideas.