Anarchist Zines & Pamphlets Published in November 2017
---
December 17, 2017
The following zines and pamphlets were published in the November 2017. We are reposting them here in order to increase the circulation of anarchist publications. We definitely don't agree with everything contained within, but we feel strongly that a vibrant anarchist space requires – in part – a robust dialog where ideas come into contact and conflict with each other.
In that spirit, we encourage you to print and circulate these zines and to use them for discussion groups, tabling, or some other more imaginative use.
Avalanche #12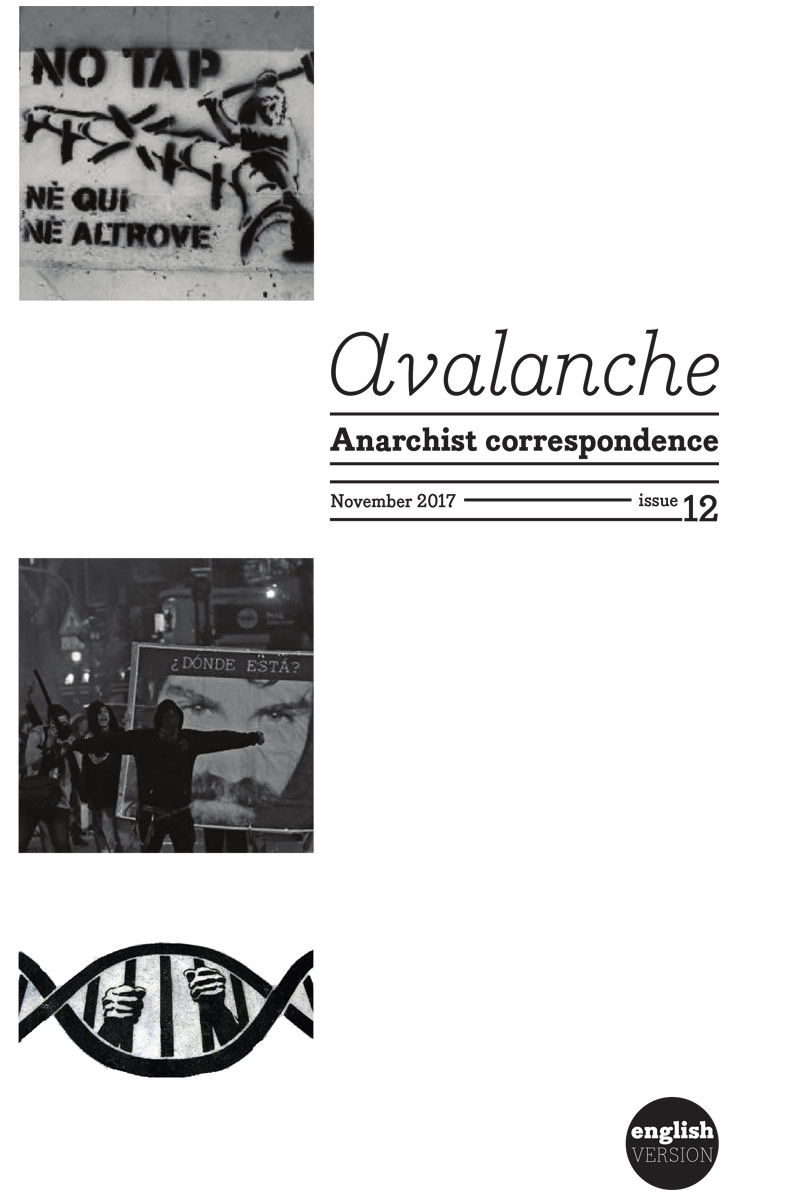 This issue of Avalanche – a journal of "anarchist correspondence" – includes the usual assortment of articles from across the world. In this edition there are contributions from Portugal, Spain, Chile, the United States, Argentina, and Italy. The editorial summarizes the goals of the project:
"…we insist that an international correspondence is necessary to try to overcome one's limitations and potentize one's qualities. Starting from local struggles aiming to create rupture, from intervention proposals for an insurrectionary anarchist presence in a social upheaval or from an individual path of scattered attacks, Avalanche is a collective attempt to sharpen our perspectives and practices, by counterposing each of them against the other."
We Endlings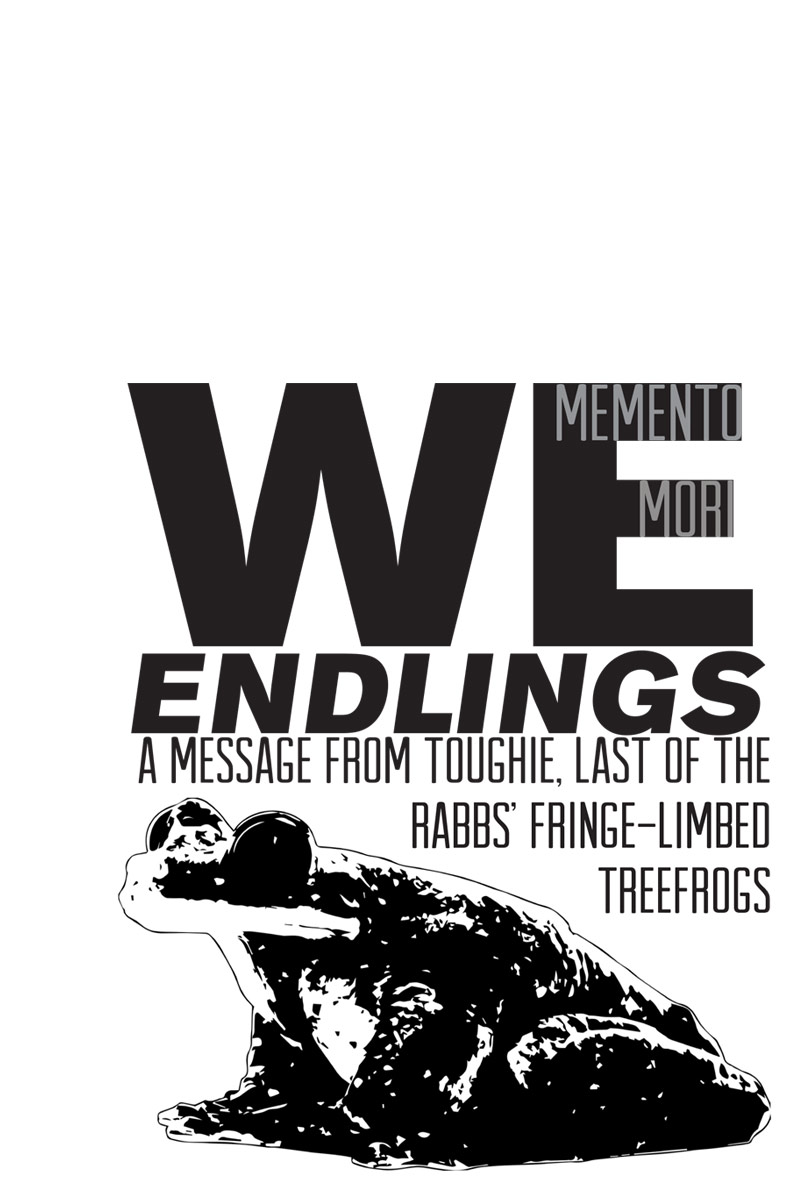 Sub-titled "A Message from Toughie, Last of the Rabbs' Fringe-Limbed Treefogs", this zine by Crimethinc is a moving zine about the death of the last of the Rabb's Fringe-Limbed Treefogs. The species was discovered by researchers in 2005, just as the species began to succumb to the twin threats of researchers and a skin disease. Toughie was one of the last of these frogs, brought to the United States where he lived the rest of his life in a cage before dying as the last of his species—a so-called "endling" or "terminarch". The zine use Toughie to ask larger questions about what it means to be living in a period of when we are all going extinct.
No More Illusions #4
This is an occasional newsletter published by Solidarity & Defense in Michigan. It has a strong focus on anti-fascism and community self-defense with articles on fighting right-wing organizing, the nazi attack on the Houston Anarchist Bookfair, and a review Mark Bray's Antifa: The Anti-fascist Handbook. Alongside these articles, there is also a round-up of actions in Michigan and the United States under the heading "Fuck the Democratic Party, Here's the Real Resistance."
Anathema – November 2017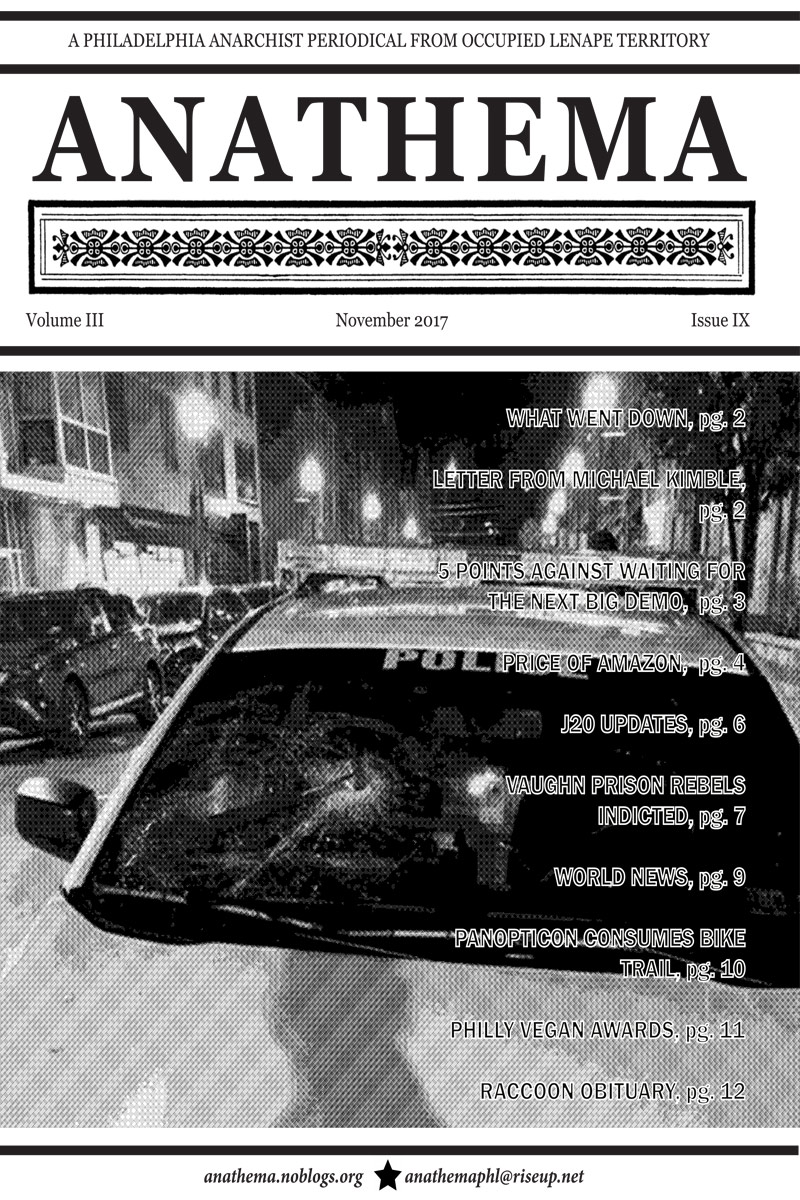 This is the latest issue of Anathema, an anarchist publication out of Philadelphia. It includes the usual action updates from Philly, alongside articles addressing a range of topics including the J20 case, an insurrectionary response to the possibility of Amazon opening a headquarters in Philly, expansion of surveillance along a bike trail, and some world news updates. There is also a nice short piece titled "5 Points Against Waiting For The Next Big Demo" that argues against the common tenancy amongst anarchists to wait for the next big thing rather than taking autonomous initiative.
Digital Anonymity & Security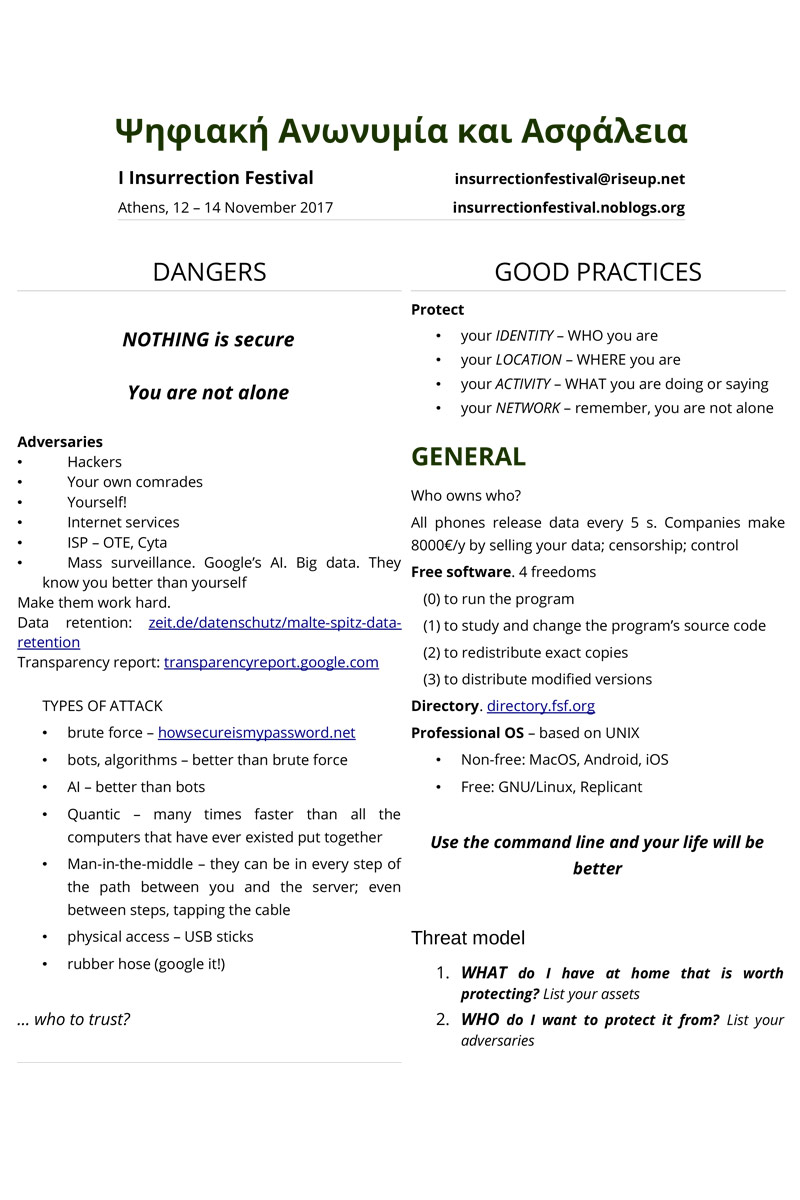 This isn't really a zine or pamphlet per se, but is more of a PDF packet on digital security. It comes out of something called the "Insurrection Festival" that was held in Athens and it is an accompaniment to a workshop held on digital security. It's worth reading to see how this topic is approached in a different context than the United States. It has some useful information, but much of it is brief enough that one would want to consult one of the many sources listed in the text.
A-Tubes – November 2017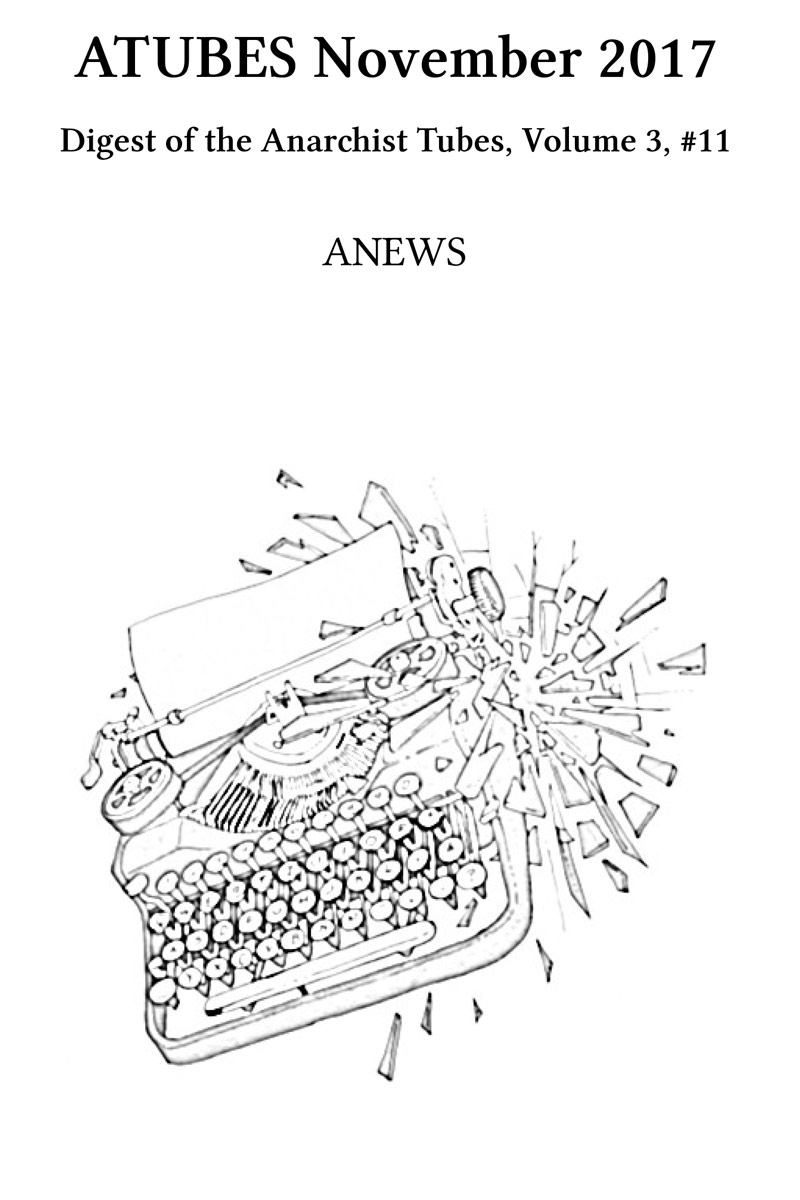 This is the November edition of the A-Tubes, a roughly monthly collection of articles and commentary posted on the AnarchistNews.org website. This issue features articles exclusively, with an article on the Scripta Manent Trial in Italy by Alfredo Cospito, a piece by a Conspiracy of Cells of Fire member titled "Insurrection Cannot Be Negotiated", an announcement from 325 about the temporary suspension of their project, and a piece about Louis Lingg accompanied by a previously unreleased poem.
Fighting for Our Lives
This is a zine formatted version of Crimethinc's classic introduction to anarchism. It came out 15 years ago, just in time for the "People's Strike" demonstrations against the World Bank and IMF in Washington DC. Over the years, 650,000 copies were printed and distributed. The zine is a good excuse to revisit and reflect on this text, which was one of the largest anarchist outreach efforts in the early 2000s.
The Olympia Communard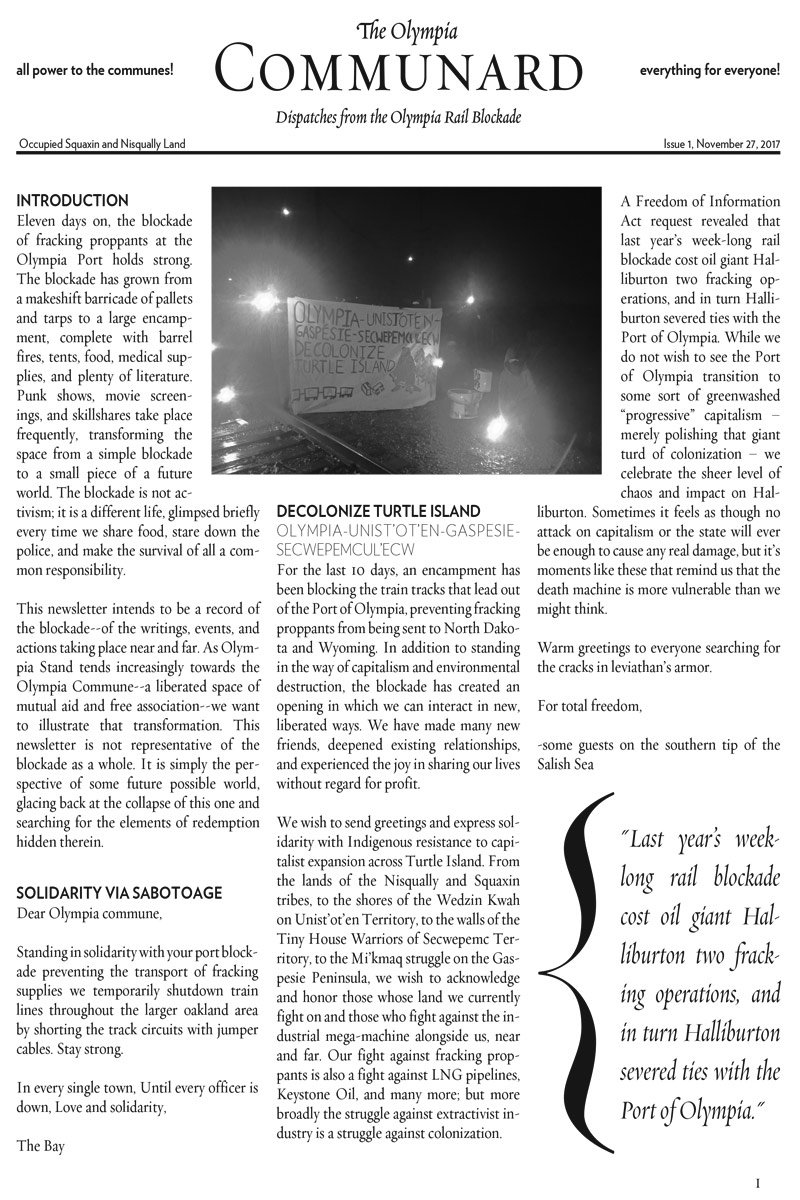 This newsletter comes out of a fracking blockade that was established in the town of Olympia, WA. Through its content, it gives a great overview of the occupation, doing a much better job than reading articles on a screen could ever do. It's obviously heavy on stories pertaining to the occupation, but there is also a helpful guide to using Signal in a more secure manner. The author(s) embrace of autonomous initiative is also refreshing, making this collection useful for anarchists thinking about how to interact with occupations involving a variety of different people from different perspectives. All in all, this is an exciting newsletter.
Anarchist Zines & Pamphlets Published in November 2017 was published on December 17, 2017
Share on Social Media

These links are not an endorsement of social media. They are provided for convenience and to help foster the spread of anarchist ideas.