Anarchist Zines & Pamphlets Published in May
---
May 31, 2021

The following zines were published in the broad anarchist space over the past month. We encourage folks to read, discuss, debate, and circulate the zines they find relevant. We have heard of folks using these round-ups as a way of staying informed, as the basis for sending mailings to prisons, and for reading groups.
If you have suggestions for zines to include in our next edition, please contact us.
Zines and Pamphlets - May 2021
June 11, 2021: International Day of Solidarity with Marius Mason & All Long-Term Anarchist Prisoners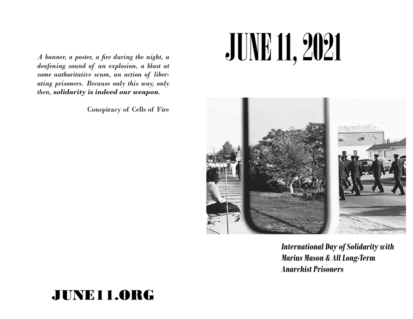 This zine compiles the annual call-out for the June 11 International Day of Solidarity. The text is a good mixture of updates on the status of various anarchist prisoners and analysis of the current moment. From the text:
We stand at a crossroads. Do we allow anarchism to become flat and colorless, a new word to describe an old corpse? Do we evaporate into vague leftism and its tired theater of activism? Do we surrender our principles – solidarity, mutual aid, direct action, cooperation – to the new managers of revolt?
Or do we keep to our own light, our own vision, our own project? June 11th remains a light in the darkness: for our comrades in prison, but also for us. Our work renews our fidelity to freedom and a life in common. It affirms to us, in our doubt and confusion, that anarchy lives in our day to day lives and connects us to a rich and vibrant history of free spirited revolt. It asserts that anarchy will be combative or it will be dead. Solidarity with anarchist prisoners is not, for us, a humorless endeavor, a duty-infected routine. It is generative play and the substantiation of free community. Will you join us?
Dark Nights #50 – May 2021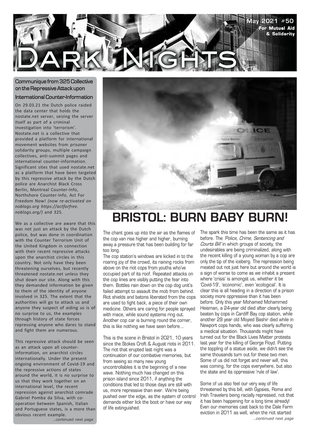 The latest issue of this long-running international insurrectionary journal. There are articles on the recent attempts by state authorities to repress anarchist counter-information by shutting down the 325 website, a chronology of direct actions from around the world, analysis of the COVID lockdown, a response by anarchist prisoner Alfredo Cospito to calls for a new anarchist manifesto, reporting on recent riots in Bristol, and more.
Nevermore! Vol. 1, March 2021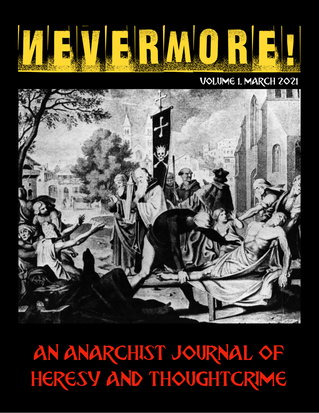 Sub-titled "An Anarchist Journal of Heresy and Thoughtcrime", Nevermore! was published to encourage anarchists to reflect on our collective responses to COVID-19 over the past year and to encourage discussions. From the intro, they state that they write:
"...to reach out to our comrades to call for a serious effort in political reorientation. The old world is behind us, and we do not know how to relate to the new one into which we have been thrust. There is no shame in this. Things have changed extremely quickly, in ways that none of us were expecting. There are many factors that have contributed to a sense of complacency. But now the time has come to look at ourselves in the mirror, and ask ourselves: What have we become?"
Acrid Black Smoke: Revisiting Blessed is the Flame in Insurrection and Anti-Politics
From the introduction:
"The purpose of this zine is to revisit a particularly influential piece of contemporary anarchist and nihilist writing in Blessed is the Flame by Serafinski, with heavy focus on history, and apply some of the concepts explored to the uprisings of 2020."
RUMOER #4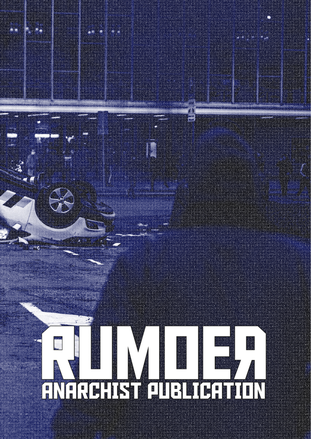 RUMOER is an anarchist publication out of the Netherlands that is published in a Dutch and English edition. One of the more interesting pieces in this issue is a reflection on the curfew riots in the Netherlands in January 2021 and the role that anarchists could have played in those events. There are also reports on actions against the spread of 5G in the Netherlands, a report on May Day demos in the Netherlands, a round-up of actions worldwide, and reflections on accountability processes and their frequent shortcomings.
Kill the Couple in your Head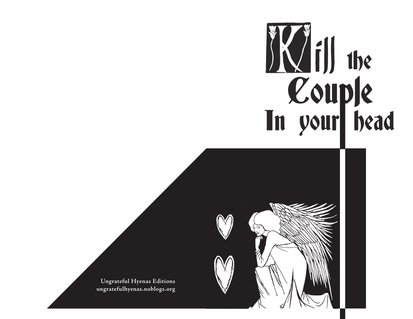 This zine focuses on the way that "those who attack the state recreate and reinforce its power through their participation in its intimate institutions, specifically the Couple via gender, the Family, and Sex." It is an interesting discussion that focuses on the way that anarchists approach these topics often reproduces the practices and values of the dominant power structure. It discusses not only the harms that these forms can frequently cause in individual relationships, but also in the cascading effects that they can have on anarchist groups and networks.
Anarchist Zines & Pamphlets Published in May was published on May 31, 2021
Share on Social Media

These links are not an endorsement of social media. They are provided for convenience and to help foster the spread of anarchist ideas.