Anarchist Zines & Pamphlets Published in August
---
September 01, 2021

You can view past round-ups and you can submit zines for inclusion next month. Until then, copy & destroy!
Zines Released in August 2021
Anathema: August 2021
The latest issue of this publication from Philadelphia features a lot of content relevant to folks living outside of Philadelphia. There is an interview on the Brooklyn Center Riot in Minnesota, a round-up of eco-defense actions, a brief article on resistance in Chile, and more. There are also two thoughtful articles reflecting on anarchist tactics in solidarity with prisoners. One (written in collaboration with members of the Vaughn 17) analyzes hunger strikes and their effectiveness and the other looks at noise demos. This is always a solid publication and definitely worth checking out.
---
Seven Theses on the Three-Way Fight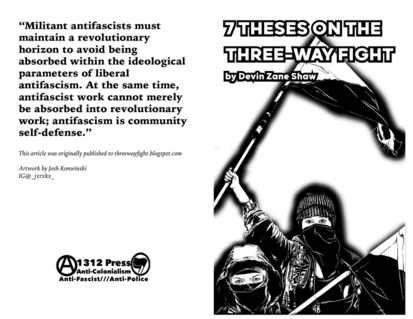 This essay by Devin Zane Shaw examines the state of fascism in the United States and the prospects for continued militant anti-fascism. With Donald Trump out of office, liberal antifascism – always a limited movement – has retreated and militant antifascists are increasingly on their own. However, the threat has not subsided:
...Mainstream liberal antifascists were content to encapsulate and isolate fascism around so-called Trumpism, which was defeated with the victory and inauguration of the Biden administration, though, they sternly warned, a more effective demagogue could wreak more havoc than trump in the future.
We must, by contrast, disentangle an array of far-right phenomena: trumps particular propaganda campaign against the legitimacy of his electoral defeat; the drift, or push, of the republican party toward far-right ideology; Trump's attempt to suppress the anti-police uprising; and the temporary alignment of ideologically system-oppositional groups as system-loyal vigilantism against antifascist and anti-racist organizing. What differentiates our perspective from the critique of Trumpism, which we must emphasize, is that we cannot lose sight of the far right as a relatively autonomous social movement. Trump's ascendency was based in part on the emergence and growth of far-right organizing, and he certainly didn't conjure them out of the blue. Likewise, his electoral defeat does not signal their defeat and dissolution.
For similar analysis and writings, check out the blog Three Way Fight.
Download: Print
---
History and context of the struggle in Bure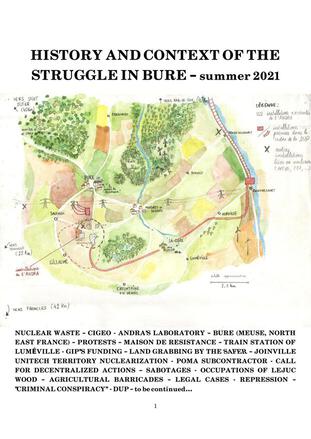 This zine explores an ongoing struggle in France:
The struggle in Bure has been going on for almost 25 years, and in order to have a more complete vision of the past years, the second part of the zine is a chronology of the struggle against Cigéo... As with any written perception of the territory and past events, this is a subjective (although collective) vision, a kind of tool, a mean. It should not be taken for granted and is only willing to be criticized, confronted with other opinions or testimonies.
---
An Introduction to Antifascism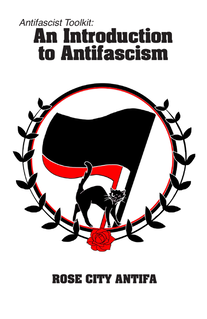 This zine was produced by Rose City Antifa as part of their "Antifascist Toolkit" series. It provides a brief introduction to antifascism, covering its historical roots in the 1920s and through its contemporary manifestations in the United States. The text also outlines the movement's approach, which is centered on direct action, education, and solidarity. It's a good introduction for people newer to antifascist work.
---
Best Practices for Tips and Info Sharing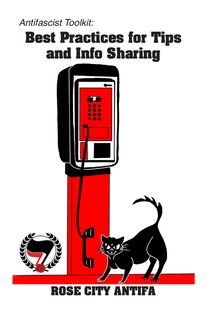 This zine from Rose City Antifa offers "helpful tips for both collecting information on fascists and their activities as well as best practices for sharing that information with others." It guides people through the process of accurately gathering information about fascists to share with others, with an emphasis on completeness and community safety. Reading through this and keeping their suggestions in mind is a great way to improve info sharing.
---
Anarchist Zines & Pamphlets Published in August was published on September 01, 2021
Share on Social Media

These links are not an endorsement of social media. They are provided for convenience and to help foster the spread of anarchist ideas.