Anarchist Zines & Pamphlets Published in November
---
December 14, 2021

The following zines and pamphlets were published the broad anarchist space over the past month or so. We encourage folks to read and share these as they see fit.
In working on this month's post, these words from Rumeor (featured below), resonated with us:
For us the choice to write and to print real paper copies could never be casual decisions, nor would this project be able to exist in the digital realm. The internet is too momentary and seems to relate poorly to the reality of everyday life. By publishing on paper, we want to break away from daily news cycle, bombardment of information and updates and chatter, to find a different time, space, and rhythm on which to connect to each other. Quite apart from the latest instagram post from one's favorite internet celebrity or would-be politician whose opinion can be summed up in a 20 second snippet, we want to find ways to communicate our ideas, desires, and frustrations with this world with all the complexities and difficulties they entail, and to give the required attention and care to this, never competing with trendy slogans or easy answers. We also want these ideas to end up in strangers' hands, not decided according to algorithms of google or facebook whether they are meant for you or not. We like chance encounters, hearing via-via that someone got handed a copy of RUMOER or found one in a folder on the street.
Thanks as always to those who take the time to format and circulate zines. <3
If you have something for us to include next time, please get in touch. You can view past round-ups or submit zines for inclusion next month.
Zines Released in November 2021
An Anarchist Free Herbal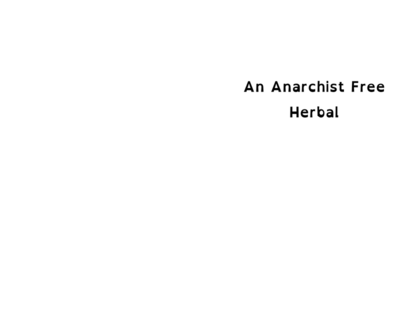 This zine provides an enjoyable and useful introduction to herbalism and its interaction with anarchy. From intro:
This zine is intended as a practical guide to some topics that common herbal education tends to not cover—primarily, how to make and use herbal medicine on a low-to-nothing budget. Think of it as a "quick start guide" to summarize the information I personally think beginner herbalists should have—It is not the be-all end-all of herbal knowledge, nor should this be taken as gospel truth: Just one anonymous herbalist's methods, opinions and philosophies.
It's a great place to start learning about herbalism and anarchy's relationship to the natural world.
---
Go Kits for Anti-Fascist Community Defense: Materials, Organization, Deployment, and Uses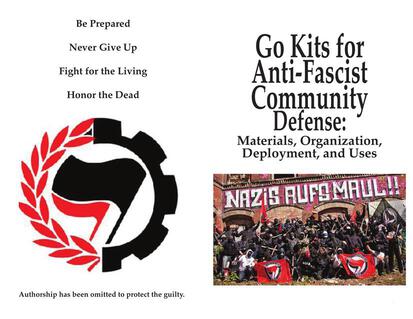 This zine provides a series of suggestions for "go kits" that folks engaging in anti-fascist work should consider having ready. It starts from the premise that anti-fascist activity and community self-defense is serious (and potentially dangerous) work. The zine covers "every day carry" items on through kits geared more towards black bloc mobilizations. The zine makes suggestions "what items you may need when confronting fascists, how to store them, and how to deploy them." That said, putting thought in ahead of time can make it easier to respond quickly and lessen the chance of costly mistakes.
Download: Print
---
Storm Warnings: Anarchist Bulletin for the Social War #42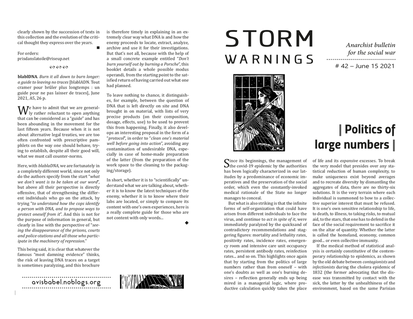 This is an English translation by avisbabel.noblogs.org of the French publication Avis de Tempetes. This issue features a lengthy piece exploring how the management of the COVID crisis has focused on economic imperatives and social control. There is also an article on the clandestine activities of exiled Spanish anarchists in Lyon during the years 1942-1955. Reviews of two anarchist publications written in the French language round out the issue.
---
Storm Warnings: Anarchist Bulletin for the Social War #43-44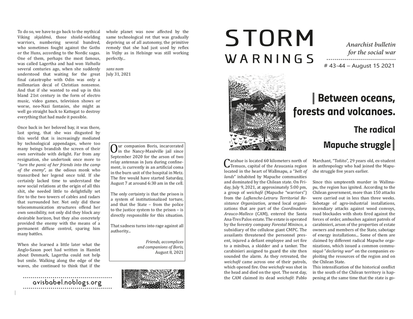 This translated issue of Avis De Tempetes consists primarily of one article on the Mapuche struggle in Chile. It covers the origins of the struggle up through the present and is an excellent overview.
---
Storm Warnings: Anarchist Bulletin for the Social War #45
The main text in this translated issue of Avis De Tempetes is titled "Held Hostage" and it looks at the ways "catastrophe" is used to blunt our imaginations and ensure obedience. Alongside this text there is a chronicle of actions and a review of a new publication on the pétroleuses and their activities in the Paris Commune.
---
Fat Mutual Aid + Pod Mapping for Mutual Aid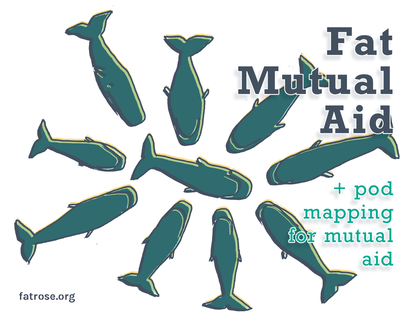 This zine explores the ways in which fat people are often excluded from participation in mutual aid projects and frequently aren't considered when folks conceptualize how mutual aid projects will function. From the text:
If we dream of a world in which all beings are cherished, practicing mutual aid is one way to start embodying that world. If our mutual aid efforts are really going to be part of movement building and world changing, they need to include fat and disabled people.
To that end, the zine explores some ideas of how a "fat mutual aid" can function. Among the ideas are is a "pod" where people self-organize to provide mutually agreed upon support. In addition to this concept, there are also a number of suggested readings referenced in the text.
---
Tough Mind, Soft Heart: Nurturing Solidarity in the Struggle Against Fascism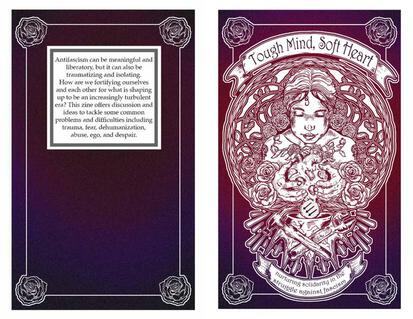 This zine asks a lot of deep questions about anti-fascist organizing and what it means to be a part of a movement against fascism:
Antifascism can be meaningful and liberatory, but it can also be traumatizing and isolating. How are we fortifying ourselves and each other for what is shaping up to be an increasingly turbulent era? This zine offers discussion and ideas to tackle some common problems and difficulties including trauma, fear, dehumanization, abuse, ego, and despair.
There is a lot consider in this text and in is a great starting point for reflection and discussion.
Download: Print
---
Rumeor #5
This is the 5th issue of this anarchist publication out of the Netherlands published in both Dutch and English. This issue features reflections on the housing struggle in the Netherlands and debates around anarchist participation, reflections by contributors on why they publish Rumoer, a round-up of anarchist actions around the world, and more.
Download: Read
---
Anarchist Zines & Pamphlets Published in November was published on December 14, 2021
Share on Social Media

These links are not an endorsement of social media. They are provided for convenience and to help foster the spread of anarchist ideas.