Anarchist Zines & Pamphlets Published in December
---
January 02, 2022

The following zines were released in the broad anarchist space over the past month or so. They include a mix of new texts engaging with the dying planet and the anti-police uprisings of 2020, as well as several reprints of older texts.
As always, we encourage folks to distribute and discuss these texts widely. If you have something you would like us to include here next time, let us know. You can view past monthly round-ups or view our catalog for a curated collection of anarchist zines.
We're concluding this introduction with a quote from the zine Please Riot:
The deck is stacked against any change, let alone revolution. But, in the words of anarchist science fiction writer Ursula K. Le Guin: "We live in capitalism. Its power seems inescapable. So did the divine right of kings."

Those kings are dead.
Zines Released in December 2021
Return Fire: Winter 2021-2022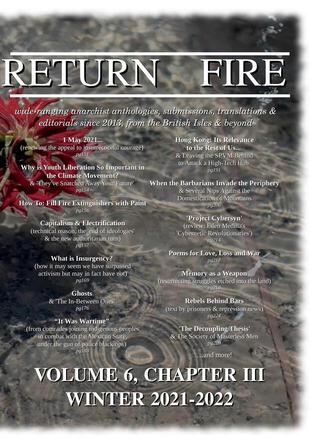 This is the latest issue of Return Fire. The publication's tag line is "anti-authority // daily revolt // individual will // de-civilisation." To that end, there are numerous articles covering a wide range of topics including COVID-19, debates around insurgency and activism, lessons from recent struggles in Hong Kong, eco-anarchist actions in Mexico, and writings from anarchist prisoners. This publication is always worth reading.
Download: Read
---
Green Desperation Fuels Red Fascism: Andreas Malm's Authoritarian Leftist Agenda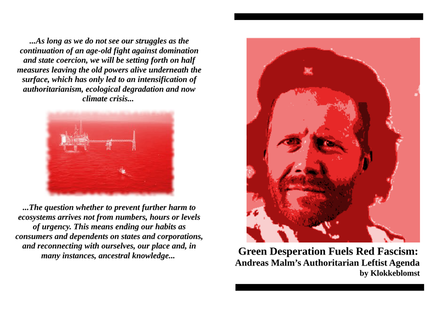 Released as a supplement to the latest issue of Return Fire, this zine expands on similar ideas. It critiques the work of Swedish academic Andreas Malm who advocates for Leninist approaches to climate change. While Malm's writing may not be widely known, it's representative of the leftist approach to climate change which advocates for state control and "humane" technologies. Moreover, Malm argues for hierarchal movements with strict discipline a la Deep Green Resistance and trashes decentralized direct action. This critique thoroughly debunks Malm's ideas and other similar approaches.
---
Please Riot: Retrospectives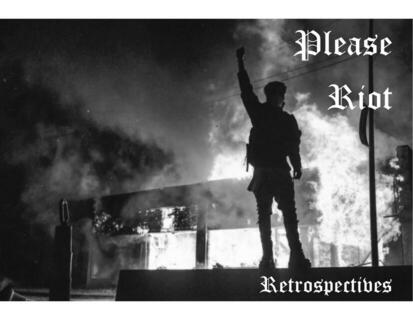 This zine – written by anarchists in Colorado – analyzes what they assert are the key events of the past year and a half: 1) the racial domination by the state via racist police killings that led to the death of George Floyd and so many other Black, Brown, and Indigenous people every day, 2) the management of COVID-19 that has killed or maimed millions in the "US", and, 3) the failures of representative government to improve social wellbeing. It's always refreshing to see folks analyzing where the prospects for revolt are at and the role that anarchists can play. In the end, the authors argue for a strategy of "building revolutionary potential called dual power." There is no elaboration on what this means in practice, instead, the authors plan to outline its meaning in the future.
---
Acrid Black Smoke: Revisiting Blessed is the Flame in Insurrection and Anti-politics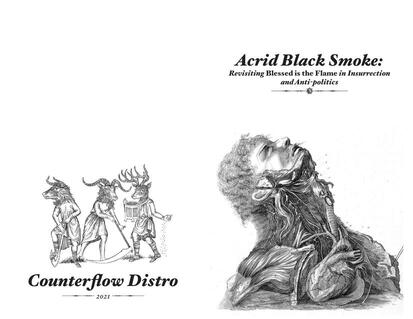 This is a newly laid out edition (same content) of a piece released earlier this year that analyzes the 2020 anti-police revolts through the lenses of the anarchist nihilist text Blessed is the Flame: An introduction to concentration camp resistance and anarcho-nihilism. From the intro:
The generalized revolts of the summer of 2020 were awe inspiring, it was likely the largest redistribution of wealth in US history, it also attacked society on various levels ( capital, police, media, etc.). After years of watching social movements form, flounder, and not a damn thing changing...this is seemingly different. While nothing "officially" has changed in terms of the system, this wave of insurrections demonstrated peoples capacity to absolutely destroy the illusion of order the state likes to project. The incomprehensibility of the insurrections lended to their power, there was nothing for the state to grasp at, nothing for the recuperative forces to hop onto, this was something that lay outside of their frameworks.
---
Aphorisms Against Work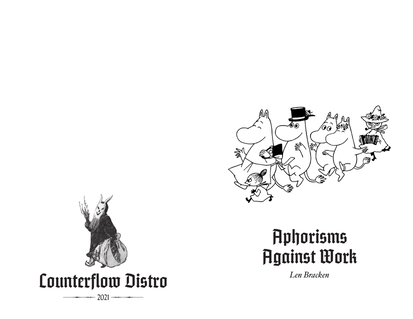 This is a collection of 93 aphorisms against work by Len Bracken, a former member of the Industrial Workers of the World (IWW) and Northeast Federation of Anarcho-Communists (NEFAC). The brief statements do a good job of accessibly critiquing work. This has been reprinted many times since its original publication.
---
Smashing the Orderly Party: An Anarchists' Critique of Leninism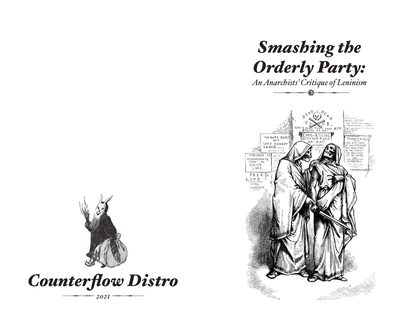 This is a newly formatted (by Counterflow Distro) version of an older (~2011) critique of Leninism. It's a solid critique of Leninism and worth reading if you are unfamiliar. It's always surprising that the corpse of Leftism hangs on, but unfortunately it's still something anarchists encounter from time to time. This zine is a good thing to distribute amongst newer folks.
---
A Wager on the Future: Anarchist Organization, the Islamic State, the Crisis, and Outer Space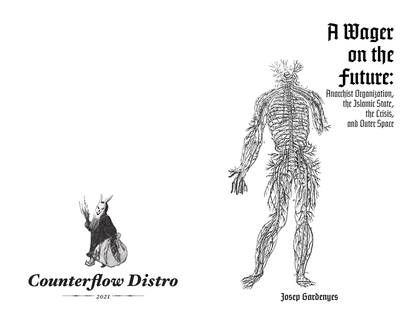 This is a newly formatted version of an essay by Josep Gardenyes that came out a few years ago (~2016). It's still a solid analysis of the contemporary anarchist movement based on the global events of the early 2010s and the spread of various anti-government struggles. While the context may have shifted somewhat, the questions about how anarchists relate to widespread social movements are still relevant. This is highly recommended!
---
Anarchist Zines & Pamphlets Published in December was published on January 02, 2022
Share on Social Media

These links are not an endorsement of social media. They are provided for convenience and to help foster the spread of anarchist ideas.