Anarchist Zines & Pamphlets Published in January 2022
---
January 31, 2022

The following zines were released in the broad anarchist space over the past month. This month, topics include anarchist prisoners, insurrection, anti-blackness, the uprising in Kazakhstan, and more. As always, we aim to cast a wide net with these monthly posts and inclusion here doesn't imply endorsement/agreement with the ideas contained in these publications.
If you want to view past round-ups, you can view them here. If you have something you want us to include next month, contact us. For a curated collection of zines, view our catalog.
Zines Released in January 2022
Fire Ant #11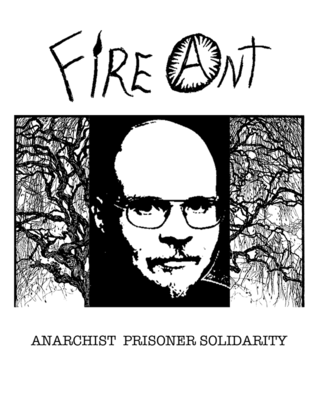 Fire Ant is a quarterly publication focused on spreading the words of anarchist prisoners and generating material solidarity for our imprisoned friends. Begun as a collaboration between anarchist prisoners and anarchists in Maine, Fire Ant seeks to raise material aid for anarchist prisoners while fostering communication between anarchists on both sides of the walls.
Issue #11 features essays, updates, and artwork from Jennifer Rose, Pepe, Thomas Meyer-Falk, Eric King, and Sean Swain.
Download: Print
---
The Uprising in Kazakhstan: Interviews with Kazakhstani & Russian Anarchists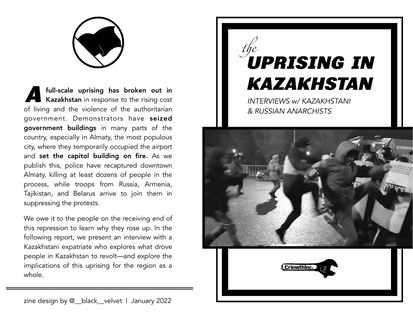 This is a zine-formatted version of a recent piece by CrimethInc covering the uprising in Kazakhstan. From the introduction:
A full-scale uprising has broken out in Kazakhstan in response to the rising cost of living and the violence of the authoritarian government. Demonstrators have seized government buildings in many parts of the country, especially in Almaty, the most populous city, where they temporarily occupied the airport and set the capitol building on fire. As we publish this, police have recaptured downtown Almaty, killing at least dozens of people in the process, while troops from Russia and Belarus arrive to join them in suppressing the protests. We owe it to the people on the receiving end of this repression to learn why they rose up. In the following report, we present an interview with a Kazakhstani expatriate who explores what drove people in Kazakhstan to revolt—and explore the implications of this uprising for the region as a whole.
Download: Print
---
Recognizing Hate: Dog Whistles and Far-Right Symbols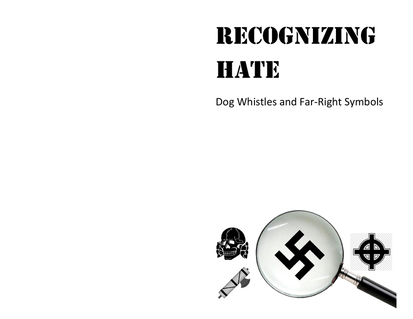 This zine, written by a former Nazi, is a guide to "dog whistles" and symbols that fascists use to identify those with similar views, find allies, and establish common ground. The fascist movement has a range of words and phrases, hand signals, letter and number combinations, and symbols that adherents use to identify each other. This guide provides an overview of common dog whistles and the groups that they are associated with. It's a useful tool for helping to identify fascists.
Download: Print
---
Creeker: Volume 1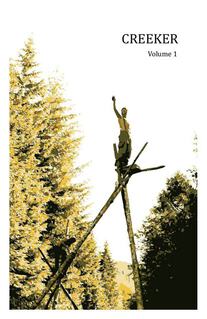 This zine covers the ongoing struggle at Fairy Creek on so-called Vancouver Island in Canada. From the announcement post:
This summer on so-called Vancouver Island, thousands of people moved through a de-facto autonomous zone spanning multiple watersheds. An entire constellation of struggle burned bright this summer, welcoming into its fold a new generation of land defenders. We cannot begin to fathom the amount of stories of collective and individual experience that have piled up, but we also recognize how sleep deprivation, trauma loops, burnout, and the shock of returning to society can preoccupy our minds.
This offering represents an attempt at encouraging others to share some of what they have begun to process, knowing that it will take years to integrate all they have gone through, for better and worse. Contributions for Volume 1 include odes, poetry, stories, reflection, news, and analysis.
---
Fragments Against Reparation: Thoughts on Anti-Blackness and Black Liberation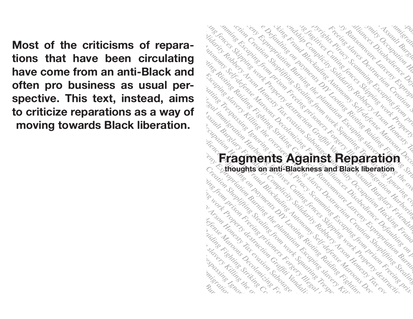 This zine out of Philadelphia (Lenapehoking) was written to provoke a more critical discussion of reparations. While many criticisms of reparations are based in anti-blackness and/or a desire to preserve the status quo, this text argues reparations aren't a path towards Black liberation. It presents a series of arguments against reparations, suggests alternatives (primarily arguing for attacking the status quo), and suggests a politics of complicity for non-Black people rather than one based in guilt.
---
Black Armed Joy: Some Notes Towards a Black Theory of Insurrectionary Anarchy
This zine grew out of conversations among Black anarchists following the George Floyd rebellion. It aims to address three primary questions: What would an insurrectionary anarchist position thoroughly rooted in black radicalism and black revolt mean? How does the current white insurrectionary anarchist milieu fail? How can Black revolutionaries extend the insurrection?
---
Dispatches from Triangulum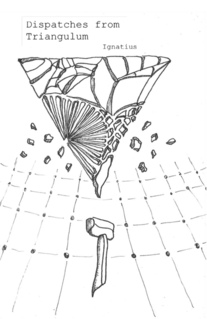 This zine is a bit different from what usually appears in these monthly posts. It's a long form poetry/report back covering the events in the Triangle Region of North Carolina during the year between March 2020 and March 2021. It's refreshing to see something that breaks the mould of the usual report back format. Definitely worth checking out.
---
Anarchist Zines & Pamphlets Published in January 2022 was published on January 31, 2022
Share on Social Media

These links are not an endorsement of social media. They are provided for convenience and to help foster the spread of anarchist ideas.