Anarchist Zines & Pamphlets Published in April 2022
---
May 02, 2022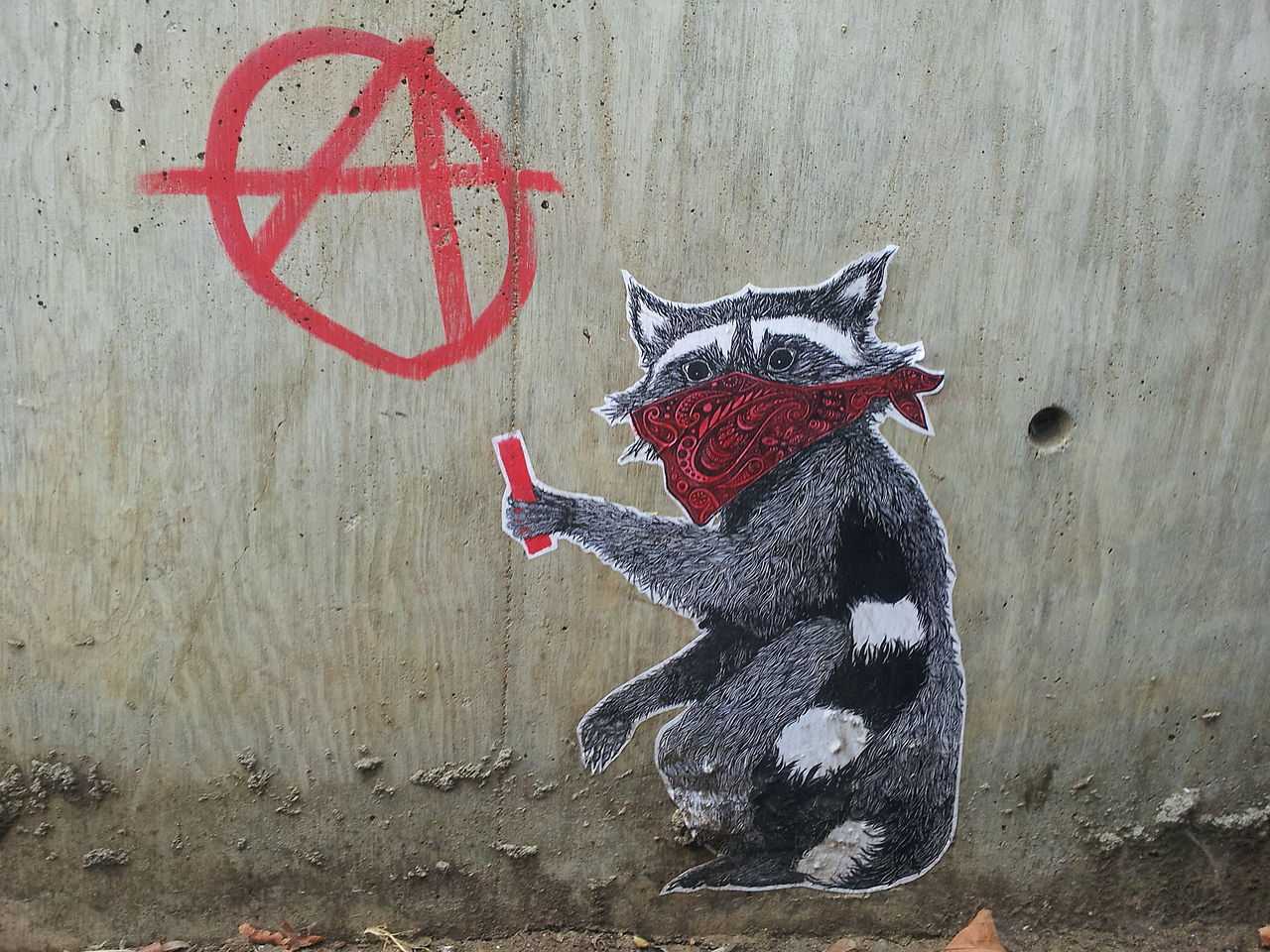 Thanks for checking out our monthly round-up of recently published anarchist zines. After a slower month last time around, there are more titles in this month's collection. There is a reprint of a classic text on the relationship between anarchism and nihilism, writings by anarchists against the ongoing war in Ukraine, a new collection of translation of French insurrectionary writings, and more.
We aim to cast a wide net with these monthly posts and inclusion here doesn't imply endorsement/agreement with the ideas contained in these publications. If you like these posts and find them useful, please share them with your friends, comrades, and random strangers.
You can view past round-ups if you want more reading material. If you have something you want us to include next month, contact us. For a curated collection of zines, view our catalog.
Zines Released in March 2022
Fire Ant #12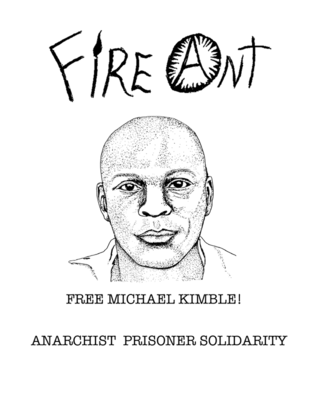 Fire Ant is a quarterly publication focused on spreading the words of anarchist prisoners and generating material solidarity for our imprisoned friends. Begun as a collaboration between anarchist prisoners and anarchists in Maine, Fire Ant seeks to raise material aid for anarchist prisoners while fostering communication between anarchists on both sides of the walls.
Issue #12 features an update from Sean Swain, Michael Kimble on Black history and his parole hearing, letters and essays from Thomas Meyer-Falk, and a letter from Comrade Z.
Download: Print
---
Nuclear or lignite: Fragments of the struggle against this world's juice, from the Bois Lejuc to the Hambach Forest…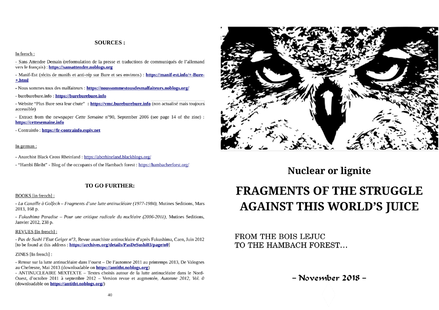 This zine chronicles militant direct actions and sabotage agains the nuclear waste burial center in Bure (France). It includes a history chronology of actions, some background materials on anti-nuclear militarism, and a chronology of actions against mining in the Hambach Forest. The zine was recently translated with the goal of spreading anti-nuclear actions.
---
Let's Destroy Work, Let's Destroy the Economy!
This short pamphlet presents a strong critique of work. It argues that work is a life-destroying activity with no redeeming quality and must be destroyed through active sabotage. As the author(s) state: "If we are not working towards the destruction of capital, we are working towards the destruction of humanity!"
Download: Print
---
Storm Warnings #49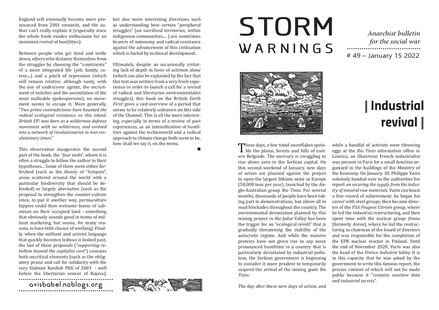 This is an English translation of a recent issue of "Avis des Tempetes". The zine – "an anarchist bulletin for the social war" – has as its main text "Industrial Revival" that looks at the increasing global demand for metals along with an increase in factories, mines, and other aspects of the extractive economy. A chronology of recent direct actions and a few reviews round out the issue.
Download: Print - A4 | Print - Letter | Screen
---
War Against War: Anarchist and Internationalist Perspectives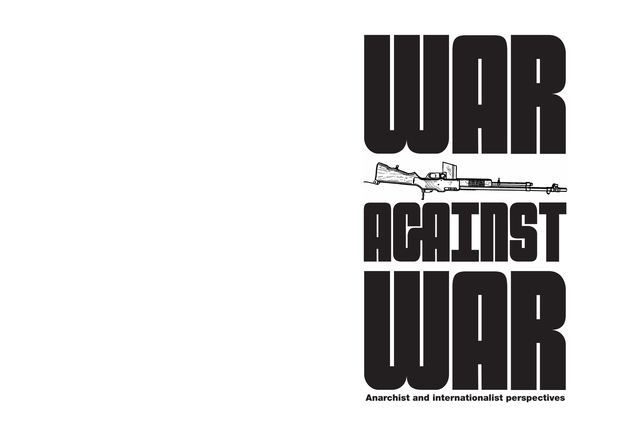 This zine – translated from French – collects anarchist writings on the war in the Ukraine. Far from discussing the topic through a simplistic lens, the essays included within touch on the more complicated aspects of solidarity: how do we maintain solidarity without defending the state or democracy? Are anarchists anti-militarists? It also touches on inconsistencies in anarchist positions around war over the years (for example, Kropotkin's support for the allies in World War I). There's also discussion of what anarchist solidarity actions against the war could look like.
Download: Print - A3 | Print - Tabloid | Screen
---
MIT Guide to Lockpicking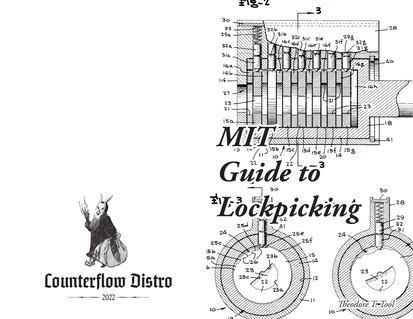 This is a new reprint (by Counterflow Collective) of the classic guide to lockpicking by Theodore Tool. It provides a basic introduction to the topic and then moves into more advanced techniques. There are also recommended exercises, a guide to tools, and a brief examination of potential legal concerns.
---
Nihilism, Anarchy, and the 21st Century
This is a reprinted (by Counterflow Collective) version of a text by the late Aragorn! exploring nihilism and its relationship to anarchy. It gives a historical overview of nihilism, beginning with its origins in Russia in the 1860s and moving through the Russian Revolution. As an underrepresented branch of what the author calls "the socialist family tree," nihilism hasn't been given a lot of attention by anarchists. Despite this, Aragorn! argues that it has much to offer anarchists, by way of insight into the present (for example how we as anarchists relate to political movements) and also in how we view history. It's a challenging text and one that laid the foundation for Aragorn!'s continued exploration of nihilism.
---
Against the Production Ethic
With the sub-title, "and the states and bosses who wield it", this text explores the "production ethic" which the author defines as:
The production ethic is the system of value by which actions that are deemed to be "productive" are considered good, and those that are either neutral or deemed "unproductive" are considered bad.
This ethic is also extended to people, whereby individuals are granted various rewards – financial, social, spiritual – based on their productive value. It argues that this is intertwined with various types of oppression (ablism, colonialism, patriarchy, etc). It also argues that Communism requires the same productive ethic and can't be a solution to the problem. For the author, the solution is to attack however one can.
---
Noted: Transmisogyny in the Radical Left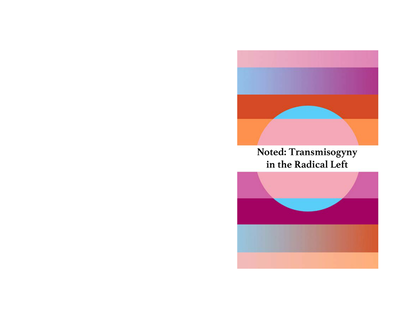 From the intro:
"This is a zine about transmisogyny in radical left spaces—anarchist & other anti-authoritarian commu- nist—as well as in anti-assimilationist LGBT/queer spaces. It is written for folks who want to combat trans- misogyny but aren't themselves constrained by transmisogyny. This isn't meant to be a "transmisogyny 101" primer (we hope this illuminates more nuanced forms of transmisogyny), nor to make any claim that we know the best ways to articulate and explain gender & gendered oppression. We're a group of friends and comrades in the Bay Area sharing personal experiences."
Anarchist Zines & Pamphlets Published in April 2022 was published on May 02, 2022
Share on Social Media

These links are not an endorsement of social media. They are provided for convenience and to help foster the spread of anarchist ideas.