Anarchist Zines & Pamphlets Published in August 2022
---
September 18, 2022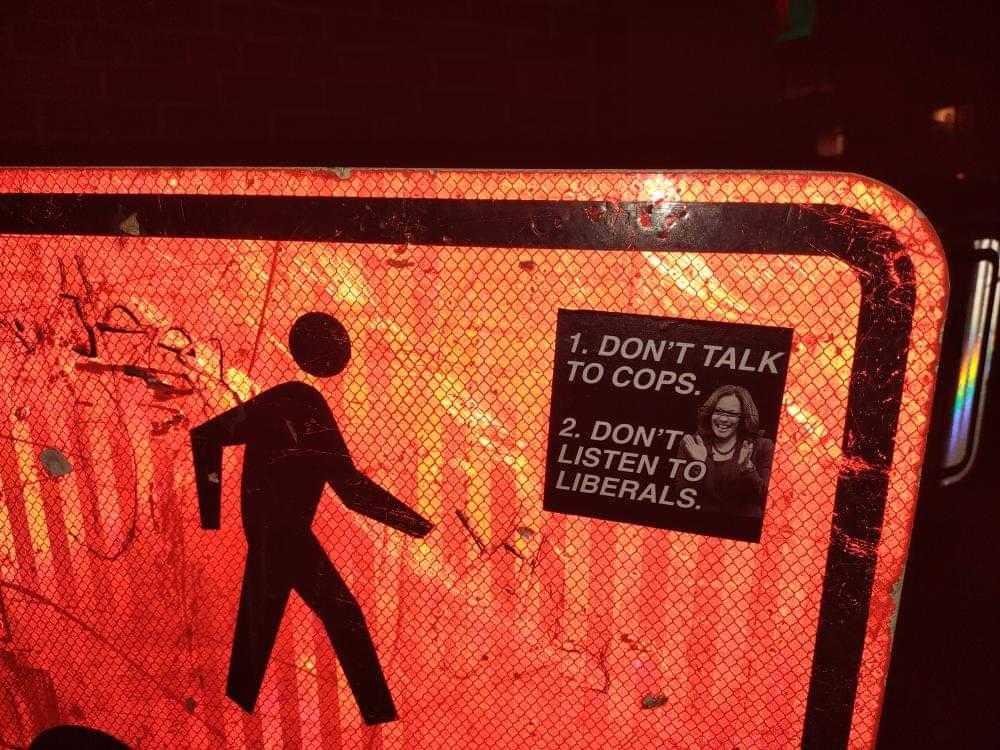 The following zines were published during August 2022. The usual disclaimer applies: inclusion doesn't imply endorsement. Instead, we err on the side of including as much as we can in order to foster debate. Additionally, the best way to engage with these zines is by printing them and discussing/sharing off the Internet.
We also wanted to take a minute to highlight the upcoming release of Wildfire #3. Wildfire is a print-only magazine that covers the intersection of animal liberation and anarchist action.
You can view past round-ups if you want more reading material. If you have something you want us to include next month, contact us. For a curated collection of zines, view our catalog.
Anarchist Zines and Pamphlets Published in August 2022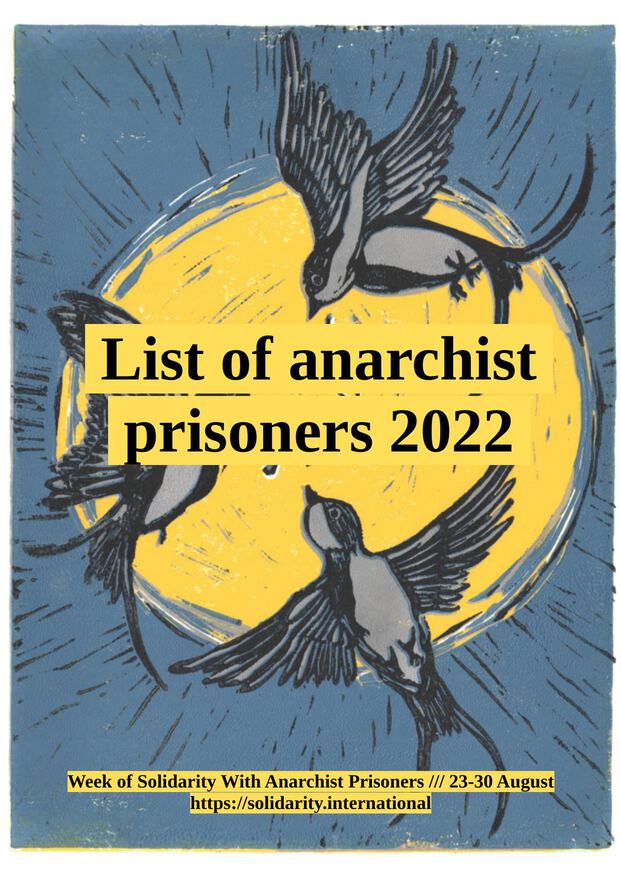 List of Anarchist Prisoners 2022
Compiled for the Week of Solidarity with Anarchist Prisoners in 2022, this is a comprehensive list of anarchist prisoners around the world. For each, it provides a brief overview of their case and an address that you can use to write to them.
---
On an Uprising & its Deferral – Eugene Against the Police in the Summer of 2020
This is a zine-based version (layout by Counterflow Collective) of an essay that originally was published on ItsGoingDown.org. It analyzes the anti-police uprising in the aftermath of George Floyd's murder as it played out in Eugene, Oregon. It is a familiar story of anarchists being caught off guard by the intensity of the initial response and then the slow recuperation by leftists and activists. While this focuses on Eugene, folks in other cities can likely learn from these observations.
---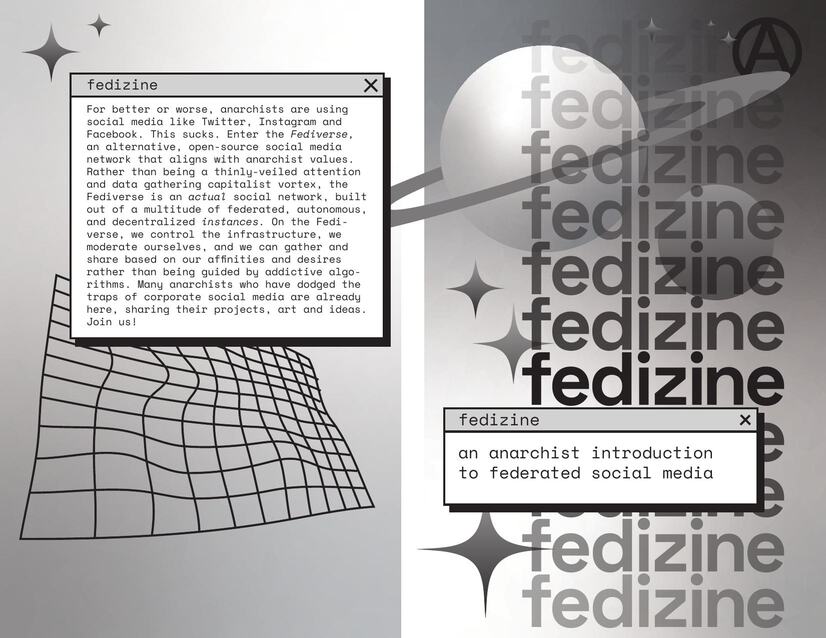 Fedizine: An Anarchist Introduction to Federated Social Media
This zine aims to introduce individual anarchists and anarchist projects to federated and independent social media as an alternative to corporate platforms like Twitter, Instagram, and Facebook. Anarchist presence on corporate platforms is always precarious (see Facebook's 2020 banning of several anarchist pages as an example) and the use of federated social media provides one possible alternative for building more resilient online counter-info networks.
---
Anathema: Volume 8, Issue 1
After a several month hiatus, this anarchist publication out of Philadelphia has released a new issue. This issue features a "What Went Down" column highlighting actions going back to October of 2021, discussions of environmental focused activity in Philadelphia, a piece on situational awareness, and a few other articles. This stands out as one of the better locally-focused counter-info projects in the United States.
---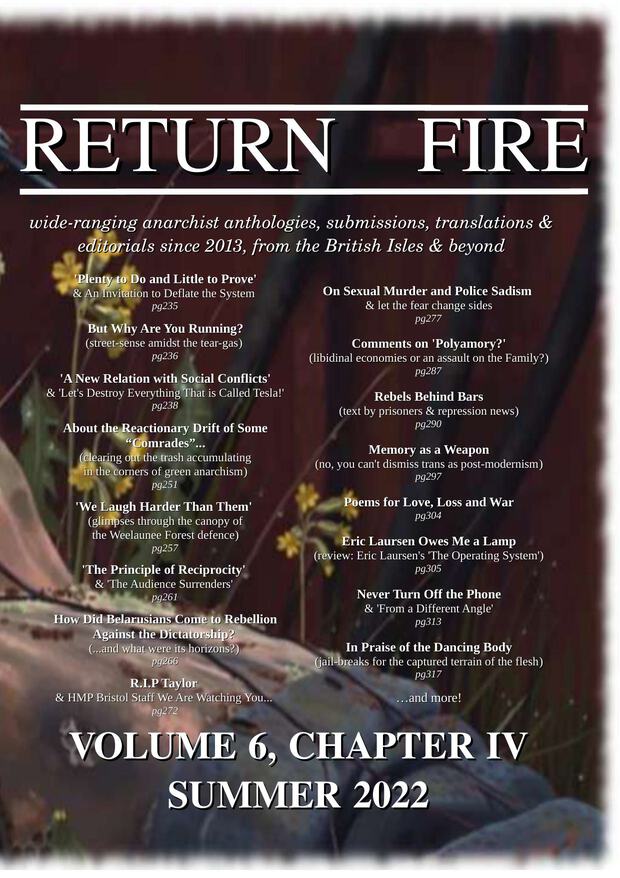 Return Fire – Vol. 6, Chapter 4
This latest issue of Return Fire is features 88 full-size pages of anti-civ anarchist writings on a wide range of topics. Topics covered include anarchists in Belarus, critiques and actions against Tesla, resistance to development in an Atlanta forest, a piece on street tactics, explorations of metadata and security culture, and much more. There are also action reports, updates on repression, and more.
Download: [ Print ]
---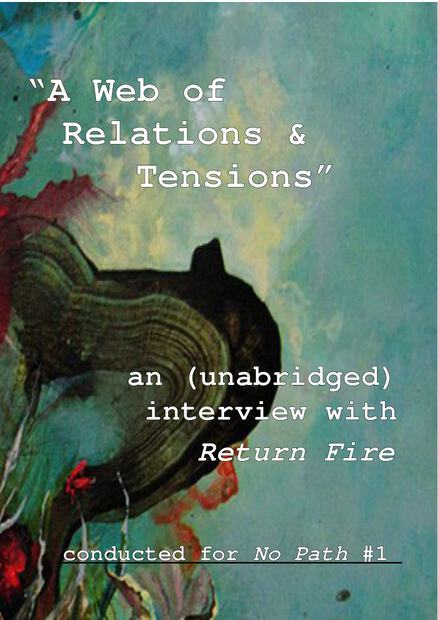 A Web of Relations & Tensions: An Interview with Return Fire
This is an unabridged version of an interview with Return Fire that was originally published in the offline only anarchist publication No Path. This interview allows the editors of Return Fire to clarify their position on a variety of different issues including anarchist individualism, technology, and anarchist media. It's a nice opportunity to learn more about the ideas behind one of the more prominent anti-civ publications.
---
Reflections on the Setting Sun: Strategic Impasse in the Phoenix Valley
This reflection on the current situation in Phoenix starts by discussing the overturning of Roe vs. Wade and the predictable response of leftists, activists, and non-profits who attempted to manage the response and channel people's anger into the usual strategies of marches and electoral strategies. It continues through and analyzes both the initial demonstration and subsequent demonstrations over the weekend and highlights some ways in which the weekend could have taken a different turn. The analysis here will no doubt be familiar to many who live in areas without large numbers of anarchists.
---
Solidarity with Ivan! Freedom for Everyone! Repression and Vehicle Arsons
This zine was compiled in solidarity with an anarchist named Ivan who was arrested in France and was charged with six vehicle fires claimed in solidarity with anarchist prisoners. From the intro:
"This zine comes from an informal and anonymous collective formed in solidarity with Ivan. This collective does not claim to be a reference support committee or anything official. We welcome all autonomous initiatives in solidarity with Ivan and/or any other prisoner of the social war. Just as we welcome the reproduction and distribution of this zine."
The zine includes a letter from Ivan, a chronology of vehicle attacks in France, and communiques from solidarity actions.
---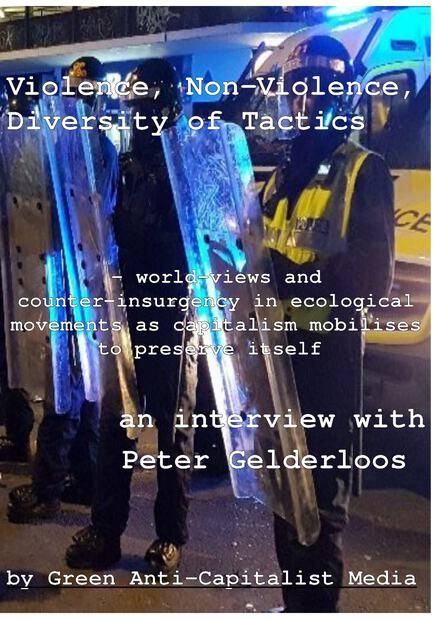 Violence, Non-Violence, Diversity of Tactics
This zine – published by Return Fire – features an interview with Peter Gelderloos. It touches on the debate over violence and non-violence and the role that it plays in the current climate movement. It also talks about how non-violence often acts as a form of counter-insurgency that helps pacify revolts. In one of the more interesting segments, Gelderloos discusses the idea of "historical amnesia" and the way in which advocacy of nonviolence is often tied to social movements not knowing their history and forgetting past struggles.
---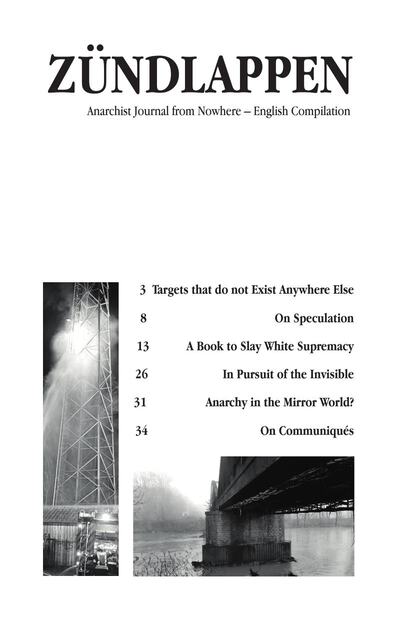 Zundlappen
This is a compilation of articles translated from the offline anarchist publication [Zundlappen] (https://zuendlappen.noblogs.org/). This collection features many several articles translated from the original German that touch on topics not as frequently discussed in the English-speaking anarchist world. These include a discussion on attack and the choosing of targets, the dangers of speculation, and the idea that the Internet is a space for anarchist debate. There is also a review of a book published in German (Schwarze Saat) that presents a collection of writings on Black and Indigenous Anarchism. The reviewer engages closely with the collection and there is a lot to consider in just the review itself. Overall, this seems like a great publication and is highly recommended since it is the only time texts will be presented online.
Download: [ Print (A4) | Print (Letter) | Screen ]
---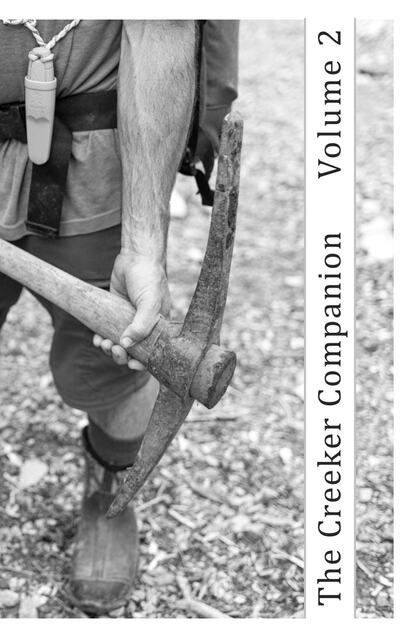 Creeker Companion – Volume 2
This is the latest issue of the Creeker zines, published by folks involved in the Ada'itsx (Fairy Creek) blockades in Canada. Intended as a collection of suggested readings for folks involved in land defense blockades, it presents a range of writings on theory, movement history, vigilantes, security culture, and more. Rather than present the full text of each piece, there is generally a several paragraph excerpt followed by a link to where interested folks can find the piece online.
---
Storm Warnings: #55-56
This is the English translation of two recent issues of Avis de Tempêtes, a French-language "anarchist bulletin for social war". This issue features essays discussing various aspects of the ongoing climate crisis, a chronicle of actions, a discussion of a recent anti-wind turbine action, and a review of the book At the Mind's Limits: Contemplations by a Survivor on Auschwitz and Its Realities. It's nice to see these being regularly translated and the project has translations of several older issues into English and other languages.
Download: [ Print (A4) | Print (Letter) | Screen ]
Anarchist Zines & Pamphlets Published in August 2022 was published on September 18, 2022
Share on Social Media

These links are not an endorsement of social media. They are provided for convenience and to help foster the spread of anarchist ideas.