Anarchist Zines & Pamphlets Published in February 2023
---
April 13, 2023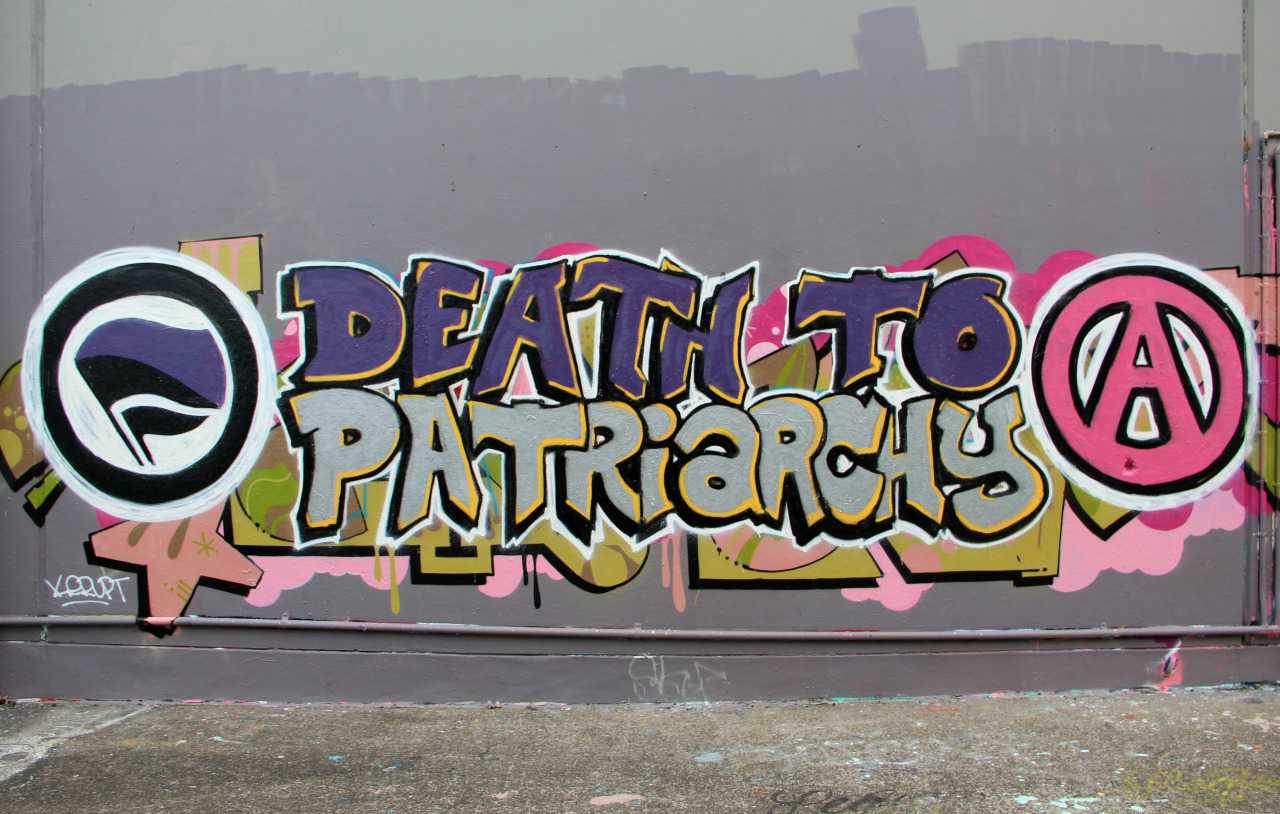 Welcome to our mostly monthly round-up of new zines published in the anarchist space. We aim to highlight a broad range of anarchist thought. Inclusion here doesn't imply endorsement.
You can view past round-ups if you want more reading material. If you have something you want us to include next month, contact us. For a curated collection of zines, view our catalog.
Anarchist Zines and Pamphlets Published in February 2023
The Kitsap Ferry Riot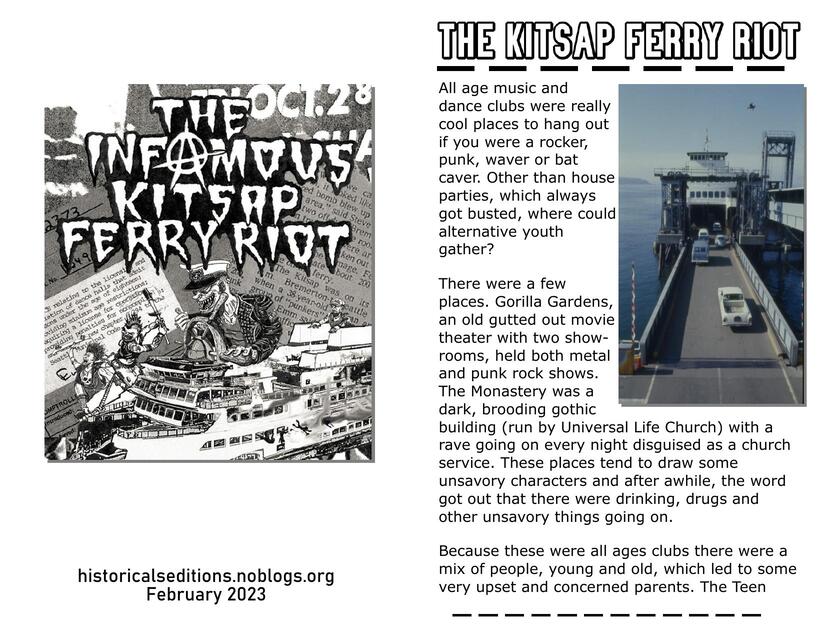 This zine tells the story of the restrictive old Seattle Teen Dance Ordinance and a punk riot that occurred on the ferry from Bremerton as a result. The text is pulled from the defunct website of a documentary about the riot by Chris Loomey. This zine is part of a series of mini-zines published by Historical Seditions.
Download: [Print]
---
The Eyes of a Monster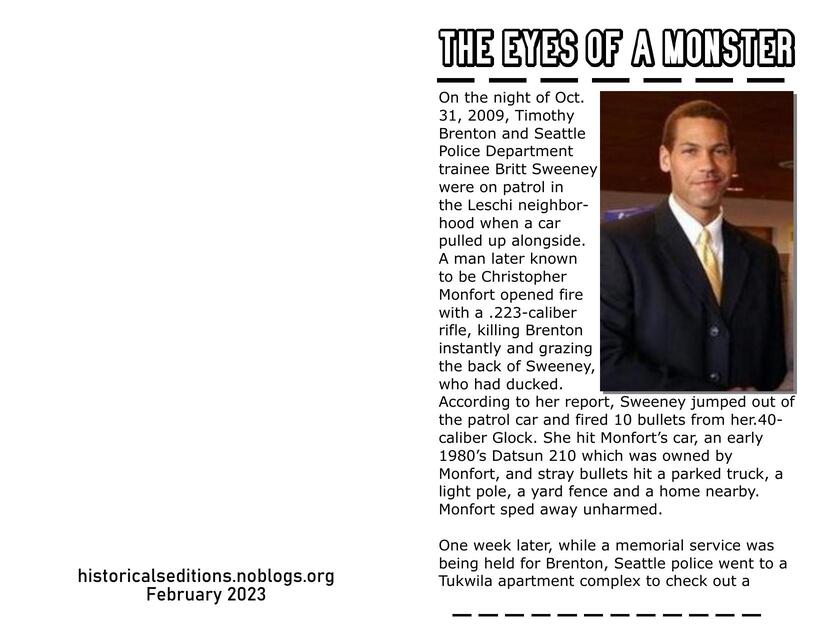 This text tells the tale of Chris Monfort. Appalled by police brutality in his community, Chris looked the monster in the eye and refused to blink. He launched a one-man war against Seattle Police in 2009, bombing vehicles and killing one SPD officer in an ambush. Chris mysteriously died in Walla Walla State Penitentiary in 2017. This zine is part of a series of mini-zines published by Historical Seditions.
Download: [Print]
---
1856: The Battle in Seattle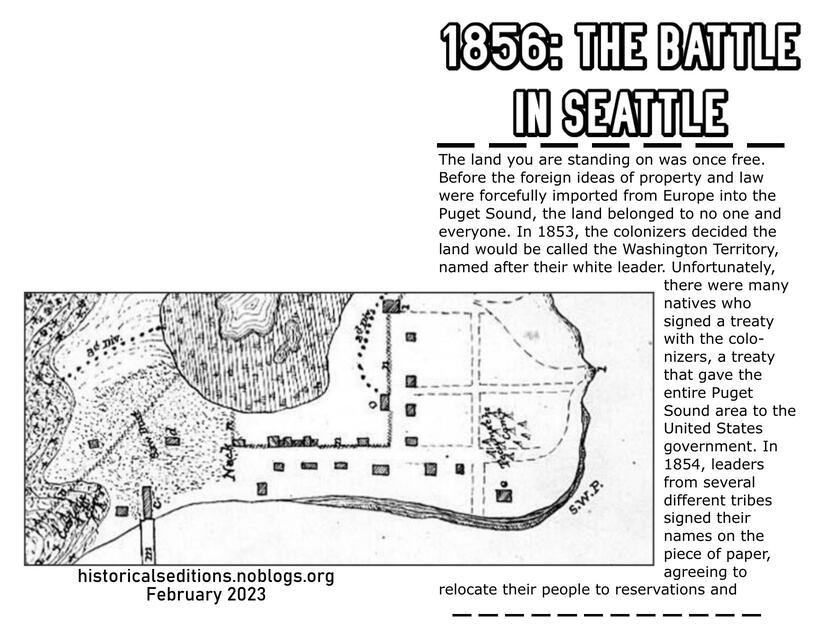 This zine contains the tale of Chief Leschi, the Nisqually, and other warriors who fought to expel the settler-colonial leviathan in its infancy. This zine is part of a series of mini-zines published by Historical Seditions.
Download: [Print]
---
The Centralia IWW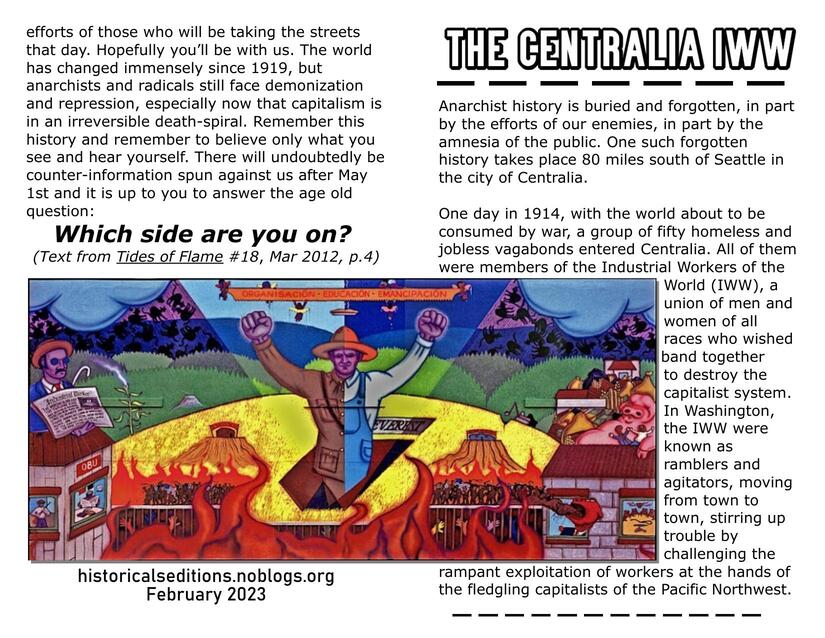 This zines tells the story of the lumberjacks and hobos who organized a revolutionary union in this small Washington town. The intense repression they faced culminated in the so-called Centralia Tragedy in 1919. This zine is part of a series of mini-zines published by Historical Seditions.
Download: [Print]
---
Anarchists and Rebellion in Walla Walla State Prison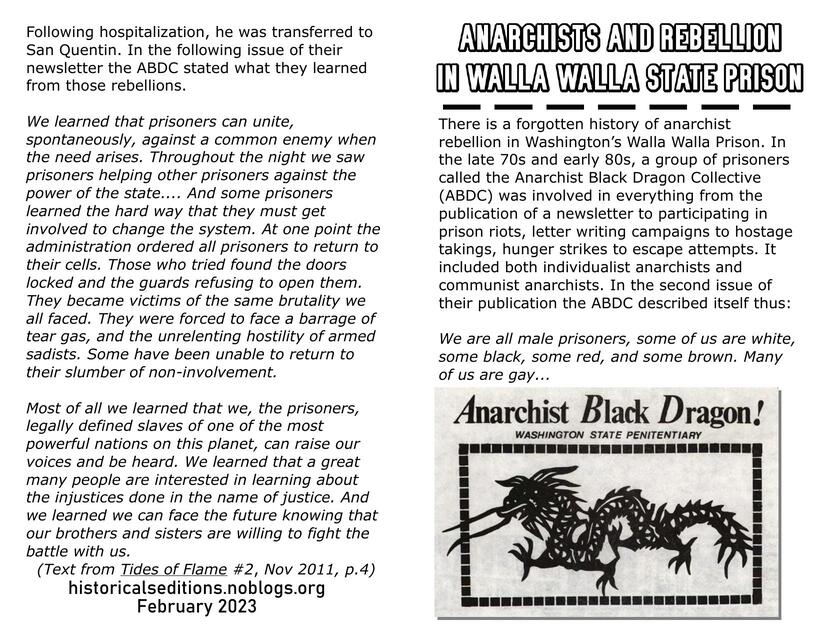 This is an account of the Anarchist Black Dragon, an imprisoned anarchist collective who published an underground newspaper and helped spur several prisoner uprisings. This zine is part of a series of mini-zines published by Historical Seditions.
Download: [Print]
---
The Little Green Songbook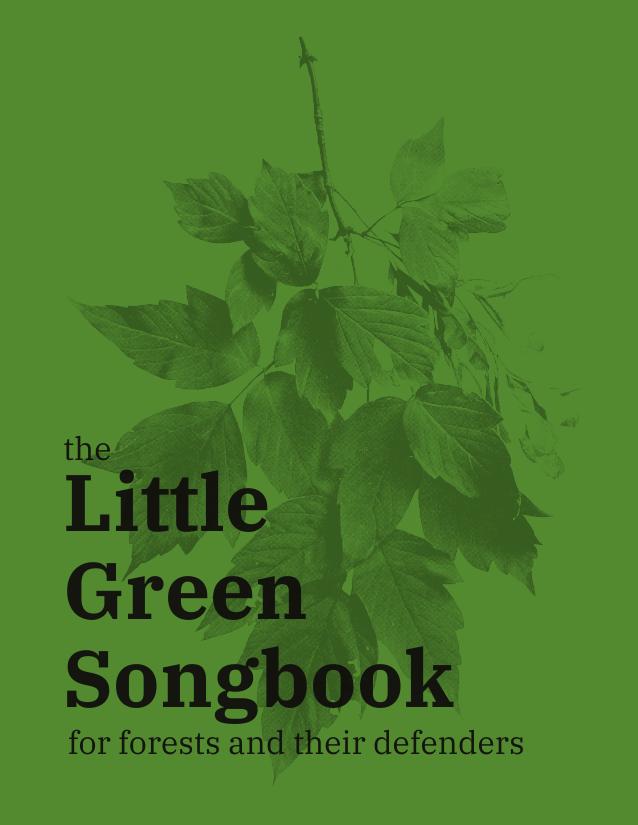 A collection of songs for forests and their defenders, created in solidarity with the movement to Stop Cop City. In Atlanta, the planned construction of a massive, militarized police training facility is threatening one of the largest urban forests in America, the Weelaunee Forest.
Dedicated to Tortuguita, who was murdered during a police assault on a treesit and forest camp, January 18th 2023.
---
Rumoer #6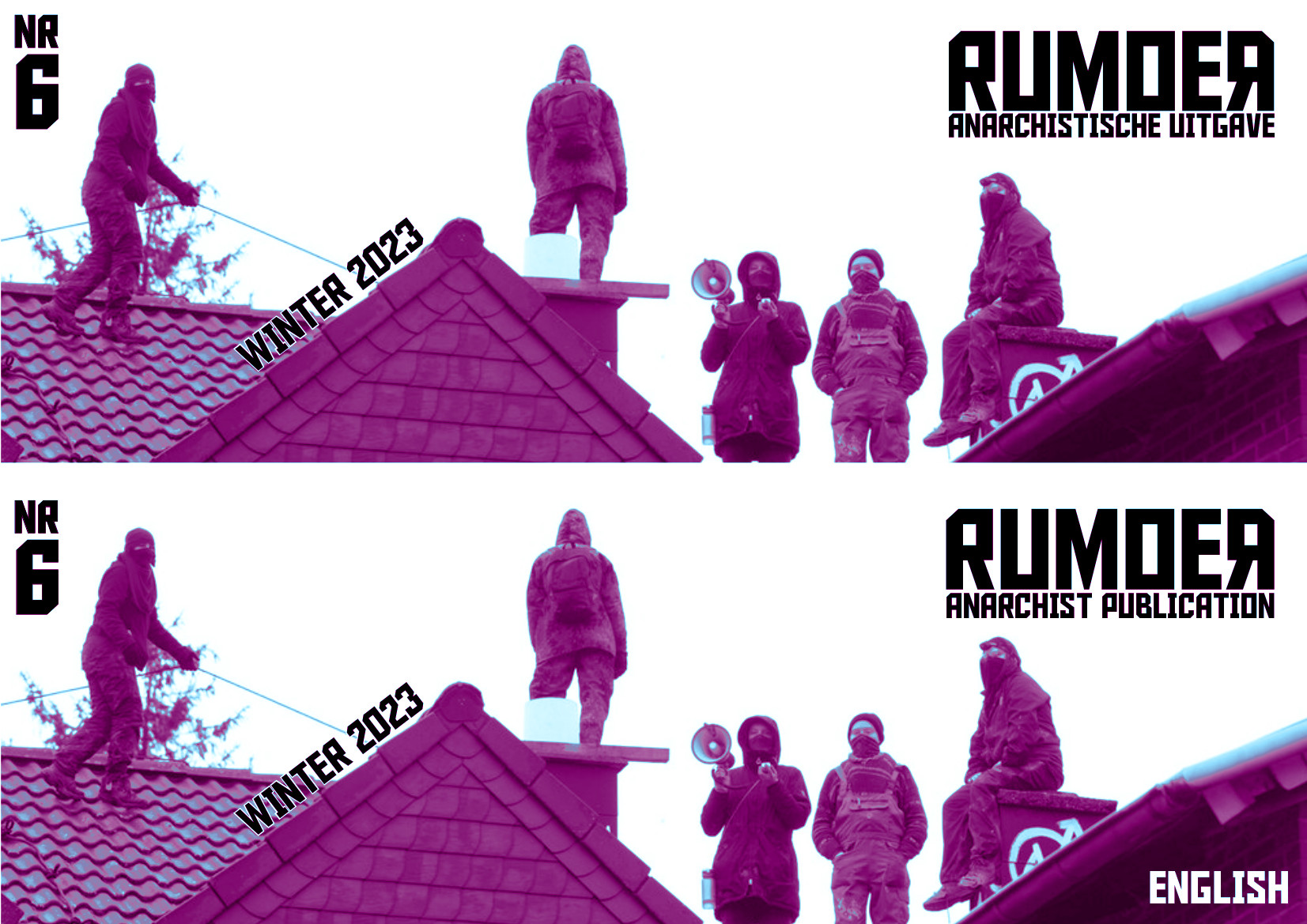 This is issue number six of the Dutch and anarchist publication Rumoer. This issue features writings on climate change, the Internet, news on repression, a round-up of actions around the world, and more.
Download: [Print]
---
Practical Abolition from the Inside Out
This zine features reflections on the Barton Prisoner Solidarity Project (or BAPSOP) out of Hamilton, Ontario. It was written to share an analysis of how they approach prisoner solidarity work. There is a lot to learn from this zine and it should prove useful to others doing some more types of projects. Definitely worth checking out!
Download: [Print]
---
Dark Nights #52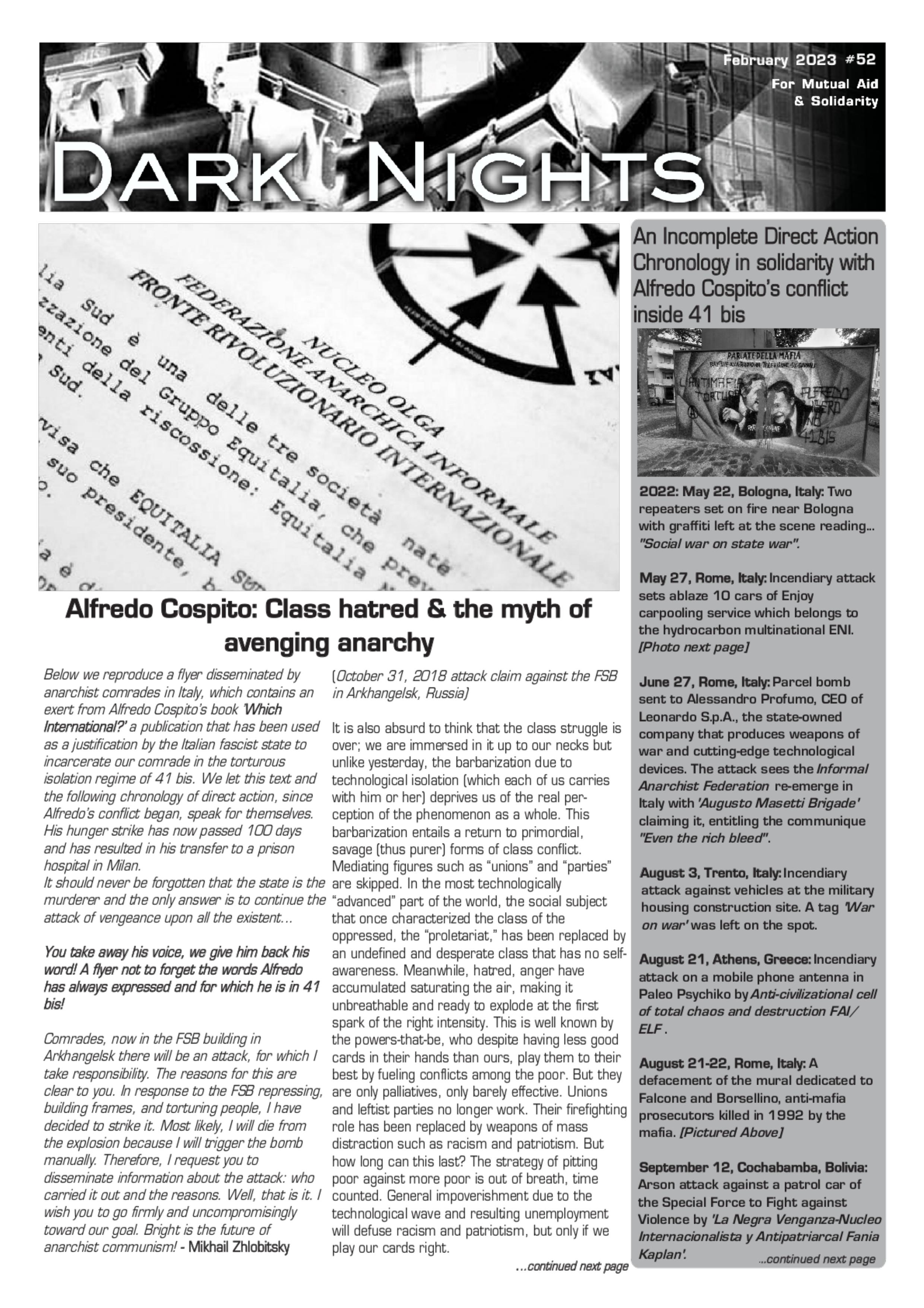 This is the February 2023 edition of this "irregular anarchist & anti-prison publication of resistance reports and repression news." This edition features an excerpt from imprisoned anarchist Alfredo Cospitos' "Which International?" alongside a chronology of direct actions undertaken in solidarity with Cospitos. Cospitos is current on a hunger strike against Italy's 41bis prison regime.
Download: [Print]
---
Don't Film, Act: A Call for Confrontation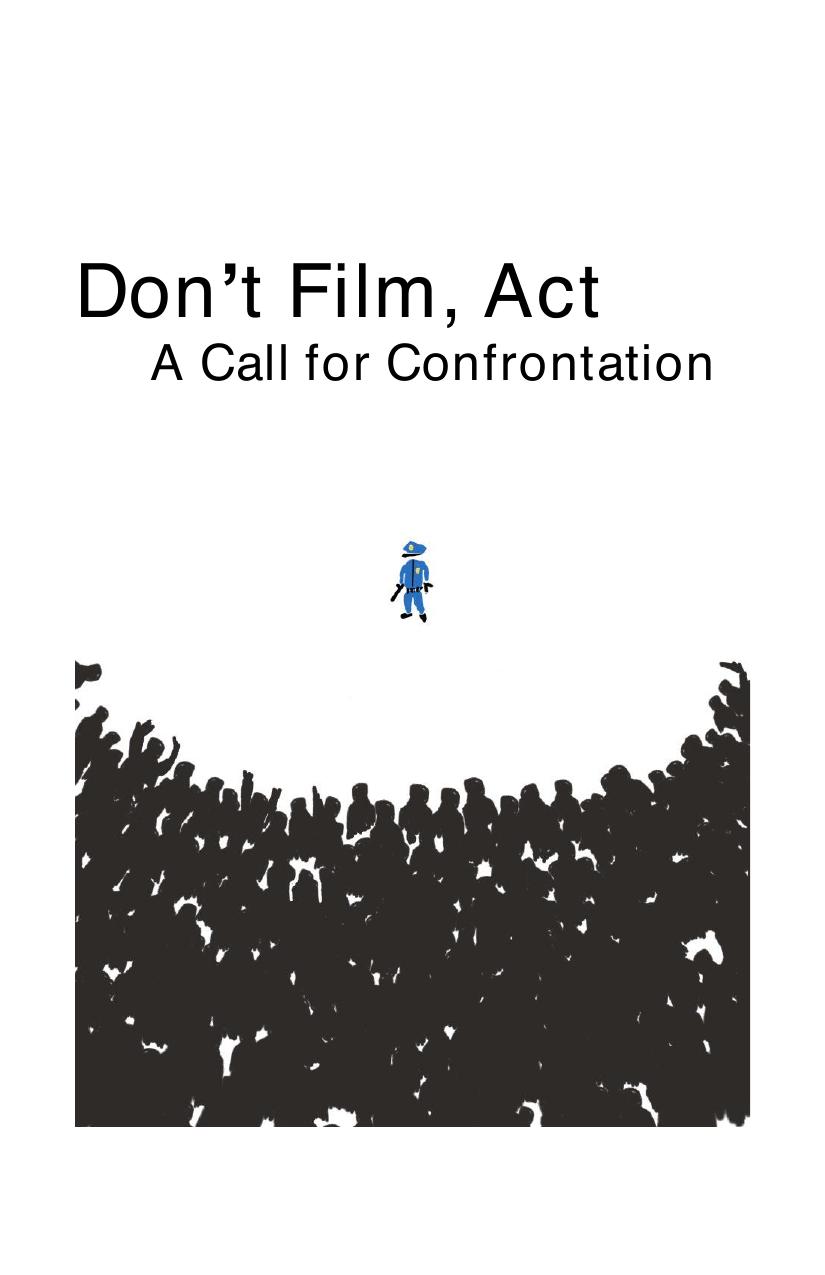 This zine discusses at the practice of filming in the context of stopping police violence. It calls out bystanders who went confronted with the violence of police start filming rather than intervening. It rightly points out that the no amount of footage of police violence is going to curtail policing. It also looks at how recordings of police violence act as a form of counterinsurgency. In more liberal circles, the release of footage is often enough to quell dissent. Rather than filming, the author calls for people to make police continually unwelcome wherever they go into, making it impossible for them to do their jobs.
---
Decomposition: For Insurrection without Vanguards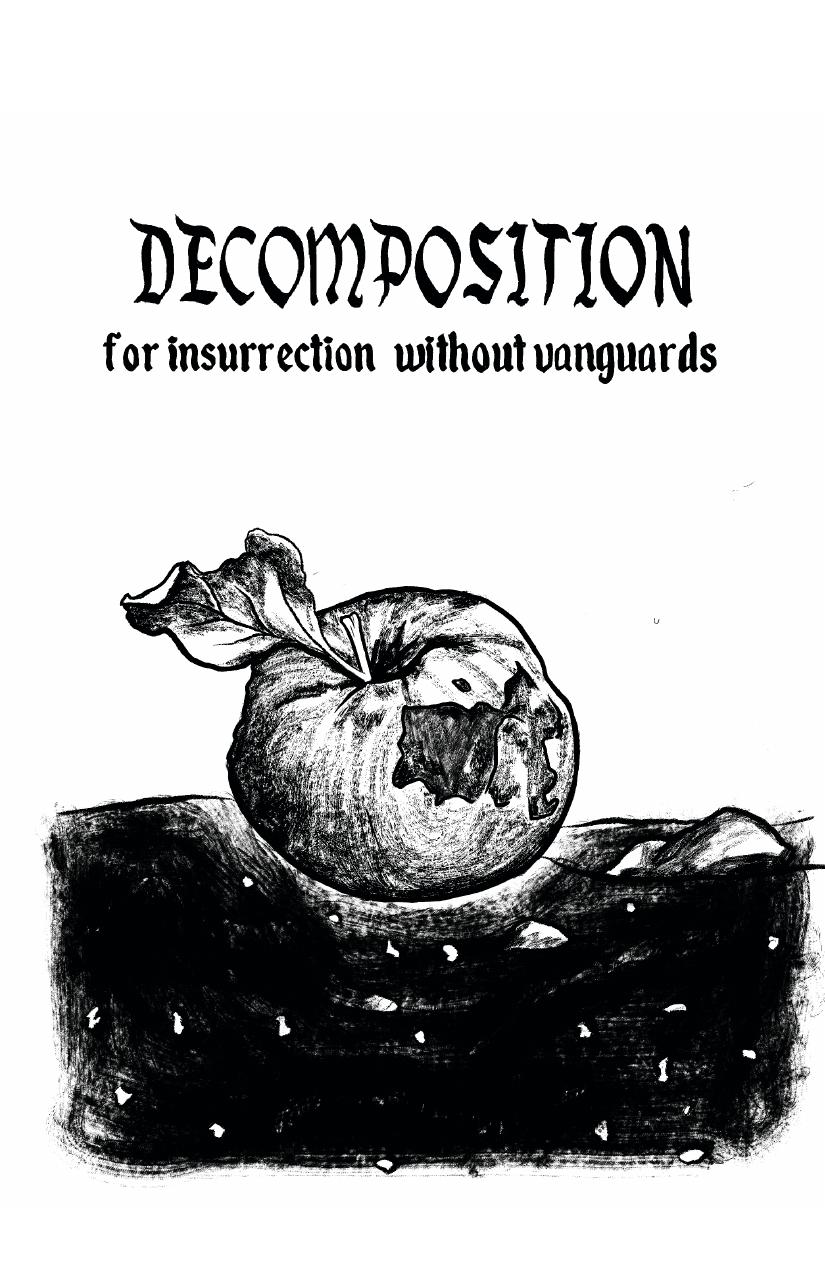 This zine – published by Ungrateful Hyenas -- collects six texts translated from French that critique the Tiqqunist position. Tiqqun – via texts such as The Call and The Coming Insurrection – has had some influence amongst radicals in North America. While texts the Tiqqunist texts have been translated and published in English, anarchist critiques haven't circulated widely, leading to conflation of the anarchist and Tiqqunist perspective in some circles. The texts here critique the Tiqqunist ideas, from the vagaries of The Coming Insurrection to their willingness to collaborate with those in power via composition.
---
Why Start a Homeless Union?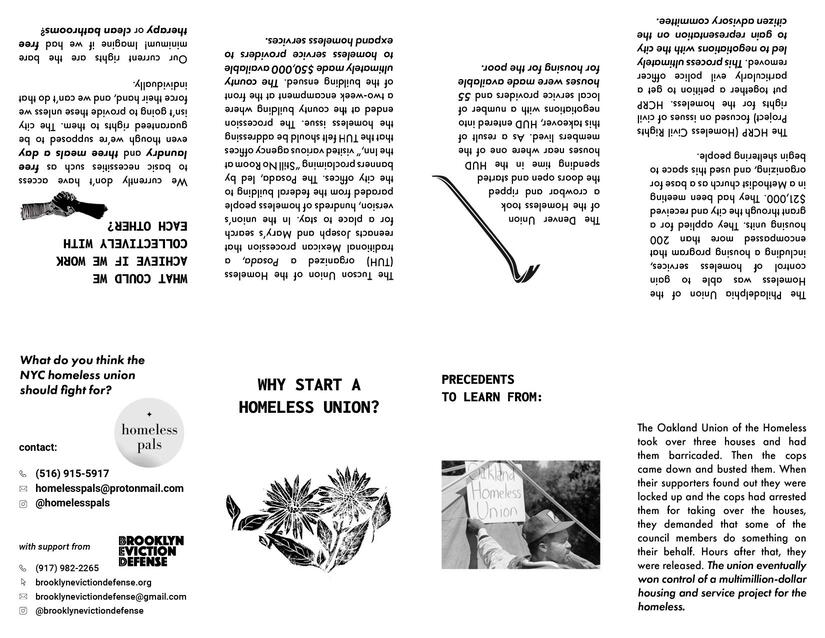 This short zine – by Homeless Pals – shares examples of what homeless unions have accomplished in cities across the United States. In many cases, homeless unions have been able to win substantial improvements are homeless people including funding for housing and expansion of programs.
---
The Prison to Shelter Pipeline
This mini-zine discusses the prison to shelter pipeline in New York City. The authors report that more than 40% of people release from prison to New York City enter the shelter system. This system is part of the prison-industrial complex in which surveillance, policing, and imprisonment are used as solutions to economic problems.
Download: [Print]
---
Anarchist Zines & Pamphlets Published in February 2023 was published on April 13, 2023
Share on Social Media

These links are not an endorsement of social media. They are provided for convenience and to help foster the spread of anarchist ideas.