Anarchist Zines & Pamphlets Published in March 2023
---
April 23, 2023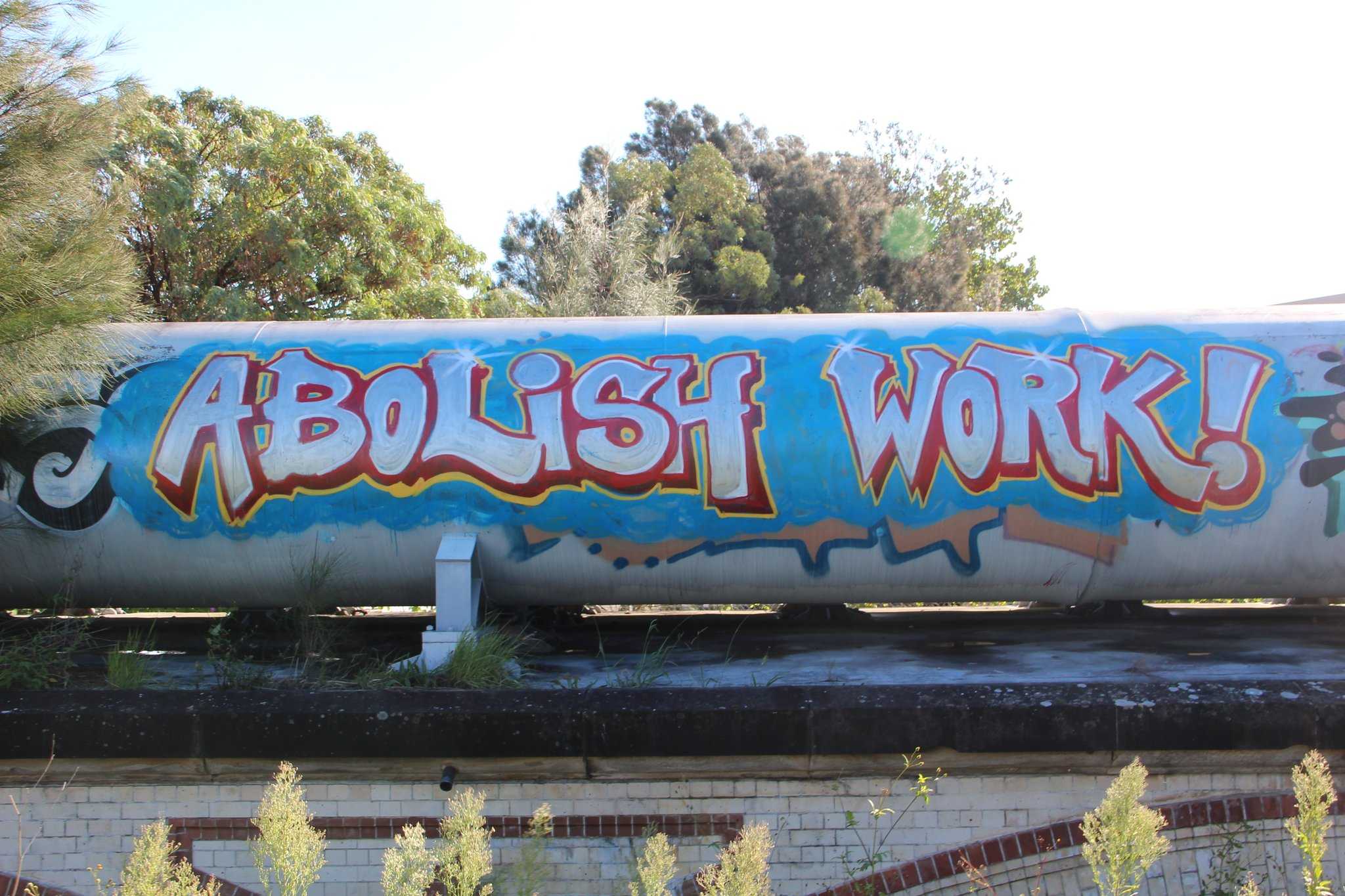 Welcome to our mostly monthly round-up of new zines published in the anarchist space. We aim to highlight a broad range of anarchist thought. Inclusion here doesn't imply endorsement.
You can view past round-ups if you want more reading material. If you have something you want us to include next month, contact us. For a curated collection of zines, view our catalog.
Anarchist Zines and Pamphlets Published in March 2023
Balance Sheet: Two Years Against Cop City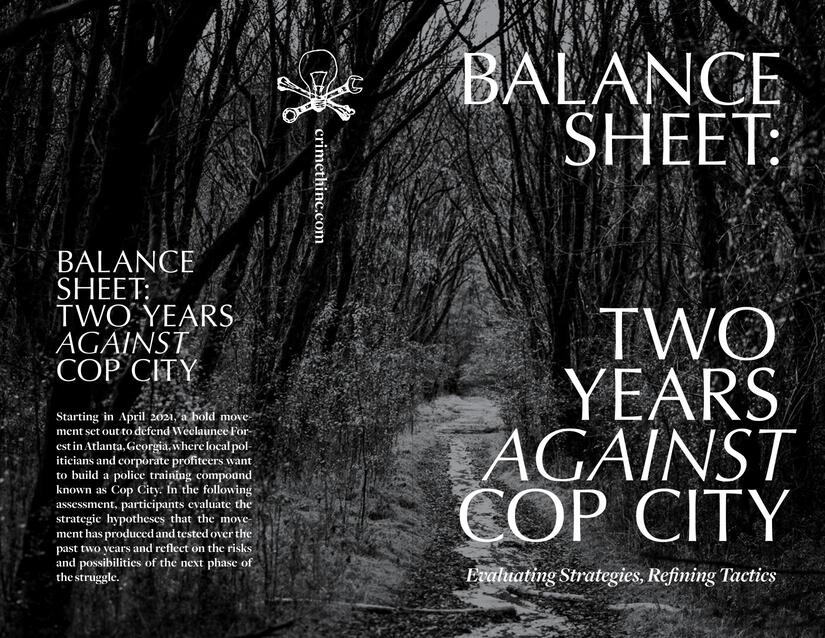 Starting in April 2021, a bold movement set out to defend Weelaunee Forest in Atlanta, Georgia, where local politicians and corporate profiteers want to build a police training compound known as Cop City. In the following assessment, participants evaluate the strategic hypotheses that the movement has produced and tested over the past two years and reflect on the risks and possibilities of the next phase of the struggle.
---
The Forest in the City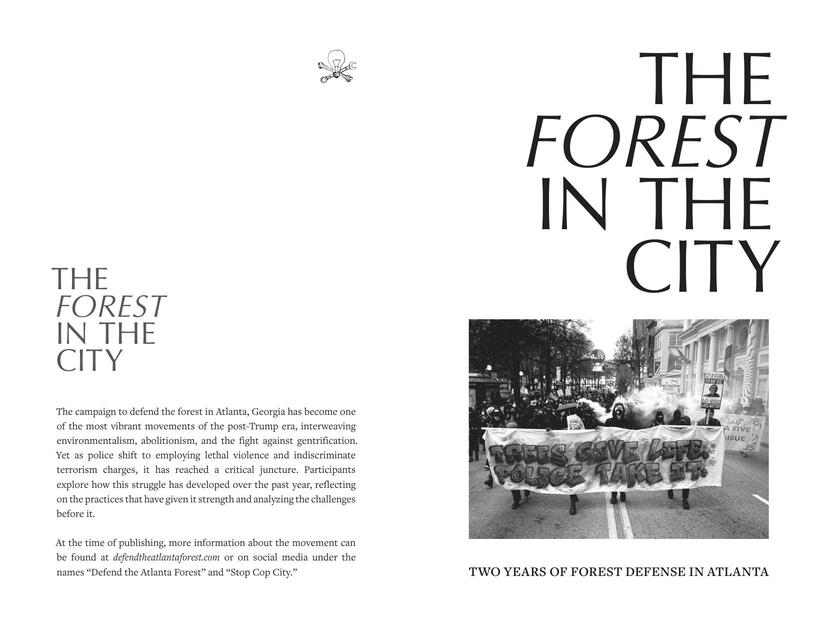 This text describes a movement that started in April 2021 to defend a forest in Atlanta, Georgia where local politicians and corporate profiteers want to build a police training compound and a soundstage for the film industry. The training compound, known as Cop City, would be the largest police training facility in the United States. It would devastate the South River Forest, also known as Weelaunee Forest in honor of the Muscogee Creek people who lived there until they were deported in the Trail of Tears.
The movement to defend the Weelaunee Forest has drawn together a wide range of groups and strategies. Legal defense organizations like the South River Forest Coalition, which is bringing a lawsuit against the Dekalb County government, work parallel to groups like the SRY Campaign, an anonymous collective of researchers who publicize the home and office addresses of those who seek to destroy the forest. While abolitionists and radical environmentalists have established encampments and tree houses in the forest, a network of pre-schools and parents has built community gardens and hosted public outreach events. Still others have organized raves and cultural events in the forest, connecting the most ambitious artists with the irrepressible spirit of the movement.
---
Return Fire: Vol. 6, Chapter 5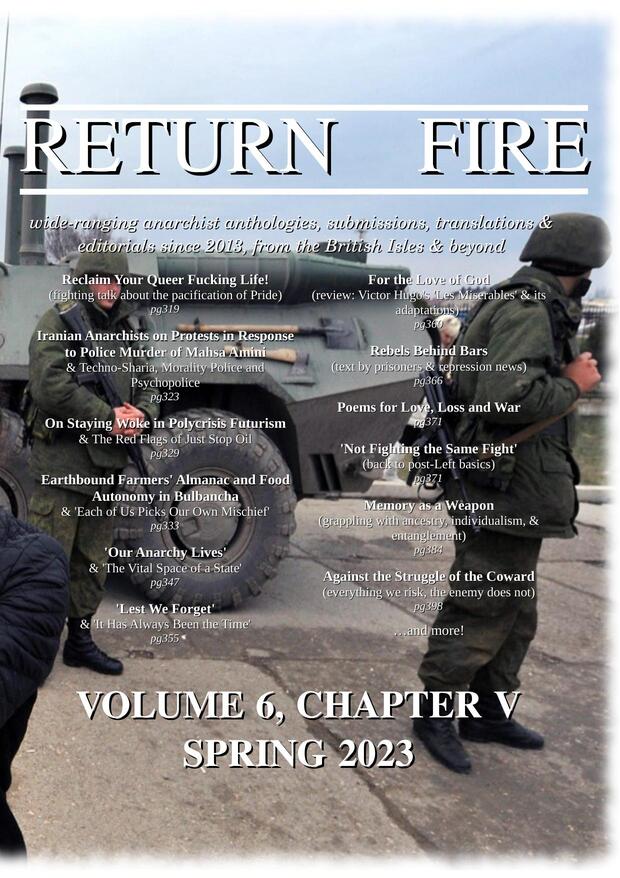 This is the latest issue of Return Fire, an anarchist magazine celebrating "daily revolt, individual will, and de-civilisation. This issue covers a wide range of topics such as reclaiming queer life, Iranian anarchists on protests in response to police murder of Mahsa Amini, techno-sharia, an interview with Alfredo Cospito, the Earthbound Farmers' Almanac and food autonomy in Bulbancha, the anarchist critique of leftism, and more. It also includes poems for love, loss and war, text by prisoners & repression news, and a review of Victor Hugo's 'Les Miserables' & its adaptations.
Download: [Screen]
---
Anathema – Spring 2023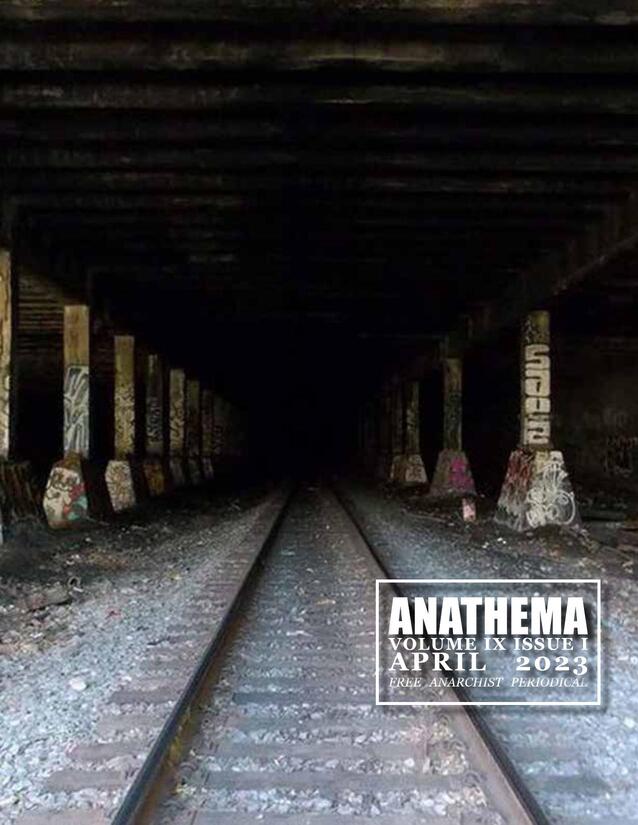 This is the most recent edition of Anathema, an anarchist publication out of Philadelphia. In this issue there is a round-up of anarchist actions in Philadelphia, a reflection on the closing of the A-Space, a critique of Tiqqunist involvement in the ZAD struggle in France, a letter from imprisoned Italian anarchist Alfredo Cospito, reflections on sabotage of electrical grids, and more.
---
Strategies for Countering Police Access to DNA Data
This is zine published by the Counter-Surveillance Resource Center (https://crsc.link) is a chapter from by Gen-ethisches Netzwerk. The text discusses how to avoid leaving DNA traces that can be used by police agencies for forensic analysis. It explains that DNA traces can be found in many places, including clothing fibers, cigarette butts, saliva residue on stamps and envelopes, and places where people have peed. The chapter provides tips on how to avoid leaving DNA traces, such as wearing new gloves, a face mask, a hair net or closed headgear, washed clothes with long sleeves and pant legs, and avoiding touching objects that are frequently touched by others. In an era of surveillance and repression, it is essential reading.
---
Bulletin of the Kate Sharpley Library #109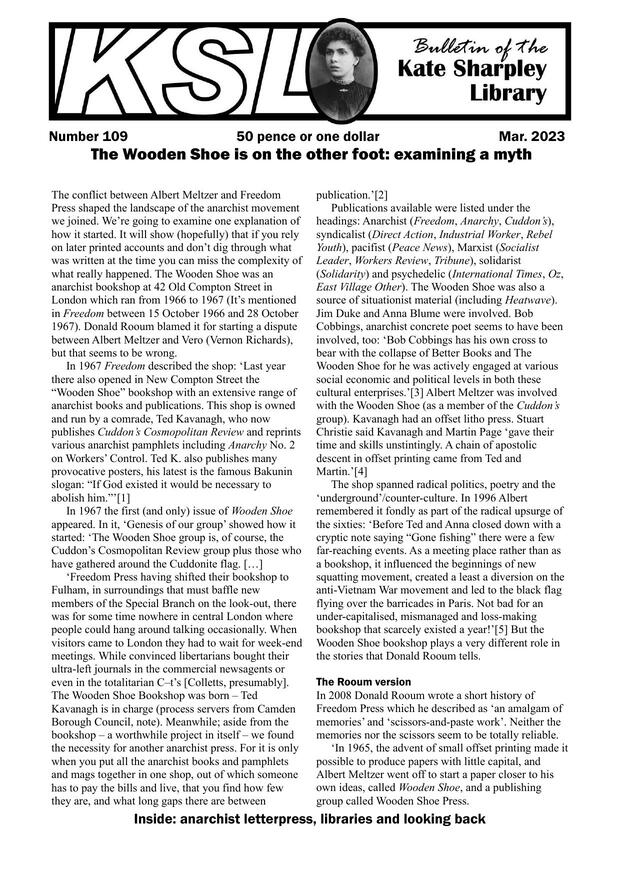 This issue of features the Kate Sharpley Library's usual coverage of anarchist history. This one features reflections on the Wooden Shoe infoshop in London, a review of the new "Letterpress Revolution: The Politics of Anarchist Print Culture", and news of the end of the Workers Solidarity Movement.
Download: [Screen]
---
Fire Ant #15
Fire Ant is a quarterly publication focused on spreading the words of anarchist prisoners and generating material solidarity for our imprisoned friends. Begun as a collaboration between anarchist prisoners and anarchists in Maine, Fire Ant seeks to raise material aid for anarchist prisoners while fostering communication between anarchists on both sides of the walls.
Issue #15 features letters from Thomas Meyer-Falk and Sean Swain, a poem by Eric King, updates from Michael Kimble and Marius Mason, and an interview with Thomas Meyer-Falk.
Download: [Print]
---
The Work of Art in the Age of Mechanical Reproduction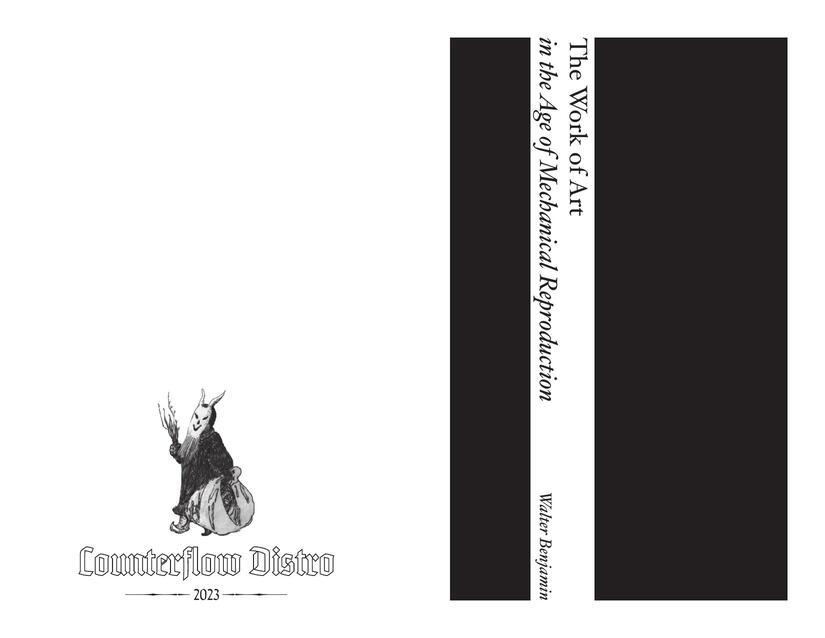 This zine – published by Counterflow Distro – is a reprint of an essay by Walter Benjamin that discusses how art has changed with the advent of mechanical reproduction. Benjamin argues that mechanical reproduction has fundamentally changed the way we experience art by making it more accessible and reproducible. It's of course more nuanced than that, but that gives a rough idea of the discussion.
---
Little Turtle Carries the World
The zine describes the murder of a forest defender named Tortuguita by police during a morning raid in Atlanta's Weelaunee Forest. The author reflects on the deeply symbolic nature of Tort's murder and the grief that quickly turned to anger among those aligned with the defense of the Weelaunee Forest. It reflects on the current struggle within the greater context of anarchist resistance over the past few decades, in particular the uncompromising anarchy of Luciano "Tortuga" Pitronello who served time in a Chilean prison.
---
Storm Warnings #59-60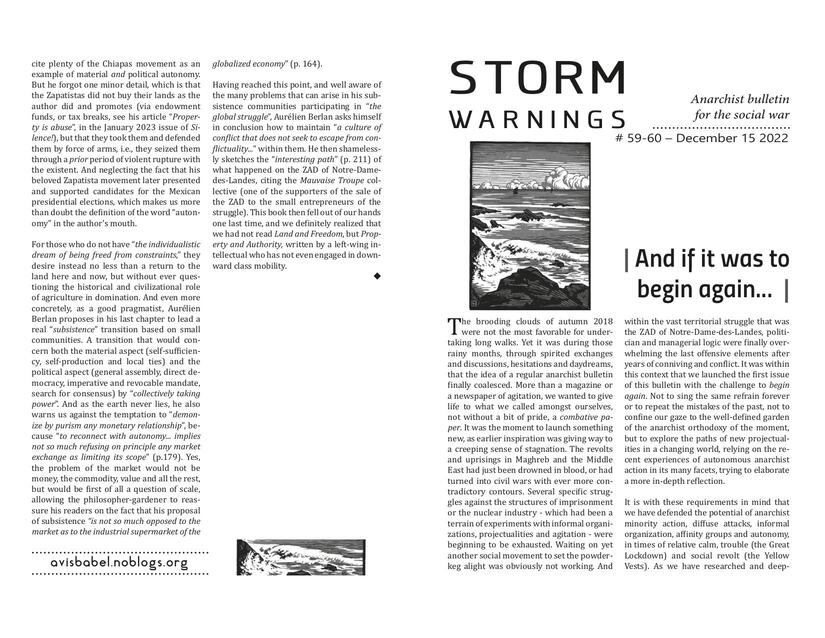 This is the latest English-language translation of this French "anarchist bulletin for the social war." In this issue, the editors announce that it is their final issue of the publication. The reflection on the project is worth reading and raises a number of points for further thought and discussion. Alongside this final statement, there is the usual chronicle of actions and two book reviews. The publication will defintely be missed.
Download: [Print] | Print A4] | Screen ]
---
CSRC Bulletin #1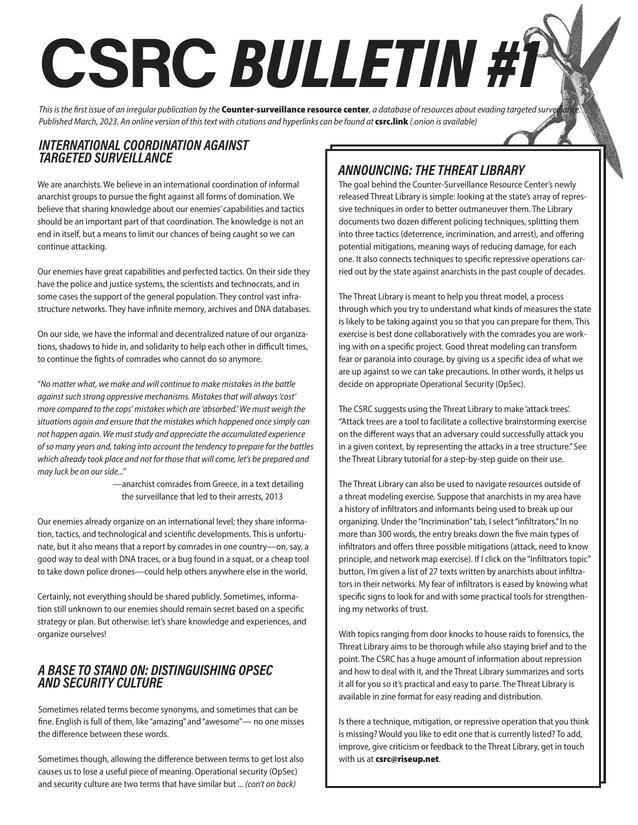 This is the first issue of an irregular publication by the Counter-surveillance Resource Center, a database of resources about evading targeted surveillance. There is a short piece explaining why they think the project is important, an announcement of a new project called "The Threat Library," and a discussion on the differences between Operational Security (OpSec) and security culture.
Download: [Print ]
---
Anarchist Zines & Pamphlets Published in March 2023 was published on April 23, 2023
Share on Social Media

These links are not an endorsement of social media. They are provided for convenience and to help foster the spread of anarchist ideas.