Anarchist Zines & Pamphlets Published in August 2023
---
September 04, 2023
Welcome to our mostly monthly round-up of new zines published in the anarchist space. We aim to highlight a broad range of anarchist thought. Inclusion here doesn't imply endorsement.
You can view past round-ups if you want more reading material. If you have something you want us to include next month, contact us. For a curated collection of zines, view our catalog.
"No State, No Masters" Mural on Cafe Lavandería, an anarchist space in Tokyo, Japan (source)
Anarchist Zines and Pamphlets Published in August 2023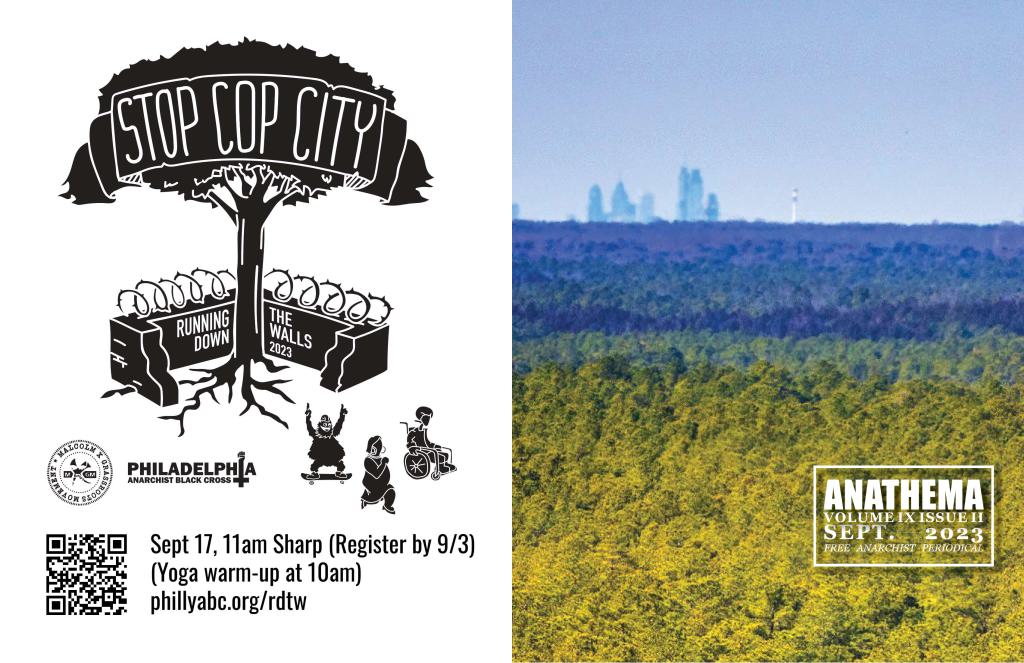 Anathema - Sept 2023
This is the September 2023 issue of the Philadelphia anarchist publication. It features articles critical of left unity and watered down anarchism ("Dance Parties Won't Stop Fascism"), an essay on making anti-repression a collective project, and a retrospective on Ted Kaczynski, and more. There is also a list of recent anarchist actions in the Philadelphia area.
Download PDF: [ Imposed | Screen ]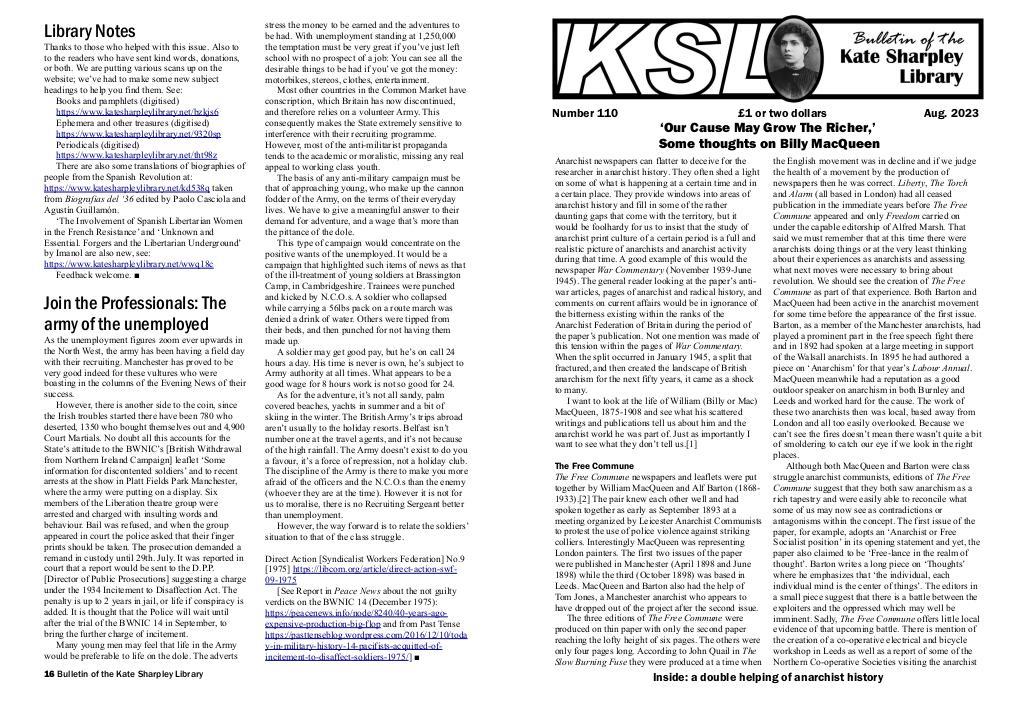 Bulletin of the Kate Sharpley Library #110
The August 2023 issue of this frequently published bulletin of anarchist history. It has write-ups on a variety of historical topics and announcements relating to new resources for studying anarchist history. In one of the articles -- "'Our Cause May Grow The Richer,'" Some thoughts on Billy MacQueen" features a provocative quote from anarchist historian Barry Pateman:
Anarchist newspapers can flatter to deceive for the researcher in anarchist history. They often shed a light on some of what is happening at a certain time and in a certain place. They provide windows into areas of anarchist history and fill in some of the rather daunting gaps that come with the territory, but it would be foolhardy for us to insist that the study of anarchist print culture of a certain period is a full and realistic picture of anarchists and anarchist activity during that time.
It's worth considering as one reads anarchist histories that rely heavily on anarchist publications.
Download PDF: [ Imposed | Screen ]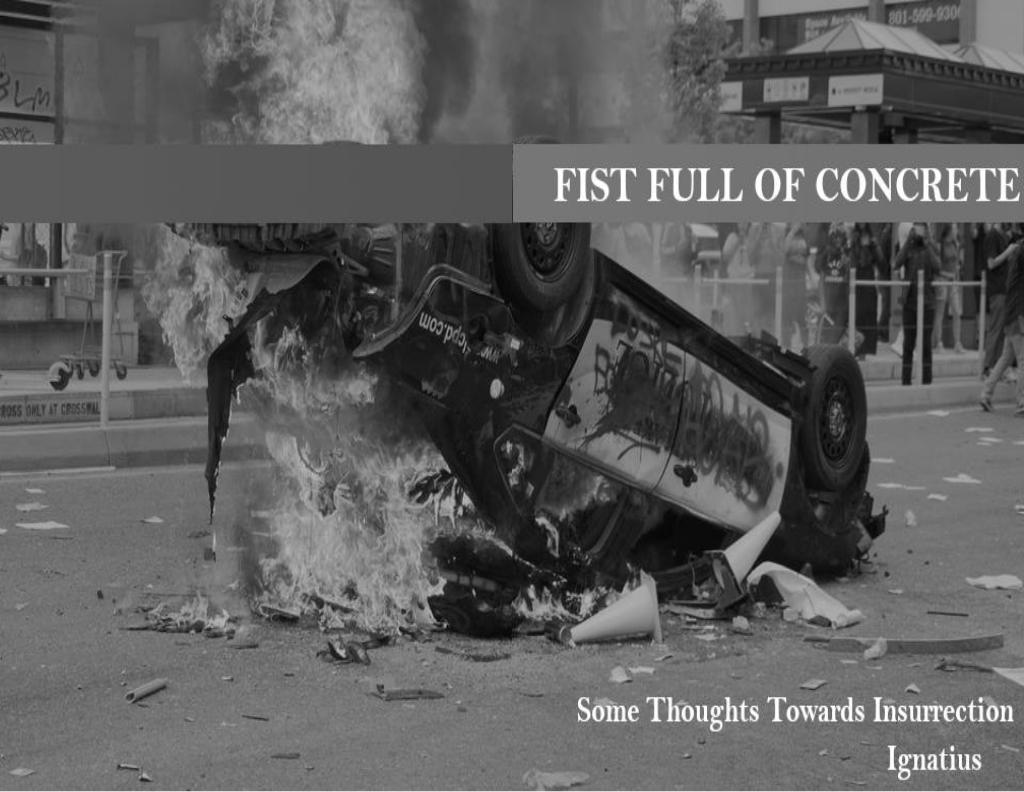 Fist Full of Concrete
This zine -- sub-titled "Some Thoughts Towards Insurrection" -- collects several recent essays by Ignatius that have appeared on a variety of anarchist websites over the past few months. It broadly articulates that the world of prisons, captial, police, and work were invented and that it "simply does not have to be this way". In other words, everything can be attacked undermined.
Download PDF: [ Imposed | Screen ]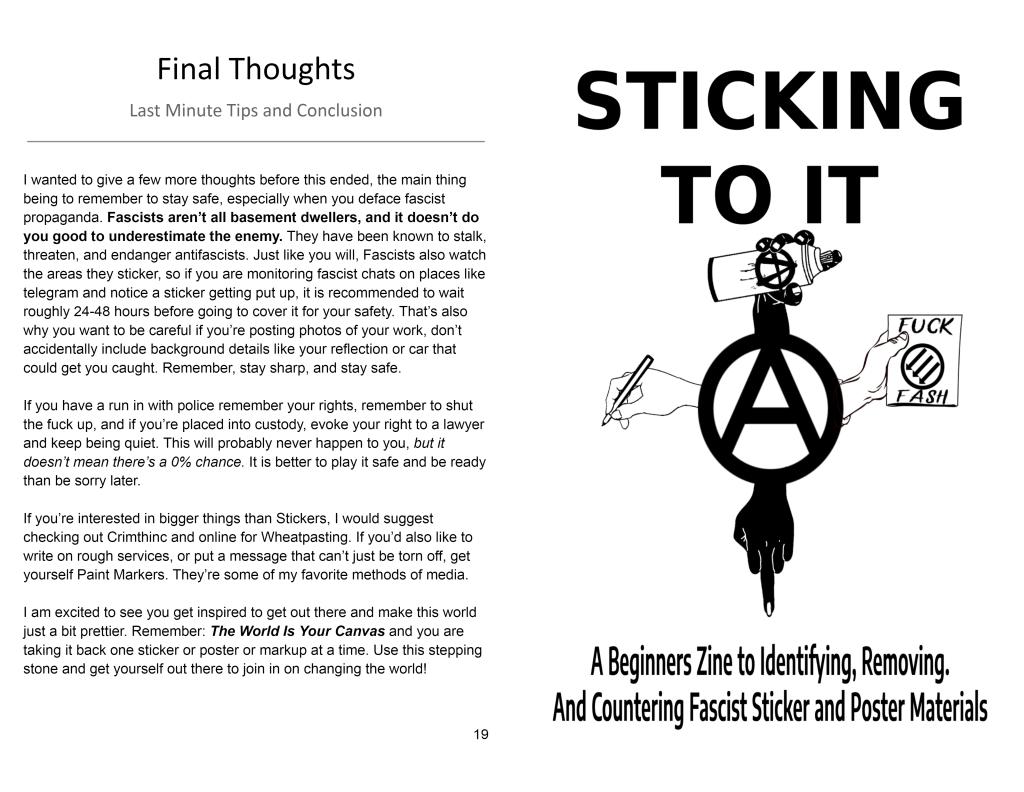 Sticking to It
Sub-titled "A Beginners Zine to Identifying, Removing, and Countering Fascist Sticker and Poster Materials" this zine is an introduction to countering fascist propaganda by removing it and also by proactively spreading anarchist messages. It provides tips on identifying fascist material (including logos and various coded words fascists use), how to make stickers, and how to apply them.
Download PDF: [ Imposed | Screen ]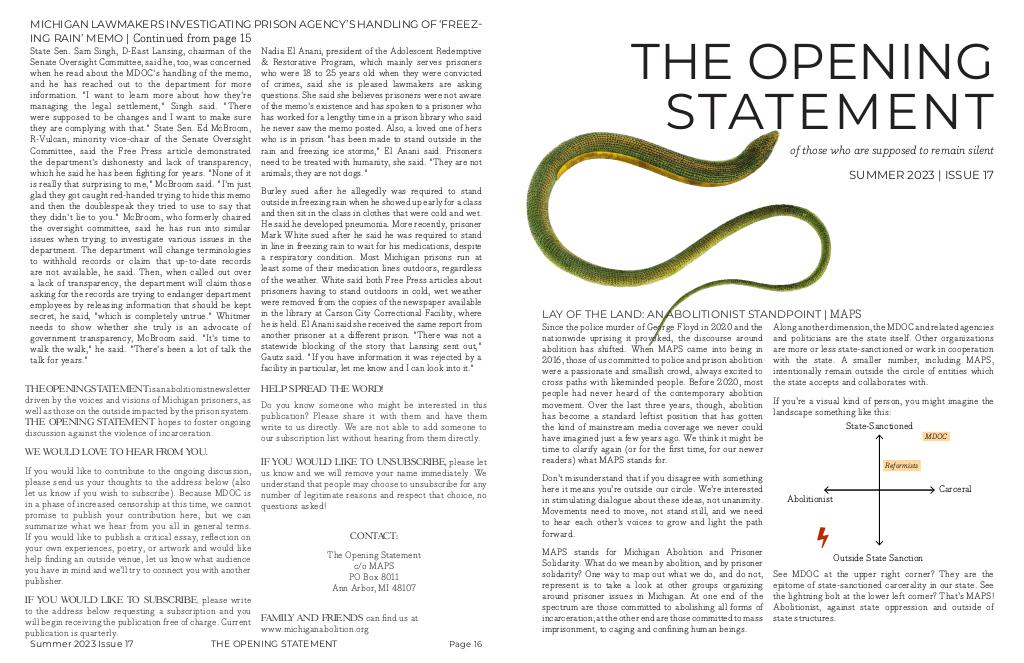 The Opening Statement Summer 2023
This is the summer 2023 edition of The Opening Statement, a newsletter published by Michigan Abolition and Prisoners Solidarity (MAPS). The Opening Statement is a free quarterly newsletter that features articles, poetry, political writing and opinion pieces, as well as other relevant pieces by non-incarcerated authors.
Download PDF: [ Imposed | Screen ]
Turn Off Your Phone
"This zine is written by anarchists for people who face legal investigation or repression in the United States. However, it may be helpful for anyone who wants to reduce the data that cops or companies have about them. It should also be considered a 101-level document; the tips in this guide are the most basic steps you can take to protect yourself and your data."
Anarchist Zines & Pamphlets Published in August 2023 was published on September 04, 2023
Share on Social Media

These links are not an endorsement of social media. They are provided for convenience and to help foster the spread of anarchist ideas.