Bartertown Diner Opens
---
June 24, 2011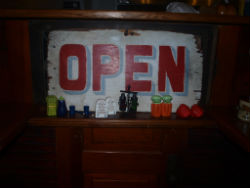 The worker-owned and collectively run restaurant Bartertown Diner & Roc's Cakes has opened in downtown Grand Rapids. The restaurant—which features vegan, vegetarian, and raw foods—is affiliated with the Industrial Workers of the World (IWW) and is a union shop.
Bartertown describes itself as a:
… vegi/vegan/raw, worker owned and operated diner. The goal of the restaurant is to promote fresh, local ingredients along with a positive, fair working environment.
In a city with few radical spaces and co-operatives, it's exciting to see the restaurant finally open. Check out their hours and stop in if you are able.
Bartertown Diner Opens was published on June 24, 2011
Share on Social Media

These links are not an endorsement of social media. They are provided for convenience and to help foster the spread of anarchist ideas.