New Zine: Breaking the Barricades
---
April 13, 2012
We've released a new zine titled "Breaking the Barricades: The Carnival Against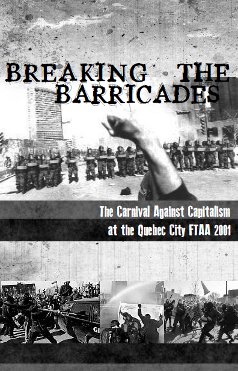 Capitalism at the 2001 Quebec City FTAA." It's a history zine that tells the story of what happened at the protests. There is more that could be said on the protests – in many ways the high point of anarchist anti-summit resistance in the early 2000s – but this is a good starting point.
From the introduction:
"This zine is an account from the protests against the Free Trade Area of the Americas (FTAA) in 2001. It was one of the most militant of the anti-capitalist (anti-globalization) protests that took place at the turn of the century in North America.

What happened on the streets of Quebec City was inspiring. Anarchists laid much of the groundwork for the mobilization and to a large degree shaped their character. Despite the heavily militarized police force, anarchists – and others – were able to crash the supposedly impenetrable barricades in short order. A confluence of factors – the literal carving up of the city for the security perimeter, the police violence, and the work done by anarchists in advance of the protests, led to a situation where large numbers of folks in Quebec City were generally supportive of the protests. Over the course of the weekend, the protests quickly moved into the realm of widespread rioting.

We share this story not to idealize the past or engage in nostalgic yearning, but to inspire future conflicts."
Download it from us or Zinelibrary.
New Zine: Breaking the Barricades was published on April 13, 2012
Share on Social Media

These links are not an endorsement of social media. They are provided for convenience and to help foster the spread of anarchist ideas.