Zines and Pamphlets Published in April 2017
---
May 29, 2017

This is our monthly round-up of zines published by other folks over the past month. We do this in order to highlight the variety of anarchist zines that are published each month. We didn't publish these ourselves and don't necessarily agree with all of the perspectives that they promote, but we share them out of a belief that a stronger anarchist space depends on different ideas and perspectives coming into contact and conflict with each other.
As always, if these texts resonate with you, consider making copies of these zines and sharing them with friends and potential friends or use them to start distros and reading groups.
Zines from April 2017
Sonogram of a Potential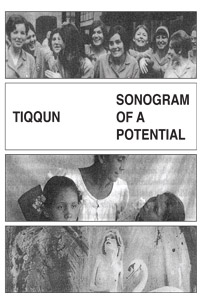 This is a nicely designed and formatted version of a text by Tiqqun ("Echographie d'une puissance") that appeared in Tiqqun #2 in 2001. This version by Ill Will Editions features some improvements to the translation along with new footnotes. According to the publishers, it's a "fantastic text on Italian feminism and the human strike"
Download a Printable or Screen Readable PDF
Avalanche #10
This is the tenth issue of AVALANCHE, a journal of anarchist correspondence. This latest issue continues to build on previous issues by providing a space for anarchist ideas to come into contact and dialog with each other. There are writings from the United States, Chile, Italy, Germany, and France. One of the more interesting pieces is "Demolition Now: A Critical Look at the September 2016 U.S. Prison Strike" that, among other points, raises questions about the "leadership" and rhetoric of non-violence used by many promoting the strike. Overall, AVALANCHE continues to be an important project for anarchists interested in international communication and perspectives.
Tool 4 Crowd-Control Class War Horse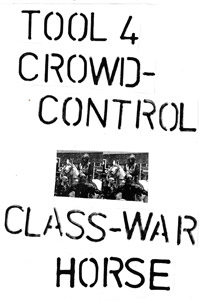 This is a short cut-and-paste zine that explores class war through a personal lens, emphasizing the idea that people need to take their own initiative if they want something to happen and that there is no point waiting around for "the revolution" to begin. It's also highly critical of subculture and the limits that subculture often places on one's willingness to act.
Let's Become Dangerous: For the Diffusion of the Black International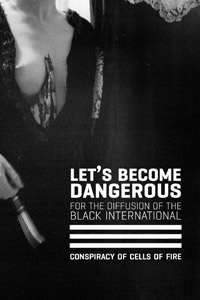 This is a text – originally published in 2013 – by a member of the Conspiracy of Cells of Fire that expands on the group's analysis and praxis. It not only defends their particular tactical choices, but also outlines how they see the world, the state, and oppositional forces coming into contact with each other. There is a lot to of worthwhile ideas expressed, for example their assertion that:
Authority is not just buildings or offices or individuals. It's a social relationship. It starts from its official temples (parliaments, multinationals, banks, courts, ministries, police stations) and reaches the most simple gestures of everyday life (family, sexual and friend relationships).
is among many strong insights into the way the world functions. It's also a great example of how anarchist prisoners can remained committed to struggle even while imprisoned, as the text engages with developments that have happened since they were incarcerated.
Download a Printable or Screen Reading PDF
A Few Words on "Freedom": An Interview with Alfredo Cospito by Conspiracy of Cells of Fire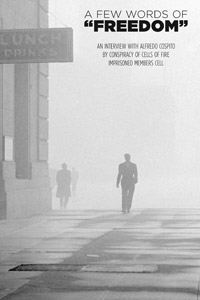 This zine is an interview between Conspiracy of Cells of Fire prisoners in Greece and an anarchist imprisoned in Italy. It offers a wealth of valuable reflections on informal anarchist practice and the combative practice that has been undertaken by a segment of anarchists aligned with the FAI/IRF.
From the text:
"When you start doing what could drive people to your side instead of what you think is right, you do politics. From the moment you impose limitations on yourself out of fear of not being understood, you are, de facto, already a political entity, and therefore you become part of the problem, one of the many cancers that infect our existence. One should never measure his own words and actions just to become acceptable to people, to the crowd, otherwise there is great risk of being transformed by the very 'intermediate' objective he wants to achieve."
Download a Printable or Screen Reading PDF
Beyond Right and Wrong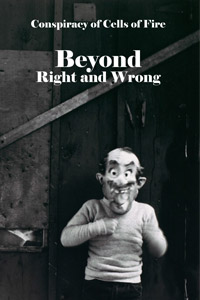 This zine reprints a statement – originally published online in 2015 – by the Conspiracy of Cells of Fire out of Greece. It is a consideration of anarchist forms of organization and what it means to act through the informal networks that the Conspiracy of Cells of Fire has long been advocating for. From the zine:
"The basic agreement within such an organization is the desire not to be in a moment of truce with the enemy. Without, therefore, waiting for a favorable wind of social change to act, we decide to arm ourselves and turn our lives into a confrontational reality now. So we do not limit ourselves to the anniversal symbolism (this does not mean that we are absent from the days of wrath and vengeance in memory of our dead), we do not expect fixed appointments, waiting for the state to get out of line causing the people to demonstrate, nor are we satisfied by opportunistic street fights with cops, in order to pretend that we've executed our "duty" to the struggle."
Download a Printable or Screen Reading PDF
The Anarcho-Tourist Review #2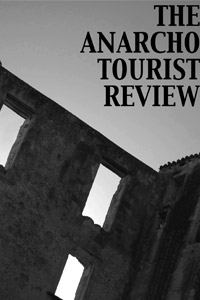 This is the second issue of the zine "Anarcho-Tourist Review" out of Greece. This issue features articles discussing a wide range of themes including the failures of parliamentary politics, neo-fascism, anti-capitalist organizing and tactics, and reviews.
Download the PDF (link is from Google)
Introduction to Civil War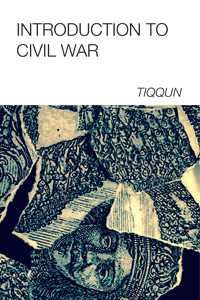 This is a newly reformatted version of the Tiqqun text "Introduction to Civil War" which was originally published in 2001 in France. It has circulated for sometime within the anarchist space, but this is definitely the best looking version. It is one of the stronger Tiqqun texts and has a lot to offer anarchists in terms of how we think about the world. There's a few minor tweaks to the text and new footnotes added in this edition.
Download Printable or Screen Readable PDF
Zines and Pamphlets Published in April 2017 was published on May 29, 2017
Share on Social Media

These links are not an endorsement of social media. They are provided for convenience and to help foster the spread of anarchist ideas.