Let's Talk: Feminist Communication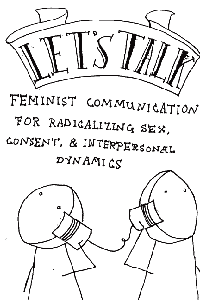 Added to Catalog: 2015
Print Version: Download
This zine was added to our catalog more than 5 years ago. You may want to verify information contained within is still relevant.
With the full sub-title "Feminist Communication for Radicalizing Sex, Consent, & Interpersonal Dynamics," "Let's Talk" is a helpful zine exploring the connections between feminist communication, consent, interpersonal dynamics, and healing from abuse. Its focus on how we communicate with each other makes it worth reading, even for those already familiar with concepts of consent. It's written in an engaging way and includes valuable information on gendered differences in communication, communicating boundaries and triggers, and consent. There's also a number of activities aimed an encouraging further discussion and reflection.
Excerpt
For us, feminist communication is breaking down barriers in communication styles that cause oppression and lack of choice. By changing cultural scripts in our sexuality and striving for knowledge, safety, respect, and consent, we work to redefine standards in a truly radical – and hot! – way.
Download
Zines are in PDF format. Choose imposed for printing and reading for reading on your device. The files are hosted on Archive.org, a service that does not log IP addresses.
Share on Social Media

These links are not an endorsement of social media. They are provided for convenience and to help foster the spread of anarchist ideas.