Towards An Anarchist Ecology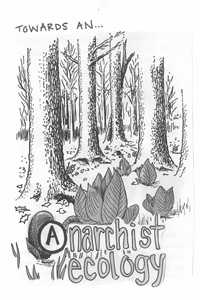 Added to Catalog: 2014
Print Version: Download
This zine was added to our catalog more than 5 years ago. You may want to verify information contained within is still relevant.
This zine is based on a series of workshops held by Knowing the Land Is Resistance aimed at critiquing mainstream ideas of "ecology" and offering ideas for moving towards an anarchist knowledge of the land. The zine explains how traditional notions of ecology are based on colonial and capitalist conceptions. As an alternative, the zine explores five starting points for developing an anti-authoritarian and anti-colonial relationship to the land: rooted in relationships, deep listening, urban ecology, re-enchanting, and unexpertness. It's a good starting point for anyone interested in developing a closer relationship with the land.
Excerpt
We are settlers on this land, raised in cities, rootless, and alienated from the ecosystems we can't help but be a part of. But we want to unlearn what we have been taught by the dominate culture, and in the process, we want to re-learn joy, connection, and wonder, while embracing grief and loss in order to heal. We want to decolonize, and to do this, we need to build a new kind of relationship with the land. We want to take steps towards an anarchist ecology, towards a knowledge of the land that is anti-colonial and anti-authoritarian.
Download
Zines are in PDF format. Choose imposed for printing and reading for reading on your device. The files are hosted on Archive.org, a service that does not log IP addresses.
Share on Social Media

These links are not an endorsement of social media. They are provided for convenience and to help foster the spread of anarchist ideas.