Building Community Resilience to Fight State Repression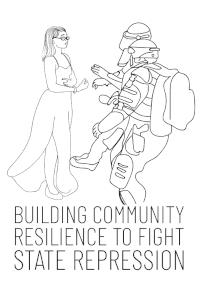 Added to Catalog: 2021
Print Version: Download
This zine is an excellent introduction to fighting state repression. It covers the basics of what repression is, basic security, what happens when you are arrested, what to expect if you have to serve time, etc. Throughout the zine the author(s) emphasize that fighting repression isn't a solitary act and that it is something that is best done as a community (however we chose to define it). This is zine is definitely worth reading if you are new to experiencing state repression and is also a great resource for sharing with folks who may be newer.
Excerpt
The trust, values and skills we rely on when we're in a direct confrontation with the state are part of our lifelong work to develop and deepen our practice and our commitment. Fighting state repression helps us to know ourselves and our work better, to be bold and to take risks that make more space for the possibilities we want to see in the world. Doing legal support or anti-repression education aren't a drag or a waste of time or less interesting than other work unless we treat them that way.
Download
Zines are in PDF format. Choose imposed for printing and reading for reading on your device. The files are hosted on Archive.org, a service that does not log IP addresses.
Share on Social Media

These links are not an endorsement of social media. They are provided for convenience and to help foster the spread of anarchist ideas.