Criminal Legal System for Radicals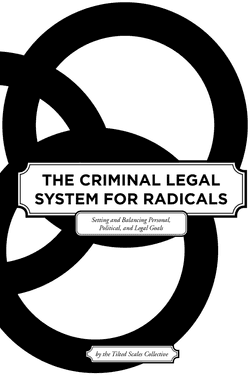 Added to Catalog: 2017
Print Version: Download
This zine was added to our catalog more than 5 years ago. You may want to verify information contained within is still relevant.
Sub-titled "Setting and Balancing Personal, Political, and Legal Goals" this zine by the Tilted Scales Collective offers a helpful collection of insights for radicals coming up against the legal system. The discussion – excerpted from an upcoming book – focuses on the need to balance personal, political, and legal goals and how these different considerations often intersect with each other. It is important reading for all radicals and its detailed analysis offers many helpful tips for navigating the legal system and preparing for encounters with it.
Topics covered include subpoenas, going underground, staging "political" defenses, taking plea agreements, snitching (don't do it), making public statements, and much more. It is both very thorough and highly readable.
Excerpt
Balancing your personal, political, and legal goals is no easy task. There are no formulas to follow, no simple answers, no magical solutions. Nevertheless, working through these clearly and in depth will help you make the best decisions for your case—the best for you, your comrades, and your movement.
Download
Zines are in PDF format. Choose imposed for printing and reading for reading on your device. The files are hosted on Archive.org, a service that does not log IP addresses.
Share on Social Media

These links are not an endorsement of social media. They are provided for convenience and to help foster the spread of anarchist ideas.