Grand Jury Investigations, FBI Harassment, and Your Rights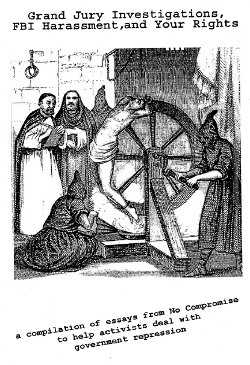 This zine was added to our catalog more than 5 years ago. You may want to verify information contained within is still relevant.
This zine is a compilation of articles from the animal liberation magazine No Compromise designed to help activists better understand and resist grand jury investigations. The topics addressed include tips for dealing with FBI and other law enforcement, an explanation of subpoenas and how to deal with them, protocol for dealing with snitches and informants, and how to organize against grand juries. While the texts are aimed at the animal liberation movement, the information is helpful for a wide range of activists.
Download
Zines are in PDF format. Choose imposed for printing and reading for reading on your device. The files are hosted on Archive.org, a service that does not log IP addresses.
Share on Social Media

These links are not an endorsement of social media. They are provided for convenience and to help foster the spread of anarchist ideas.