Philly Dudes Collective: Year One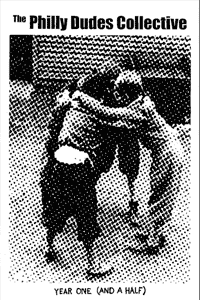 This zine was added to our catalog more than 5 years ago. You may want to verify information contained within is still relevant.
In this zine, the Philly Dudes Collective—an anti-sexist "men's group" that came out of the radical/anarchist and punk scenes in Philadelphia—gives an overview of their work during the first year of their existence. It includes a sampling of posters they used to promote their events, workshops and discussions they led, panels they participated on, etc. They offer good outlines for hosting conversations on masculinity and patriarchy and men's roles in it. This is an excellent resource for anyone hoping to have conversations about masculinity, patriarchy, and gender in radical political and social scenes.
Excerpt
"We aren't experts. That's an important thing to know. Even after participating in numerous discussions over the past year and a half, the men in the Philly Dudes Collective aren't experts. We are just people who want to talk about the confusing, frustrating, and often unexamined ideas of masculinity. We figured that if we wanted to talk about all these things, then there had to be others who did too. We simply had to create a space for these discussions to happen."
Download
Zines are in PDF format. Choose imposed for printing and reading for reading on your device. The files are hosted on Archive.org, a service that does not log IP addresses.
Share on Social Media

These links are not an endorsement of social media. They are provided for convenience and to help foster the spread of anarchist ideas.