Taking the First Step: Suggestions to People Called Out for Abusive Behavior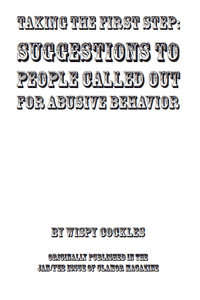 Added to Catalog: 2012
Print Version: Download
This zine was added to our catalog more than 5 years ago. You may want to verify information contained within is still relevant.
This zine is intended to spark a dialogue about how people accused of rape, abuse, or sexual assault should conduct themselves regardless of their feelings of guilt or innocence. It includes ten suggestions for people accused of the aforementioned. It's helpful for the accused, but also for those of us in radical/anarchist communities who struggle with dealing with these situations.
Excerpt
As radical communities, we need to have extensive dialogue about how to deal with abusive behavior, and this is a single current within that dialogue. We should ask ourselves many questions. What responsibilities does the accused have to upholding a "process of accountability" regardless of their feelings of guilt or innocence? As survivors and communities how do we hold abusers responsible? How do we create strong communities that are ready to deal with difficult and controversial situations without factionalizing or falling apart? Is it a priority to determine "guilt" or "innocence" or is it a priority to create processes that demand accountability and deconstruct privilege?
Download
Zines are in PDF format. Choose imposed for printing and reading for reading on your device. The files are hosted on Archive.org, a service that does not log IP addresses.
Share on Social Media

These links are not an endorsement of social media. They are provided for convenience and to help foster the spread of anarchist ideas.