(A)BC's Mini Guide to Protesting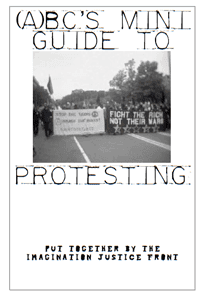 Added to Catalog: 2014
Print Version: Download
This zine was added to our catalog more than 5 years ago. You may want to verify information contained within is still relevant.
This is a mini-zine that functions as a pocket-sized guide to protesting. It provides basic information in an easy-to-distribute zine, covering topics such as what to bring (clothing, food, water, etc), what not to bring (drugs, alcohol, piercings, etc), what you will encounter at a larger protest (i.e. affinity groups and other concepts such as "diversity of tactics"), and more. There is also a list of websites for more detailed information on the topics covered. It's the kind of zine that would be helpful to mass produce in a situation where there were going to be a lot of people newer to large-scale protests in attendance.
Excerpt
Always stick together and stay calm. Be aware of your surroundings and know your limits. If you can do some training, such as direct action, police tactics, marching, and self defense. NEVER TALK TO COPS OR GIVE THEM ANY INFORMATION. Have fun and never give into the state no matter what.
Download
Zines are in PDF format. Choose imposed for printing and reading for reading on your device. The files are hosted on Archive.org, a service that does not log IP addresses.
Share on Social Media

These links are not an endorsement of social media. They are provided for convenience and to help foster the spread of anarchist ideas.