Banner Drops, Stencils, Wheatpaste, and Distributing Information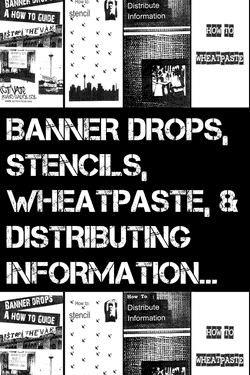 This zine was added to our catalog more than 5 years ago. You may want to verify information contained within is still relevant.
This zine compiles four "how to" guides written by ACTIVATE out of Grand Rapids, MI. The guides provide basic information on how to do banner drops, stencils, wheatpasting, and distributing information.
Includes tips on how to make and secure banners, how to design and deploy stencils, how to make wheatpaste, and offers some ideas for distributing radical info and propaganda.
Excerpt
With so much reliance on the internet to either inform us of events going on in town or information we should know about, we've forgotten how to creatively distribute and look for these things in a manner that doesn't require using a computer. In our busy lives, we tend to pass dozens of places in which information can be posted on our way to work and school. We often over look the simplest of things —telephone polls, newspaper boxes, dumpsters, street signs, stores, coffee shops,and the list goes on.
Download
Zines are in PDF format. Choose imposed for printing and reading for reading on your device. The files are hosted on Archive.org, a service that does not log IP addresses.
Share on Social Media

These links are not an endorsement of social media. They are provided for convenience and to help foster the spread of anarchist ideas.