Bodyhammer: Tactics and Self-Defense for the Modern Protestor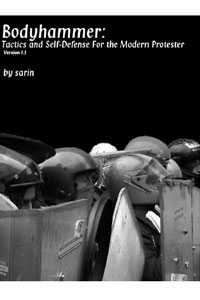 This zine was added to our catalog more than 5 years ago. You may want to verify information contained within is still relevant.
Bodyhammer is heavily influenced by the White Overalls movements in Europe and their creative use of body armor to neutralize the so-called "less lethal" weapons used by police to stop protests. The zine (it's really more of a packet than a zine) looks at shield varieties and construction, shield deployment, helmets, body armor, group movement, and shield walls and formations.
Download
Zines are in PDF format. Choose imposed for printing and reading for reading on your device. The files are hosted on Archive.org, a service that does not log IP addresses.
Share on Social Media

The presence of these links are not an endorsement of social media. They are provided for convenience and to help foster the spread of the ideas on this website.