Defend the Territory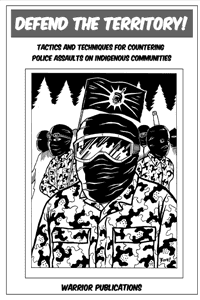 This zine was added to our catalog more than 5 years ago. You may want to verify information contained within is still relevant.
Sub-titled "Tactics and Techniques for Countering Police Assaults on Indigenous Communities," this zine from Warrior Publications provides a thorough overview of the types of repression that are frequently used against indigenous blockades. The context is largely anti-colonial blockades in the occupied Canada, but the information could be useful elsewhere and in different contexts. The guide includes an introduction to how police operate, chemical agents, less-lethal weaponry, etc. There is also an extensive guide to armored vehicles (including how to counter them with anti-tank ditches!). In addition to the exploration of police equipment, the guide also looks at various tactics for undertaking blockades and implementing them.
Excerpt
Communities that are effective in carrying out resistance will inevitably face some form of state repression, most often carried out by police forces. This text is intended as a review of tactics and techniques that have been used in countering police assaults on crowds and communities.
Download
Zines are in PDF format. Choose imposed for printing and reading for reading on your device. The files are hosted on Archive.org, a service that does not log IP addresses.
Share on Social Media

These links are not an endorsement of social media. They are provided for convenience and to help foster the spread of anarchist ideas.