Direct Action Tactics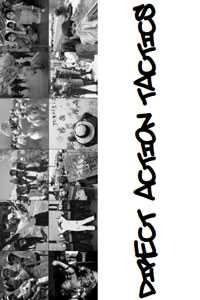 Added to Catalog: 2012
Print Version: Download
This zine was added to our catalog more than 5 years ago. You may want to verify information contained within is still relevant.
This zine offers a broad overview of direct action tactics. It begins by explaining the importance of affinity groups and moves into an overview of a broad range of direct action tactics including: pie-ing, squatting, culture jamming, jail solidarity, lock-downs and blockades, sabotage, street reclaiming, guerrilla gardening, and more.
The zine is made of of selections from a book titled We Are Everywhere: The Irresistible Rise of Global Anti-capitalism that was edited by Notes from Nowhere. The original book chronicles the anti-capitalist/anti-globalization movement of the late-1990s and early-2000s. Consequently, a lot of the tactics discussed here come out of that context.
Download
Zines are in PDF format. Choose imposed for printing and reading for reading on your device. The files are hosted on Archive.org, a service that does not log IP addresses.
Share on Social Media

These links are not an endorsement of social media. They are provided for convenience and to help foster the spread of anarchist ideas.