Good Manners and Affinity Groups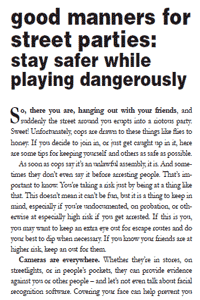 Added to Catalog: 2014
Print Version: Download
This zine was added to our catalog more than 5 years ago. You may want to verify information contained within is still relevant.
An easy-to-print and distribute one page zine introducing anarchist affinity groups and basic street tactics. It includes tips on how to form affinity groups, how to move within demonstrations, basic crowd navigation, security tips, and even suggestions for how affinity groups can be used outside of a demonstration context.
Excerpt
Sorry, everyone. There is no official organization to join to become an anarchist. Because of this, anarchism has confused many people who are used to normal political organizations or groups. Anarchists appear nearly spontaneously amidst the human population of the world. Their individual beliefs assuredly vary, but the central unifying belief is that there should be no government. Another unifying belief is that people should not be governed, nor should they govern themselves, but instead they should decide their own fates based on free association. The purpose of this article, however, is not to present the philosophy of anarchism, but to instead highlight some tactics anarchists have employed to change and remedy their immediate situations.
Download
Zines are in PDF format. Choose imposed for printing and reading for reading on your device. The files are hosted on Archive.org, a service that does not log IP addresses.
Share on Social Media

These links are not an endorsement of social media. They are provided for convenience and to help foster the spread of anarchist ideas.