Radical Defense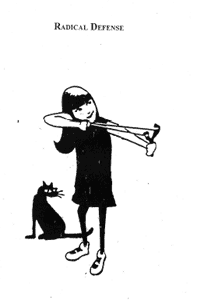 Published:Unknown
Added to Catalog: 2013
Pages: 12
Size: 8.5 x 11
Publisher:

Unknown

Print Version: Download
Archived: Please do not distribute the zine. Some or all of the information it contains is outdated. We are keeping it online for historical purposes.
Radical Defense covers defensive street tactics for those who will be engaging in mass street actions. It covers evacuating wounded people, breaking police holds, unarresting, breaking police lines, and defensive equipment. The zine accompanied a workshop that was given during the anti-globalization era, but much of the information is still relevant.
Download
Zines are in PDF format. Choose imposed for printing and reading for reading on your device. The files are hosted on Archive.org, a service that does not log IP addresses.
Share on Social Media

These links are not an endorsement of social media. They are provided for convenience and to help foster the spread of anarchist ideas.